A New Collaboration Expands Fundraising Opportunities: Synapse Network Partners with Constellation
Synapse has garnered incredible traction and community around their multi-chain platform and services that lower the threshold for entry into the industry.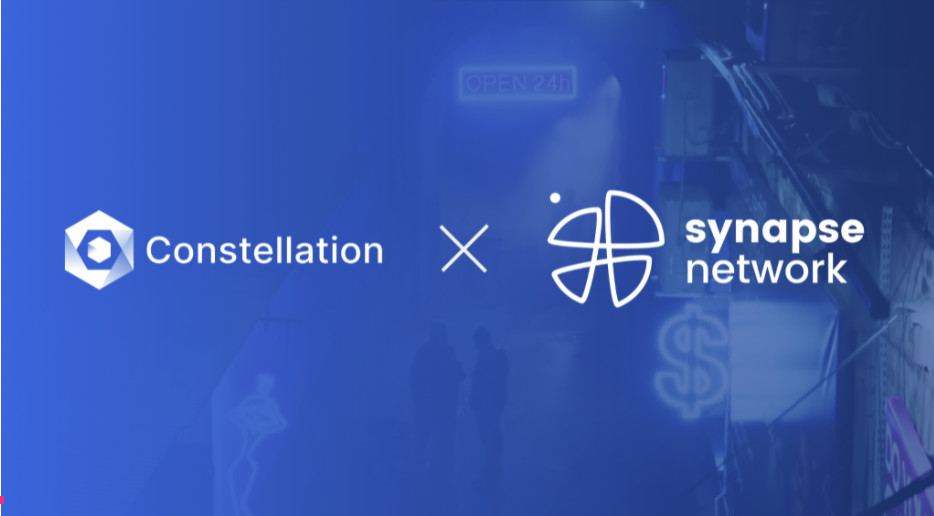 Revolutionary investment ecosystem Synapse Network and transformative blockchain ecosystem, Constellation Network, have announced a strategic partnership.
This Collaboration Marks the Beginning of a Relationship Designed to Expand Equal Opportunity Fundraising for Smart-Contract-Based Projects.
Both Synapse and Constellation Network, through its Lattice Exchange DeFi platform, aim to allow anyone with crypto, regardless of amounts they hold, the ability to discover, access, and support early-stage crypto companies before their token gains widespread adoption on popular centralized exchanges. Traditionally, early-stage projects have received backing from large crypto holders. Still, with platforms like Synapse and Lattice's Launchpad, they make it available for anyone to get involved on the ground floor.
Constellation COO and Co-founder Mathias Goldmann, explained:
"Constellation is building an ecosystem of inter-connected blockchain products that can be used by anyone in the industry with ease. Following similar interests, Synapse has garnered incredible traction and community around their multi-chain platform and services that lower the threshold for entry into the industry."
With a tiered system that allocates a specific amount of resources to anyone participating in their partner presales, Synapse welcomes individuals into projects during phases usually reserved for big corporations or collaborators, with IDOs reaching staggering numbers. In 2020, nearly 350 companies attracted about $2.3B dollars. Lattice Exchange enjoyed similar successes with projects such as Alkimi Exchange, which saw almost $10M USD staked during their initial Launchpad listing in August 2021 in under five days.
Synapse Founder and Co-CEO Paweł Łaskarzewski, mentioned:
"Working with Constellation is another milestone achieved for the Network, and I'm sure that we're going to create amazing things together."
As growth continues, Synapse is adding multiple tools to their valuable service, including their own DEX, Gaming Ecosystem, and what is essentially the first take of a financial institution in crypto, catered towards the users, not towards big corporations.
The first partnership between Synapse and Constellation, launched on Synapse in Dec. 2021, is Geojam, the social music community and iOS application that connects fans, artists, influencers, and brands. Geojam is building on Constellation's Hypergraph and, as a result, has received a lot of attention from the Constellation and Lattice Exchange community. Geojam aimed to raise $5.9M and has been oversubscribed with crypto enthusiast interest for months.
According to Geojam COO and Co-Founder Sam Krichevsky, getting more people involved in their platform made perfect sense:
"Geojam is building the future of the creator economy by merging social networking with concepts of decentralized finance. We've already built a rewards-based economy in our iOS app, and Constellation is the perfect partner for us to bring our platform to the blockchain with their Hypergraph network. Synapse and Constellation have developed very active communities with their multitude of offerings and have already seen a lot of follow up and interest from Gemstarter."
Following the IDO on Synapse, GeoJam expanded their distribution opportunities by also launching on Lattice Exchange's Launchpad on Dec. 6, 2021, with over 4M $LTX (equivalent to about $4M USD) staked on the platform in the first 24 hours.
Launching on both platforms allowed Geojam to garner more interest in their vision while tapping into more potential application users.
Co-CEO Łaskarzewski is excited about the shared goal of a free, decentralized market. He added:
"We founded Synapse with the intention of bringing a financial revolution in the crypto space, and we're proud to say that day by day, step by step, we're seeing the change happening by our hands."
Constellation's Goldmann agreed:
"We are very much looking forward to working closely with the Synapse team. Our alignment in vision and mission make an ideal partnership to grow and mature the crypto industry together and offer a suite of new opportunities to our communities and project builders."
Constellation is a blockchain ecosystem that bridges crypto economies with traditional businesses. Their $DAG currency runs on their feeless decentralized network, called Hypergraph. Businesses come into Constellation's ecosystem to build applications, mint cryptocurrencies, and build awareness of their company and vision. Lattice Exchange is a decentralized finance platform developed by the Constellation ecosystem, where people use the $LTX currency to access governance and support early-stage cryptocurrency companies.
Synapse Network aims to bring the idea of a fully regulated financial institution backed by DeFi products to the masses. Synapse Network is a team with over 20 years of hands-on experience in business, start-ups, technology, banking, as well as blockchain solutions. Synapse is dividing its product offering into two broad streams – the retail and institutional stream. In the retail stream, the goal is to provide retail investors from the traditional financial markets the ability to invest their fiat money into DeFi products to get higher returns than the low returns that traditional banks offer. The institutional stream will enable companies from traditional markets to use crypto as a reliable investment vehicle and a transactional asset for their daily operations.