AAX's Retail Trading Volume Experienced An Increase of 140% from Q3 to Q4 in 2021
AAX now offers a total of 150+cryptocurrency pairs and 130+ coins that can be traded through its investor-friendly platform.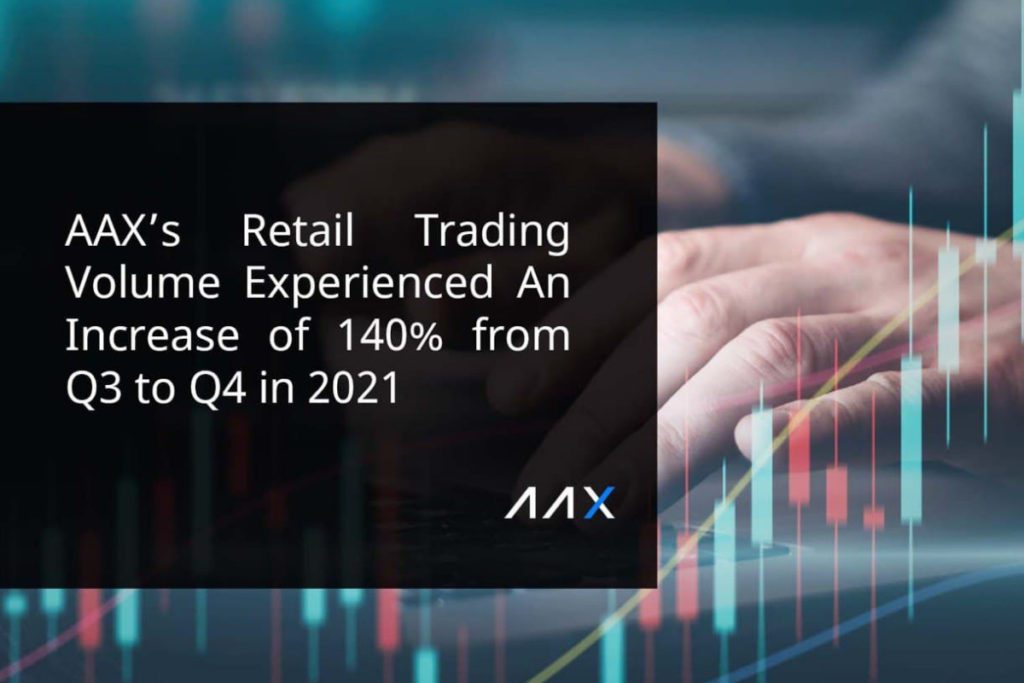 AAX, which brands itself as a cryptocurrency exchange for everyone, reported a sharp increase in retail volume growth today, thanks to new sign-ups on its platform during the fourth quarter of 2021.
In the Final Quarter of the Year, AAX also Acquired more than 200K New Clients who Opened an Account and Started their Crypto Journey.
On the cryptocurrency exchange tracker Coingecko, trading volume in Q4 grew exponentially with an average 24-hour daily trading volume reaching $1 billion. According to AAX platform data, trading volume in the retail sector on AAX exchange even accelerated by more than 140% on a sequential basis from Q3 to Q4.
Ben Caselin, Head of Research and Strategy at AAX, said:
"Over the past year, as we saw Bitcoin adoption unfold and a growth explosion around NFTs and GameFi, AAX has been able to capture considerably more market share as a portal to and hub in this new investment arena. Going forward, as we expand globally, we intend to be a 'listening platform' that operates in the midst of society."
In the final quarter of the year, AAX also acquired more than 200K new clients who opened an account and started their crypto journey. AAX also reported an increase of 150% in social followers oin the final quarter of 2021, while site visits sustained over 2 million unique visitors per month. The most heavily-traded tokens on AAX in Q4 included Solana (SOL), Bitcoin (BTC), Ethereum (ETH), Polygon (MATIC) and Shiba Inu (SHIB).
During Q4 of 2021, AAX boosted the offerings for all investors available on its platform with the addition of trading pairs that included popular tokens such as Animoca Brands. AAX now offers a total of 150+cryptocurrency pairs and 130+ coins that can be traded through its slick, investor-friendly platform.
AAX's formidable growth underscores its growing status as the crypto exchange of choice for a number of prominent institutional investors looking to capitalize on the global cryptocurrency boom.
Caselin continued:
"Whereas 2021 was all about institutional adoption, the market is set for a retail frenzy that will see crypto reach a new level of mainstream adoption with both Bitcoin and other major crypto assets set to reach new-all time highs this year. This is what AAX is preparing for."
AAX Exchange is a borderless exchange that caters to a global audience as we believe crypto is for everyone. Through an accessible range of products and by contributing to the conversation about crypto and culture, we are opening the door to Bitcoin and other digital assets for the estimated 96% of people worldwide who do not yet own them to build better and more inclusive economies.
Favored by more than two million users in over 100 countries, AAX is the first exchange to use the Satoshi Standard (SATS) to drive the adoption of Bitcoin. We are also the first to be powered by LSEG technology, and offer high-yield savings packages, 100 spot pairs, deeply liquid futures markets, regular discounts on major tokens and a range of on-ramps.