Algorand Surges 20% on FIFA Partnership News
The "Pure Proof-of-Stake" network will become the soccer association's first official blockchain platform.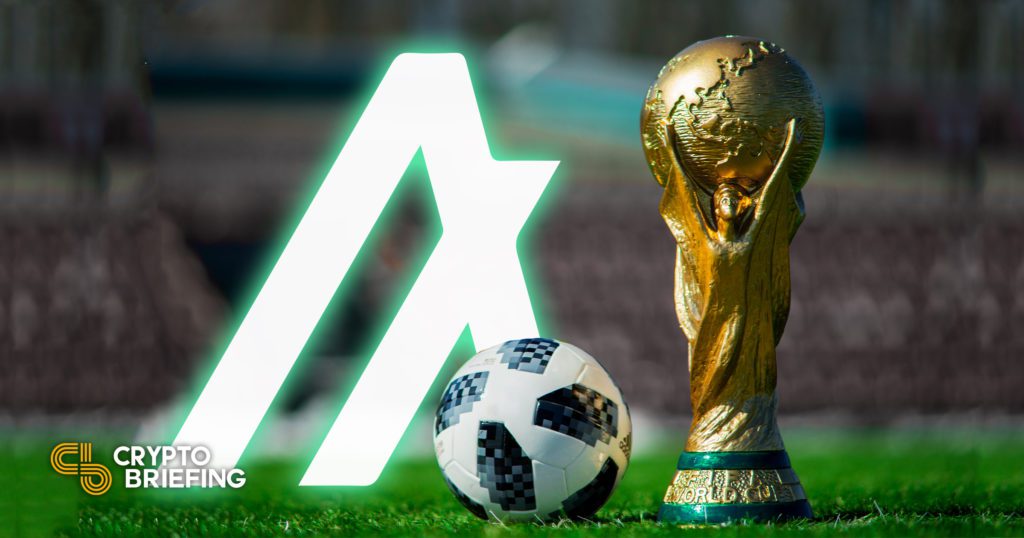 Key Takeaways
The world's premier soccer federation, FIFA, and blockchain network Algorand announced a sponsorship and a technical partnership deal Monday.
Per the deal, Algorand will become FIFA's official blockchain platform, while the federation will help the blockchain gain broader exposure.
Algorand's native token ALGO soared 20% following the news of the partnership.
The International Federation of Soccer Associations, FIFA, and the Proof-of-Stake blockchain Algorand have struck a sponsorship and a technical partnership deal. Algorand has surged 20% today on the news.
Algorand Becomes FIFA's Official Blockchain Platform
FIFA and Algorand have partnered up.
The world's largest soccer organization and the 31st-largest blockchain network by market capitalization announced Monday that they had inked a sponsorship and technical partnership deal. Per the agreement, Algorand will become the official blockchain platform of FIFA and provide the official crypto wallet of the organization. It will also be the 2022 World Cup's regional supporter in North America and Europe and the official sponsor of the women's 2023 World Cup. FIFA will support the Proof-of-Stake blockchain with sponsorship assets, including media exposure, advertising, and promotional opportunities. Commenting on the deal, FIFA's president Gianni Infantino said:
"The collaboration is a clear indication of FIFA's commitment to continually seeking innovative channels for sustainable revenue growth for further reinvestment back into football ensuring transparency to our stakeholders and world-wide football fans—a key element of our Vision to make football truly global."
Invented by MIT Professor Silvio Micali and launched in 2019, Algorand markets itself as a "Pure Proof-of-Stake" blockchain and the only blockchain network to have solved the so-called Blockchain Trilemma to achieve high scalability or throughput without sacrificing on security or decentralization. The network can currently process over 1,200 transactions per second, with plans to scale to 3,000 in the immediate and 45,000 transactions per second in the more distant future.
In reality, however, Algorand processes around 12.3 transactions per second on average, or roughly the same as Ethereum's mainnet, meaning the network is severely underutilized. Furthermore, despite launching around the same time as Solana and earlier than newer Layer 1 blockchains like Avalanche and NEAR, Algorand has failed to build a thriving DeFi ecosystem. According to data from DeFi Llama, Algorand has around $175 million in total value locked in DeFi apps in its ecosystem, with over 60% of it locked in a single dApp, Algofi, compared to Solana's $6.1 billion, Avalanche's $9.47 billion, and Near's $472 million.
While it is not yet clear why the world's premier soccer federation has opted to partner with Algorand over more established and popular blockchains or why the organization even needs a blockchain platform, the market nevertheless seems excited about the partnership. Algorand's native token ALGO surged around 20% following the news and is currently changing hands for about $0.7 per coin. Still, ALGO is trading 80% down from the all-time high price of $3.56 it registered shortly after the blockchain's launch in June 2019.
Disclosure: At the time of writing, the author of this piece owned ETH and several other cryptocurrencies.