Alkimi Exchange's Staking Pool on Lattice Exchange Opens
This is the first launch and smart contract deployment from Alkimi Exchange. Users can join the staking pool via Lattice Exchange where they can also find out additional details about the process of staking on Lattice.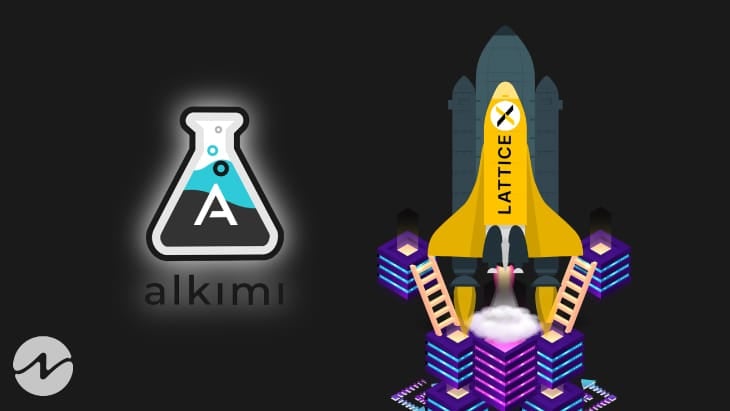 Alkimi Exchange launches its Staking Pool on Lattice Exchange today. The staking pool for a maximum of 30 million $ADS tokens will open on the 24th November 2021, 5pm GMT and closes 30 days later on the 24th December 5pm GMT.
Alkimi Exchange are thrilled to announce the opening of their staking pool.
This is the first launch and smart contract deployment from Alkimi Exchange. Users can join the staking pool via Lattice Exchange (lattice.exchange) where they can also find out additional details about the process of staking on Lattice. This milestone is a major move for Alkimi Exchange's mission to yield fewer and better ads on the internet, rewarding users for browsing the internet- not punishing them as they experience today.
CEO & Co-Founder Benjamin Putley stated:
"The staking pool is the first step on our roadmap and I'm hugely proud of the team for delivering it so effectively. The Bandwidth Pool will establish the bandwidth required to support our Something For Nothing program, where ​​we are paying publishers NOT to show ads.

In Q1 next year, we will start working with the world's best publishers to show fewer, but more relevant ads. This will allow us to support publishers showing fewer, better ads on the internet.

We want to reward users for browsing the internet and with this milestone we are one step closer to doing just that. Bad advertising broke the internet, let's fix it with $ADS."
Mathias Goldmann, COO & Co-Founder of Constellation Network and Lattice Exchange added:
"We are very excited to see Alkimi Exchange pave the way for a new era of how people are interfacing with digital technologies and the internet through $ADS. This quality increase is driven by utilizing the Constellation Hypergraph in combination with DeFi staking dynamics and NFTs. The results will be a cleaner and better Internet with a sovereign user at the center."
This news comes in the wake of many recent initiatives and accomplishments of the company, including:
The announcement of the exclusive AlEx The Alkimist NFT Rewards Collection
Over 2,100 wallet holders
Unizen and MEXC listings
The combination of the Staking Pool and the NFT Rewards Collection provides those staking will be eligible to draw an NFT from a pool of 500 special NFTs when staking a minimum of 10,000 $ADS tokens.
Staked tokens will be locked in for a period of 3 months. There are 5 different types of NFTs: Ultra-Rare, Medium-Rare, Rare, Common and Community NFTs. The Ultra-Rare, Medium-Rare, Rare and Common NFTs unlock additional deposit rewards as per the table below:
There are 2.5 million $ADS tokens available. COO and Co-Founder Adam Chorley said "we want to reward the Alkimi Community for staking and holding $ADS, just like they will be when the exchange is live next year. We have an amazing community, and this is to say thanks for all the support they've given us this year!"
A decentralized replacement to the inefficient legacy programmatic ad exchanges with the mission to restore the value exchange between advertisers, publishers and users. Alkimi is built on Constellation Network's Hypergraph — a revolutionary blockchain technology — trusted by the U.S. Department of Defense — which allows us to provide the fastest, infinitely scalable solution with 0% fraud, minimal transaction fees and complete end to end transparency.
We built Alkimi Exchange to reestablish the intended value exchange between users, publishers and advertisers. We believe in a different world that can be born from a cataclysmic event, when ID's disappear and it appears we have nothing, we can create something. Where users see fewer and better ads, Advertisers reach an engaged audience and Publishers regain control of the means for their success and continue to produce innovative and creative content.
Alkimi Exchange helps you create ad products, proven successful by walled gardens across the open web.
Constellation Network Inc, is a decentralized network and ecosystem that enables seamless and secure communications between big data infrastructure and interoperability between blockchains. Using their distributed network, called Hypergraph, Constellation enables fast, zero trust, scalable solutions for enterprises and the US federal government, to improve data integrity and data assurance. The company utilizes a decentralized directed acyclic graph (DAG) network, and mathematical proofs to organize the network for speed, security.
Lattice Exchange is a decentralized finance (DeFi) platform that connects all blockchain main-chains and allows users to transfer cryptocurrency between multiple ecosystems. By leveraging Hypergraph — Constellation's feeless network — the platform reduces risk, costs and friction for traders, giving them control over their digital assets while increasing transparency. As well as being the bridge between all blockchain ecosystems, Lattice is a cross-chain asset swapping platform with DeFi incentives and rewards.