Alpharand Protocol Releases Its P2E Trailer Video as $ARD Token Presale is Live
The Alpharand presale began on April 4th, 2022 and is scheduled to end on May 20th, 2022.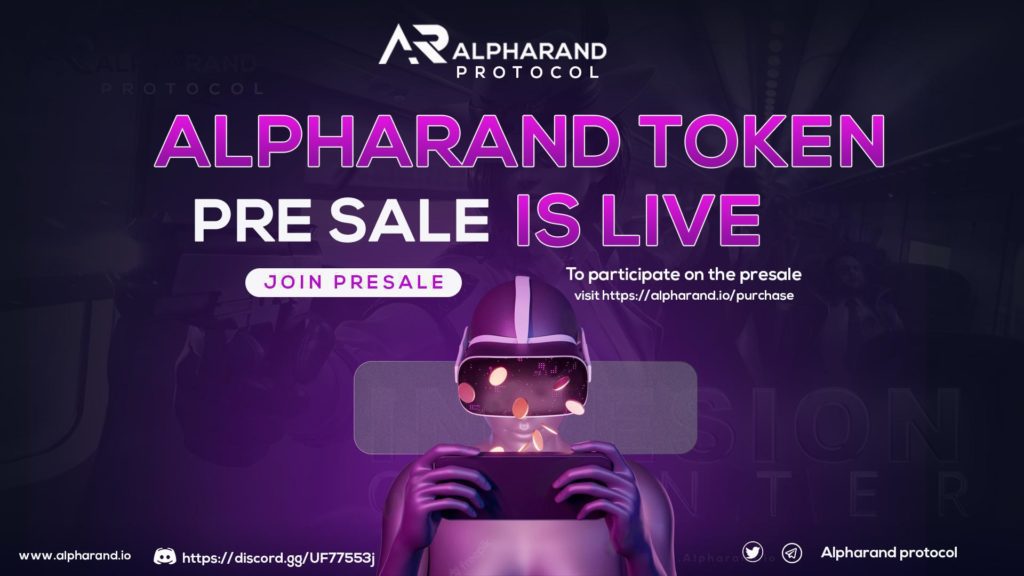 Alpharand(ARD), the top play to earn gaming protocol on the Avalanche ecosystem, which is currently holding its presale, has just released its trailer video to warm up for their eventual launching.
Alpharand protocol enables players to earn tokens at any stage of winning a game through a Play-to-Earn feature. It also enables users to exchange properties bought on the Metaverse with ARD tokens so they can be sold on any chain in the Avalanche ecosystem.
In recent times, the world has witnessed a massive adaptation of the metaverse and Web3 which are super higher than in the dot-com era (Web2). The gaming platforms which originated from the era of video games, console games, and mobile games have received numerous billions of downloads making the gaming sector a high-performing media in recent times. This has created a gap for the adaptation of not just online games but protocols that will enhance gaming in the metaverse and as well flourish with commerce as Play-to-Earn and commercialization of games have taken the floor in the gaming sector to attract more gamers and give rewards for participating in these games.
Alpharand has positioned itself to tap into this opportunity by releasing the ARD token which doesn't only involve Play-to-Earn for gamers but also gives access to users to acquire properties in the metaverse and as well to exchange tokens on any other chain in the avalanche ecosystem.
Alpharand has also released the trailer to one of their Play-to-Earn Games (Alpha Strike) which features high-quality combat scenes and showcases the various uses of the token in their metaverse and in the NFT Arena. Alpharand is a game-changer in the gaming metaverse and in the Play-to-Earn space which has been traditionally dominated by similar startups.
Web3 technology has made it easy for users to create content, own, control, and monetize their content through the implementation of blockchain and cryptocurrencies. This is what enables NFTs and this is the role of Alpharand in the gaming industry.
Alpharand makes it seamless for gamers to migrate from the local version of gaming in web2 to the modern gaming structure, through its virtual gaming system which also gives the user the ability to earn. These benefits are not limited to gamers as general users who are not interested in gaming can leverage the token's usability for metaverse real estate purchases and token exchange with various chains in the Avalanche ecosystem.
With the virtual gaming structure of Alpharand token, it combines the use of Artificial Reality and Virtual Reality which have been in existence in recent times.
Web3 implementation has played a key role in the evolution of gaming systems and Alpharand is leveraging that to make virtual gaming an interesting one for both gamers and non-gamers who are interested in the future of technology and are willing to flow with the trend with other aspects that interests them aside gaming.
With a total supply of 50 Million tokens, ARD token is accessible and can be obtained through various means.
Alpharand tokens can be purchased on presale with a minimum of 6 AVAX and a maximum of 40 AVAX.
Aside from the presale, there will be more airdrops in the future as the first phase airdrop has been completed. Also, there will be whitelisting of over 12% of the token within the first 5 quarters of token release to enable circulation of the token.
The Alpharand presale began on Apr. 4th, 2022 and is scheduled to end on May 20th, 2022.
Alpharand is a Gaming and Metaverse play-to-earn protocol built on the Avalanche blockchain to enable gamers to play entertaining games in the Metaverse and earn game tokens (ARD) which can be used in the games to buy digital properties, NFTs and can be exchanged with other tokens and coins on centralised and decentralised exchanges.