BNY Mellon Will Hold Bitcoin and Ethereum for Clients. Here's Why It Matters
BNY Mellon will commence receiving Bitcoin and Ethereum for customers today, The Wall Street Journal has reported.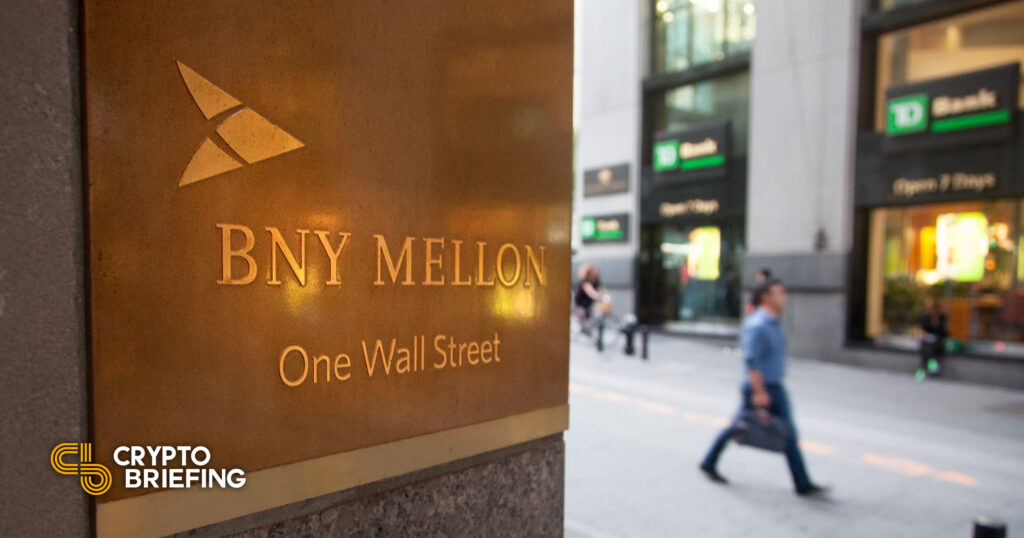 Key Takeaways
BNY Mellon will start receiving Bitcoin and Ethereum for clients this week after winning approval from New York's financial regulator, The Wall Street Journal has reported.
The centuries-old Wall Street bank has increasingly taken steps to embrace crypto this year.
While crypto winter has cast doubt on the space's future, institutional interest in the space is still strong.
BNY Mellon has taken several steps to embrace digital assets this year.
BNY Mellon Offering Crypto Custody
America's oldest bank has the green light to start receiving crypto on behalf of customers, The Wall Street Journal has reported.
According to a Tuesday report, BNY Mellon will start receiving certain clients' Bitcoin and Ethereum from today after receiving approval from the New York State Department of Financial Services.
BNY Mellon will provide custody services for customers who hold the top two crypto assets, storing the private keys used to unlock their crypto wallets. The bank will use Fireblocks-developed software to store the assets and follow the paper trail for any crypto funds arriving to the bank via Chainalysis, the report said.
The move marks yet another big step into the cryptosphere from BNY Mellon. The institutional giant has been paying close attention to the digital assets space since the 2021 bull run, first announcing its plans to offer Bitcoin custody services in 2021. It's since backed Fireblocks and the crypto trading platform Pure Digital, signaling its belief in the growth of the sector at large. It also teamed up with one of crypto's biggest investment firms, Grayscale, in July 2021 to help the fund manager convert its flagship Bitcoin Trust product into an exchange-traded fund (Grayscale is yet to win approval from the Securities and Exchange Commission).
BNY Mellon's conviction in crypto should instill confidence in the asset class among other big names on Wall Street. Founded by Alexander Hamilton in 1784, BNY Mellon is America's oldest bank. It oversees more than $2 trillion in assets under management, most of which comes from wealthy fund managers.
Wall Street Interest Through Crypto Winter
Other Wall Street institutions have signaled their interest in crypto since the space boomed in 2021, though a months-long $2 trillion drawdown since the market peaked last November has done little to quash mainstream skepticism toward the famously volatile asset class. Investment management titan Ruffer was another major institutional name to stir huge excitement in the crypto space when it invested in Bitcoin last year; the firm later revealed that it had sold its holdings at a $1 billion profit to "eschew the mania."
Outside of Wall Street, Elon Musk's Tesla also made headlines worldwide when it dipped its toes into the top crypto with a $1.5 billion bet, though the electric car firm scored a losing trade, dumping most of its holdings at a loss in the second quarter of this year.
Still, while the ongoing bear market has washed out many former giants—onetime crypto favorites Terra, Celsius, and Three Arrows Capital among them—and led some in traditional finance to doubt on the technology's future, there are clear signs that some of the world's richest are still interested in the nascent space.
Goldman Sachs started offering over-the-counter crypto trading for clients as the market tumbled earlier this year, and in September Nasdaq launched its own custody service for institutions. Certain lauded names on Wall Street have also hinted that they think crypto has a bright future even with a U.S. recession on the cards. Stanley Druckenmiller said last month that the space could enjoy a "renaissance" if the public loses faith in central banks, while Paul Tudor Jones has called for the asset class to rise in value once the Fed pivots on its economic tightening policy. Speaking to CNBC Monday, the billionaire investor pointed to Bitcoin and Ethereum's scarcity as the fundamental reason for his bullish outlook.
Disclosure: At the time of writing, the author of this piece owned ETH and several other cryptocurrencies.