Animoca Brands and TinyTap to Auction Second Set of Publisher NFTs Starting 15 December 2022
Web3-based Publisher NFTs allow teachers on TinyTap to improve their earning opportunities.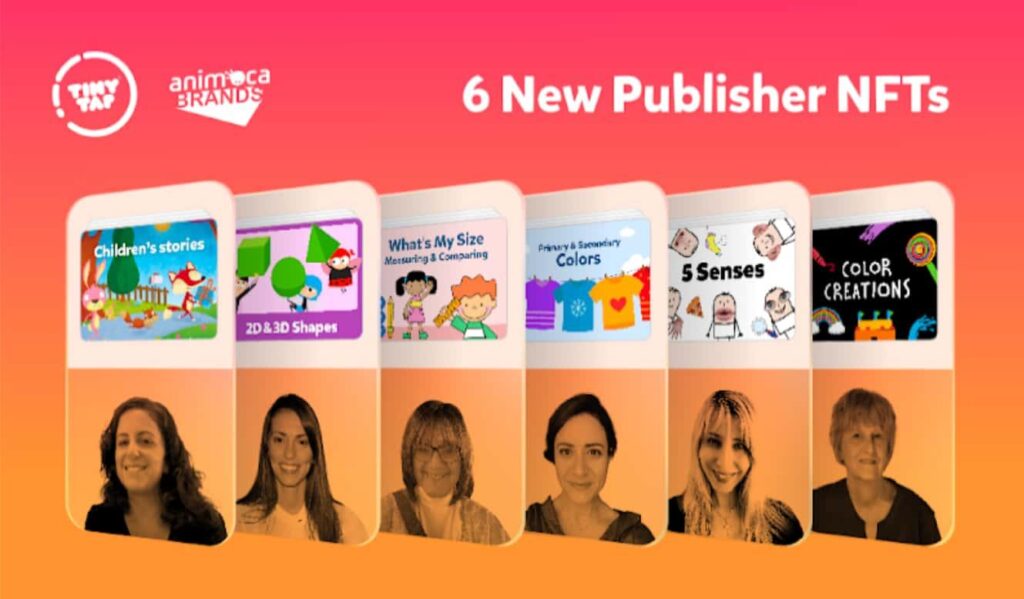 Animoca Brands, the company advancing digital property rights for gaming and the open metaverse, and its subsidiary TinyTap, the leading platform for user-generated educational games, today announced that the second series of teacher-authored Publisher NFTs will be auctioned on OpenSea starting at 19:00 (EST) on 15 December 2022.
The Usecase for Publisher NFTs
TinyTap provides a code-free platform that empowers educators to create and share interactive educational content and to receive a revenue share when that content is used by learners. TinyTap's recently introduced Publisher NFTs to improve earning opportunities for educators, create new earning and promotional options for co-publishers, and empower the community to directly support the growth of learning.
A Publisher NFT grants co-publishing rights to a TinyTap Course, which is a curated bundle of educational games made on the TinyTap platform by one educator ("teacher") in a specific subject. Buyers of these NFTs become co-publishers alongside TinyTap and the teacher who created the Course. In return for promoting and marketing the associated Courses, NFT buyers share in the benefits generated from co-publishing efforts.
Teachers on TinyTap already earn income for producing content in a traditional Web2 framework, but now the Web3-based Publisher NFTs allow them to significantly improve their earning opportunities.
Participating teachers receive 50% of the net proceeds from the auction of the Publisher NFTs linked to their Courses and a 10% ongoing share of any revenue generated by such Courses. Buyers of Publisher NFTs are entitled to receive up to 80% of any revenue generated by their NFTs' Courses as a result of their promotional efforts.
Yat Siu, the co-founder and executive chairman of Animoca Brands, commented:
"The success of the first TinyTap Publisher NFT auction demonstrated that NFTs can be leveraged to benefit teachers and educational content creators. We look forward to the upcoming second auction this week as we continue to work on developing this novel use case for NFTs in 2023 and beyond."
In November 2022 TinyTap established the viability of Publisher NFTs with a sold-out first auction, generating 138.926 ETH (approximately US$228,000 at time of sale). Of that, 67.7 ETH (approximately US$111,000 at time of sale) went to the teachers who authored the content linked to the NFTs (see announcement of 7 November 2022). The NFT that sold for the highest amount was Learn English with Gabi, which generated 22.9 ETH (approximately US$37,600 at time of sale) for its creator Gabi Klaf, which is more than 13 times the average monthly elementary teacher's salary in Israel where she is based (source OECD).
Yogev Shelly, CEO of TinyTap, said:
"TinyTap's Publisher NFTs greatly bolster our mission to build tools that empower communities to create, own, and share education that is meaningful to them. We are thrilled to welcome the Web3 community to our creator economy for educational games and we are especially grateful to early supporters who recognized that Publisher NFTs introduce powerful new utility for digital assets, creators, educators, and blockchain ecosystems."
The second genesis auction of six TinyTap Publisher NFTs begins on 15 December 2022 at 19:00 (EST) and will run for 48 hours. Participation requires a crypto wallet supported by OpenSea. Join the auction at OpenSea. Terms and conditions apply. Please refer to the aforementioned OpenSea website for details.
TinyTap, a subsidiary of Animoca Brands, was founded in 2012 and is the world's largest educational games library with more than 200,000 activities made by educators and publishers including Sesame Street and Oxford University Press.
Animoca Brands, a Deloitte Tech Fast winner and ranked in the Financial Times list of High Growth Companies Asia-Pacific 2021, is a leader in digital entertainment, blockchain, and gamification that is working to advance digital property rights and contribute to the establishment of the open metaverse. The company develops and publishes a broad portfolio of products including the REVV token and SAND token; original games including The Sandbox, Crazy Kings, and Crazy Defense Heroes; and products utilizing popular intellectual properties including Disney, WWE, Snoop Dogg, The Walking Dead, Power Rangers, MotoGP™, and Formula E.