Audi-backed holoride Makes Its Blockchain Debut On The Maiar Launchpad In November
This is the first project to be hosted on Elrond's strategic accelerator platform.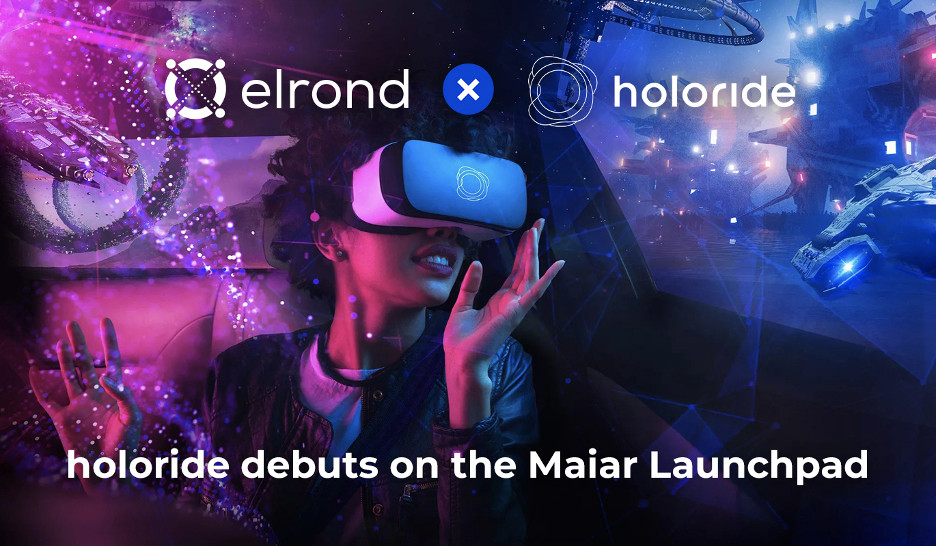 holoride, the Audi-backed company that's building the future of in-vehicle experiences, has announced its debut on Elrond Network's strategic accelerator platform, the Maiar Launchpad.
holoride's vision is to transform every car ride into a captivating extended reality adventure.
In the 2 1/2 years since its inception, holoride has engaged in collaborations with Audi, Porsche, Daimler, and Ford, as well as media giants such as Universal Pictures, Disney, and the Discovery Channel.
Transparency and economic incentives built via the RIDE token and NFTs on the Elrond blockchain will offer a layer of trust that will deeply align interests for users, content creators, and car manufacturers for the first time, and will significantly enhance user experiences.
RIDE is the utility token of the holoride platform that sits at the heart of its ecosystem. RIDE is designed to contribute incentives for using holoride through its dynamics of providing additional benefits and enhanced user engagement.
Nils Wollny, CEO & co-founder holoride, said:
"The RIDE token will be essential for building a vibrant and sustainable economy for the holoride ecosystem, connecting car manufacturers, content creators, brands, and passengers, and enabling them to capture value along the way."
holoride will debut the blockchain component of its multi-layered technology stack on the Maiar Launchpad, Elrond's incubation and accelerator platform that is exclusively addressed to projects of strategic significance for the Elrond ecosystem.
Beniamin Mincu, Elrond Network CEO, said:
"With strong support from Audi, holoride is leading a new innovation front that has the potential to be transformational for the automotive industry and bring Elrond technology into the hyperconnected cars of the future. We are thrilled to accelerate the adoption of a new technology and business vertical as the first project on the Maiar Launchpad."
holoride's RIDE token is being released by holoride AG, a company incorporated under the laws of Liechtenstein, with Its registered office at Vaduz. holoride AG, Vaduz, is a wholly-owned subsidiary of holoride GmbH, Germany.
German startup holoride creates an entirely new media category for passengers by connecting Extended Reality (XR) content with data points from the vehicle in real time. These data points include physical feedback, like acceleration and steering, traffic data, as well as travel route and time. holoride technology provides a new type of immersion into any kind of VR content, creating a breathtaking, immersive experience, and significantly reducing motion sickness. The tech startup was founded at the end of 2018 in Munich, Germany by Nils Wollny, Marcus Kuehne, Daniel Profendiner, and Audi, who holds a minority stake in the startup. It was hailed "Best of CES" four times (Las Vegas, January 2019), recognized as one of the 100 Best Inventions of 2019 by TIME Magazine and is part of the global innovation platform "STARTUP AUTOBAHN powered by Plug and Play." In 2021, holoride went on to win the prestigious SXSW Pitch and was also named Best in Show.
Elrond is a new blockchain architecture, designed from scratch to bring a 1,000-fold cumulative improvement in throughput and execution speed. To achieve this, Elrond introduces two key innovations: a novel Adaptive State Sharding mechanism, and a Secure Proof of Stake (PoS) algorithm, enabling linear scalability with a fast, efficient, and secure consensus mechanism. Thus, Elrond can process upwards of 10,000 transactions per second (TPS), with 5-second latency, and negligible cost, attempting to become the backbone of a permissionless, borderless, globally accessible internet economy.