Beginner's Guide: How to Trade Crypto on eToro
eToro offers retail and professional traders a unique social media platform with all things crypto trading.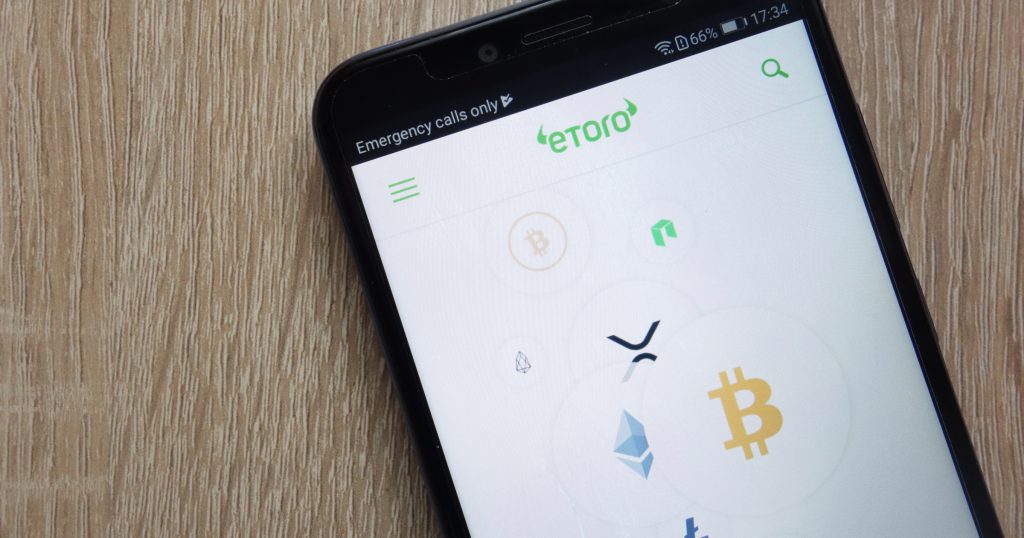 Key Takeaways
eToro began as a FX trading platform and has been adding asset classes ever since.
The platform allows beginner traders to follow experienced analysts with just a few clicks.
Professional investors can even earn a second revenue stream attracting a community around their trades.
eToro is an online brokerage that offers investors exposure to various assets, digital or otherwise. In the following review, Crypto Briefing will walk readers through the various features that eToro offers.
eToro offers crypto trading for U.S. customers only. eToro USA LLC does not offer CFDs, which are a type of financial contract shared between two parties.
Founded as RetailFX in 2007, the platform began primarily as a Forex venue allowing traders to swap between national currencies. Following the rise of cryptocurrencies, eToro has made adjustments to accommodate this new asset class. The platform also offers a suite of easy-to-use trading products to help novice crypto investors.
This review will serve as an outline of these trading products, their price points, and why investors should consider the platform for their financial needs.
What Is eToro?
eToro began as an FX trading platform in 2007 by Yoni Assia, Ronen Assia, and David Ring. Now, more than a decade later, the platform allows investors to trade forex, stocks, precious metals, cryptocurrencies, and more.
Its appeal as an easy-to-use trading platform for the average consumer attracted many big-time investors. Since its inception, the company has attracted over $162 million from large firms like Commerzbank's venture arm, Commerzventures, and SBI Holdings, to name a few.
These funds have helped the platform add new features and asset classes. Six years after its inception, the company rolled out its first 110 stock products to a wider audience. In 2014, it launched exposure to Bitcoin trading.
The company's mission has long been to make trading and investing as simple as possible for retail users. Cryptocurrency offerings have been no different.
Today, however, Bitcoin and 15 other digital assets enjoy their own market title on eToro: Crypto.
As the platform continued to grow, eToro could make acquisitions and spend resources to develop new products. Each acquisition has also been related to the crypto and the blockchain technology sector.
In 2019, eToro purchased Firmo and Delta. Firmo now operates internally as a research and development arm at eToro. The Delta purchase funneled into eToro's ambitions to create a simple user interface so that investors can see all of their assets in one place.
eToro has found much of its success thanks to its ability to add a large community component to the platform. OpenBook was first launched in 2010 and let users follow, chat, and even copy fellow traders on the eToro platform.
OpenBook is no more, of course, and is now called SocialTrading.
But based on this brief history, eToro has clearly found its success in making trading financial products fun, lucrative, and highly social.
How to Trade Crypto on eToro?
Almost anyone in the world can open an eToro account, but based on certain regulations, some users may not enjoy all of the platform's features.
Users in the United States can trade all 16 cryptocurrencies with a few exceptions. Traditional stock trading to U.S. users will launch in 2021 via an affiliated entity in the U.S.
Signing up is no different than interacting with a centralized exchange. The platform asks users to fill-out various KYC information, and after submitting these details, most accounts can be verified intraday. Users may need to wait up to four days to have their account verified.
eToro USA LLC is officially regulated by the Financial Crimes Enforcement Network (FinCEN) for its crypto offering.
Depositing funds with which to trade is also simple, connecting accounts directly to users' banks. Users cannot buy or sell any digital assets without funding their accounts first. The minimum amount depends on where a user is based and can range from $50 to $1,000.
Once users are registered and their accounts are funded, they can begin trading Bitcoin (BTC), Ethereum (ETH), Bitcoin Cash (BCH), Dash (DASH), Litecoin (LTC), Ethereum Classic (ETC), Cardano (ADA), IOTA (MIOTA), Stellar (XLM), EOS (EOS), NEO (NEO), Tron (TRX), Zcash (ZEC), Binance Coin (BNB), and Tezos (XTZ).
Users cannot buy any less than $25 of any digital asset. Each purchase you make serves as a closed unit. This means that if a user buys $25 worth of BTC, they cannot sell a portion of this purchase. It's also important to note that eToro is not an exchange; users are not buying and selling against other users on the platform.
Fees for a crypto trade range from 0.75% to 4.5%, depending on the cryptocurrency. For comparison, Coinbase charges a flat 0.5% fee plus a "Coinbase Fee."
Downloading and Using the eToro Digital Wallet
In March 2019, the team launched the eToro digital wallet, allowing users to hold the underlying digital asset finally. This allows verified users to take their cryptocurrencies bought on eToro off the platform and move them to another exchange or a hardware wallet.
However, it is important to note that users can only do this using funds that have been added to eToro via any approved method currently available.
Another important note for crypto enthusiasts is that the eToro wallet is also a custodial wallet.
Users who decide to use the eToro wallet are relying on the platform to safeguard their funds. This is in contrast to non-custodial wallets like a Ledger or Trezor crypto wallet. However, for many users, this can be advantageous as it can make managing your funds a much easier process.
Instead of flipping between various platforms and wallets, eToro users have everything they need in one place.
Copy Trading on eToro
As mentioned before, eToro has successfully combined a successful social network with that of day trading and financial activity. So, outside of market trading various cryptocurrencies, users can also copy other members' trades within the eToro community.
Copy trading is an excellent alternative for users who may lack professional traders' experience or don't have enough time to monitor the markets closely. As one can see in the above screenshot, there is a lot of information to unpack before choosing a trader to follow.
The primary concern is that of a trader's return. Users should also note the risk level of a trader too. These levels range from one to six, with six being the riskiest rating.
Once users have found their trader to copy, they must allocate a minimum of $200. The maximum amount is $2,000,000. These funds are then allocated to each open position that the trader has open.
If, for instance, they have a 10% position open to Bitcoin, then 10% of the trader's allocation will open the same position.
Experienced traders can also benefit from the CopyTrading feature.
As traders become more successful and execute better trades, they may likely grow a following of copy traders. For each follower earned, the trader earns a commission. Users interested in this feature must, however, apply via eToro's Popular Investor Program.
This can be an incredibly lucrative way for traders to add an extreme income stream.
Not only do Popular Investors enjoy added commission proportional to the number of traders that follow them, but eToro also awards these traders with additional bonuses. These bonuses range from VIP football tickets, eToro merchandise, a subscription to the Financial Times, and much more.
Set and Forget with CopyPortfolio
eToro also allows users to copy thematic investment schemes. This could be a collection of profitable traders, specific market slices, or via eToro's various partners.
Portfolios that copy multiple profitable traders treat these traders like assets. The portfolio balances each trader's various strategies to create a portfolio with the maximum upside, minimum downside, and little work for participants.
There is a wide range of market-specific portfolios, too, but the concept is relatively straightforward for those in the crypto space. The Crypto CopyPortfolio, for instance, looks like this:
All CopyPortfolios rebalance automatically. Once users have made their allocation to a portfolio, there is nothing further they need to do.
eToro and the Future of Social Crypto Trading
The world of finance can be difficult to navigate, let alone cryptocurrencies. eToro offers hobbyists and professional traders alike a platform to learn trading and build an organic community.
For hobbyists, eToro is an excellent platform to get started. They offer all the tools a crypto trader needs, including access to 16 of the top cryptocurrencies and a cryptocurrency wallet. The team behind the company has also been around and active much longer than even Bitcoin itself. Thus, users can trust the company will continue to find success as they adapt to user demands.
For professional traders, eToro offers a platform to earn extra revenue by sharing their trading activity with a larger community. This allows popular crypto traders who have gathered an audience on other social media platforms like Twitter to monetize their community. Community members also benefit as a successful Popular Investor will earn them money as well.
All in all, eToro is worth traders' time insofar as it brings together the best parts of Internet communities and cryptocurrency trading. Learn more about opening an account at eToro today.
eToro USA LLC; Investments are subject to market risk, including the possible loss of principal.
eToro is a multi-asset platform which offers both investing in stocks and cryptoassets, as well as trading CFDs.
Please note that CFDs are complex instruments and come with a high risk of losing money rapidly due to leverage. 67% of retail investor accounts lose money when trading CFDs with this provider. You should consider whether you understand how CFDs work, and whether you can afford to take the high risk of losing your money.
Past performance is not an indication of future results.
Cryptoassets are volatile instruments which can fluctuate widely in a very short timeframe and therefore are not appropriate for all investors. Other than via CFDs, trading cryptoassets is unregulated and therefore is not supervised by any EU regulatory framework.
eToro USA LLC does not offer CFDs and makes no representation and assumes no liability as to the accuracy or completeness of the content of this publication, which has been prepared by our partner utilizing publicly available non-entity specific information about eToro.