Beyond Blocks Announces Summit Bangkok & Beyond Blocks Blockchain Week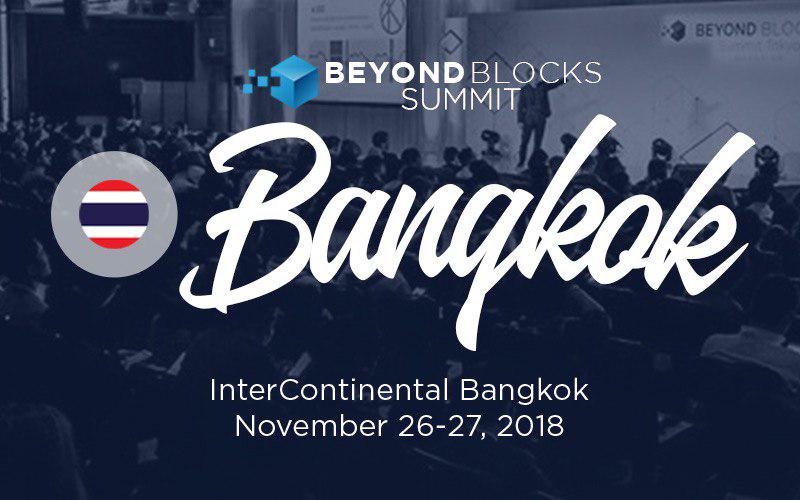 On 26-27 November 2018, Bangkok, Thailand – Beyond Blocks will host Summit Bangkok in the heart of the city at the prestigious InterContinental Bangkok hotel. This conference will feature a diverse lineup of over 40 international speakers engaging with over 1,500 attendees coming from all over the world.
Beyond Blocks Blockchain Week: The Focal Point Destination For Ideas & Connectivity
From 26-30 November 2018, the organizing team will also host the first-ever Beyond Blocks Blockchain Week, comprising of five full days of meetups, parties, workshops and exclusive networking events. The positive feedback from Korea Blockchain Week in Seoul made it an obvious choice for Beyond Blocks to organize another valuable week-long networking exhibition.
By hosting another blockchain week, Beyond Blocks solidifies its reputation for providing the one-stop platform that moves the industry forward, for showcasing the opportunities in Asia to the rest of the world, and to uncover how the blockchain applies to the real world now and in the future.
---
Why you need to be at Summit Bangkok during Beyond Blocks Blockchain Week
· Full two-day access to the conference and exhibitions
· Five-day networking congregation with access to a variety of networking opportunities
· World-class speakers and industry leaders
· Media exposure from some of the top media outlets in the space
· Find out first hand what's happening in the regulatory and innovation space in not only Thailand, but the South East Asian region
---
Key Speakers Announced (so far)
· Maja Vujinovic, CEO of OGroup
You might recognize this powerhouse woman from Summit Seoul, and if so; you'll know she's not known for 'holding back'. We're thrilled to have the O Group CEO back to share her insights on topics that will go BEYOND blockchain in a 1 on 1 fireside chat!
· Charles Hoskinson, CEO, IOHK
This technology entrepreneur and mathematician is famous for founding Ethereum and IOHK. He created Cardano, where he now focuses on leading the research, design and development of the project. Charles also leads the development of Ethereum Classic.
· Jeremy Wood, Chief Strategy Officer, IOHK
Together with Charles Hoskinson, Jeremy Wood founded IOHK (Input Output Hong Kong), an engineering company that builds cryptocurrencies and blockchains for academic institutions, government entities and corporations. His current position is Chief Strategy Officer and will be doing a fireside chat with Charles at Beyond Blocks Summit Bangkok.
· Bonnie Cheung, Partner, 500 Startups
Focused on blockchain and an avid speaker on all things crypto, Bonnie is a Partner at 500 Startups — one of the most active seed investors globally with over 1800+ portfolio companies — where she leads its blockchain investments. You might have seen her calling out Bitcoin as 'boring' in an interview on Bloomberg; expect to hear more of that in our fireside chat.
· Prinn Panitchpakdi, Governor, Stock Exchange of Thailand
Prinn is a board member of some of the biggest financial organizations in Thailand, like the SET (Stock Exchange of Thailand), NIA (National Innovation Agency), ETDA (Electronic Transactions and Development Agency) and ASCO (Association of Thai Securities Companies). He is also on the executive committees of the New Economy Academy (Ministry of Commerce) and Foundation on Anti-Corruption of Thailand (FACT).
· Bhume Bhumiratana, Technology Consultant, SEC Thailand
Being responsible for the famous Thai regulatory framework as a technology consultant for the Thai Securities and Exchange Commission (SEC), Bhume will definitely bring a lot of knowledge to the table when we discuss regulations at Beyond Blocks Summit Bangkok.
· Gigi Levy Weiss, Managing Partner, NFX
Over the last decade, Gigi has turned into one of the most prolific technology investors in Israel; he's a two-time CEO, founder, board member, and super-angel. Currently he is the managing partner with NFX, a top Silicon Valley venture capital firm, and (he) is also known as a keen blockchain investor being involved with multiple well-known projects, such as Bancor and Civic.
· Justin Chow, Head of Business Development, Asia, Cumberland
Justin is OTC Cryptocurrency Market Maker and Head of Business Development (Asia) at DRW company Cumberland, that has traded more than $20 billion worth of Bitcoin, Ethereum and other crypto assets in 2017.
· Ding'an Fei, Founder, Ledger Capital
Ding'an Fei is the founder of Ledger Capital, a financial services and investment firm focused on digital assets and blockchain enablement of the real economy. He has more than 10 years of venture capital and private equity investment experiences in technology companies.
· Luke Wagman, Chief Evangelist, CoinMarketCap
Is there anyone in this space that does not know CoinMarketCap? There is really no introduction necessary. We have Chief Evangelist Luke Wagman on stage, (speaking) for the first time ever! In his previous role as Chief Content Officer, Luke was responsible for the team that has researched and added almost 2000 coins and 220 exchanges on CoinMarketCap.
· TLDR Team
From the FBI and Navy Seals, to Goldman Sachs, to Hypebeast… TLDR's special team brings a wealth of experiences to the crypto ecosystem. With the combination of their strategy team, investment team and security team, this global advisory firm covers a broad range of the industry. Look forward to the "Decentralized & Borderless" panel about the company's approach for a global team at the conference!
· Jon Russell, Writer, TechCrunch
Jon Russell is an Asia-based writer for TechCrunch. Formerly he was an Asia editor for The Next Web. Jon Russell is passionate about the development of the internet, technology, and startups in Asia. He is based in the city of our conference; Bangkok, Thailand.
· Roland Yao, Managing Partner, Cocoon Ignite Ventures, L.P.
Roland is Managing Partner of Cocoon Ignite Ventures, L.P., and early stage venture fund focusing on investments in consumer technologies. Prior to establishing Cocoon, he was an associate at Freshfields – one of the top international law firms – where he focused on transactions relating to equity capital markets, private equity and mergers and acquisitions.
· Nikola Pavesic, Head of Special Operations, Nikkei
Nikola leads tech initiatives and partnerships at Nikkei, the largest business media company in the world and produces their FIN/SUM, the largest fintech conference in Japan. He's active in analyzing, advising and moderating in the blockchain space. You might already know him as one of our regular moderators.
· Jin Ho Hur, Managing Partner, SEMA Translink Investment
Jin Ho Hur is an entrepreneur-turned VC with 20+ years startup experiences in internet, mobile and gaming. Since a few years, his focus turned more and more to Blockchain. He's also a key player in the Asia-Pacific regional Internet community, helping startups go global.
· Jasper Lee, Head of Asia, eToro
Jasper is the Head of eToro Asia, and has over 10 years of experiences in industries like FinTech and Trading. eToro is the world's leading social trading and investment platform, which lets you invest in traditional asset classes like stocks, commodities, indices, and (crypto)currencies.
· Yo Nakagawa, Executive Director, Monex Group
As the executive director of Monex Group, Yo is in charge of developing business strategies. On top of managing Monex's HK and Australian businesses, Yo has led Monex's corporate venture capital investments outside of Japan, particularly and in the blockchain/crypto space. He also serves as an advisor to Coincheck assisting business development.
· Jonathan Benassaya, Founder & CEO, Ironchain
Jonathan is the Founder and CEO of IronChain, a digital asset investment firm that is singularly focused on providing both retail and institutional investors with easy and secure access to cryptocurrencies on a highly cost-effective and diversified basis. Prior to this, he has founded several companies, most recently Deezer; the first startup company to sign licensing dealing with the major music labels and publishing companies to offer free and ad-supported music streaming.
---
Agenda Topics (so far)
· Regulatory Crypto Conundrums: Things are getting better, or are they?
· Silicon Valley VS. Asia: Path to Redemption in Crypto
· Decentralized and Borderless: TLDR's Approach for a Global Team
· The Next Step in Crypto Finance: Advanced Instruments
· Death of an ICO: Prove Us Wrong
· Cryptocurrency Exchanges: A (Not-So) Long Term Vision
· The Curious Case of Crypto China: Why Doing Business (Still) Works
· VCs, Accelerators and Incubators: How Well Do They Fit the Blockchain World
· Cryptoreality VS. Cryptofuture: The Path to Mass Adoption
· Structuring Your Advisory Team: Affluence, Influence, Trust
· Funding Blockchain Innovation: STOs VS. ICOs
Selected Attendees (so far)
· NFX
· TLDR
· Cumberland
· 500 Startups
· Coinmarketcap
· IOHK/Cardano
· Ledger Capital
· OGroup
· SIX Network
· Kadena
· Unification Foundation
· Deep Brainchain
· Cortexlabs
· WePower
· Kenetic
· iCash
· TomoChain
Our Community Partners (so far)
· Blockchain MRKTRS
· Summit4Good
· Bitfish
· Bangkok Crypto Club
· Blockchain Space
Our Media Partners (so far)
Crypto Briefing! Plus…
· Bitcoin Addict Thailand
· Siam Blockchain
· CryptoSlate
· Blockchain Space
· Cryptonist
· beSUCCESS
· Financial News
· Block Post
· ZDnet
· Bchain
· Cryptolingo
· Blockmedia
· BlockTempo
· Coin Tokyo
· Bitsonline
· Bibitpost / Block Clip
· Rock the Block Live
· Coin Gecko
· AMB Crypto
---
Our Sponsors (so far)
· TLDR Capital
· CoinMarketCap
· SIX Network
· IDAX
· Kadena
· Unification Foundation
· TEMCO
· EB Coin
· eToro
· Ledger Capital
---
For more information, or if you are interested in a sponsorship or media partnership, please contact:
Media partnership – [email protected]
Sponsorship – [email protected]
Telegram – @dutchgiant
Ticketing Details
Beyond Blocks Summit Bangkok will be hosted on the 4th floor of the InterContinental Bangkok hotel on November 26 & 27, 2018 (two days).
Tickets are available from now until the day of the event (final price $1,000 USD).
Website: http://beyondblocks.com/summit/bangkok