Bingbon Integrates Chainlink Price Feeds
The crypto exchange has integrated Chainlink.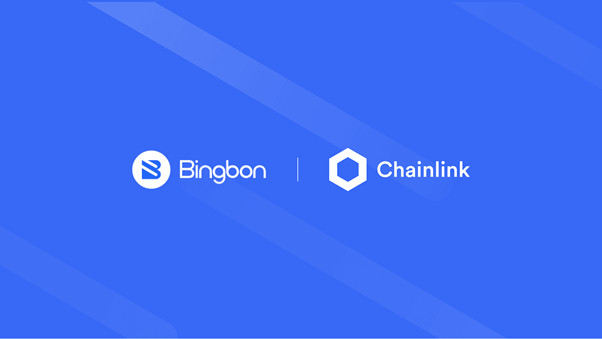 Bingbon has integrated DeFi's top oracle.
Bingbon Now Using Chainlink
In a combination of centralized and decentralized systems, Bingbon is now using and sponsoring the industry-leading Chainlink Price Feeds to provide users with the most accurate and up-to-date prices on crypto assets.
Bingbon's users can directly access the top price benchmarks via Bingbon's website and app. This integration marks the starting point for future integrations with Chainlink's Price Feeds, such as circuit breakers in its liquidation mechanism.
Chainlink is the most widely used price reference for DeFi, and also one of the most time-tested and historically reliable decentralized price feed solutions in the cryptocurrency industry, successfully securing tens of billions of dollars of value across DeFi, and continues to move into CeFi infrastructure. Through their decentralized network of premium data providers and professional node operators, Chainlink Price Feeds offer high-quality, tamper-proof price reference data that has demonstrated strong resilience to flash crashes, data manipulation attacks, and exchange downtimes.
Bingbon is a cryptocurrency derivatives trading platform with an emphasis on social trading features. Bingbon offers a variety of services including a fiat-to-crypto gateway and access to spot markets, derivatives markets with leverage, and demo accounts. As of writing, Bingbon has facilitated a cumulative trading volume of $171 billion across users from more than 100 countries.
Some of the most notable features of Chainlink as a trusted and reliable price feed solution include:
● High-Quality Data — data is sourced from numerous premium data aggregators, leading to volume-adjusted global market prices with market coverage across all-important trading platforms that are cleaned of outliers and suspicious volumes.
● Reliable Nodes — infrastructure is secured by a decentralized network of independent, security-reviewed nodes run by leading blockchain DevOps teams with a proven history of reliability during market volatility and network congestion.
● Decentralized Infrastructure—both the sourcing and transmission of data on-chain are decentralized processes, removing any central point of failure to achieve high availability and tamper-resistance.
● Transparent Monitoring—Chainlink provides a robust reputation framework and set of on-chain monitoring tools that allow users to independently verify the historical and real-time performance of price feeds.
Elvisco Carrington, Communications and Partnership Manager at Bingbon, said of the integration:
"Integrating Chainlink's Price Feeds into our internal systems was definitely a wise move. This partnership does wonders for our users by providing them with guidelines and a point of reference in terms of cryptocurrency exchange rates. We look forward to further cooperation with the Chainlink Labs team to increase the robustness of our platform through the Chainlink Price Feed."
Chainlink is the industry standard oracle network for powering hybrid smart contracts. Chainlink Decentralized Oracle Networks provide developers with the largest collection of high-quality data sources and secure off-chain computations to expand the capabilities of smart contracts on any blockchain. Managed by a global, decentralized community, Chainlink currently secures billions of dollars in value for smart contracts across decentralized finance (DeFi), insurance, gaming, and other major industries.
Chainlink is trusted by hundreds of organizations, from global enterprises to projects at the forefront of the blockchain economy, delivering definitive truth via secure, reliable oracle networks. To learn more about Chainlink, visit chain.link and subscribe to the Chainlink newsletter. To understand the full vision of the Chainlink Network, read the Chainlink 2.0 whitepaper. Want to discuss an integration? Talk to an expert.
Head to the following links to learn more:
Solutions | Docs | Twitter | Discord | Reddit | YouTube | Telegram | GitHub
Bingbon is a fintech company that aims to make the crypto market available and accessible to the world and enabling all participants from all walks of life to invest in a simple and transparent way.
Bingbon is a crypto exchange offering both spot & derivatives trading services. Bingbon started as a derivatives exchange in 2018 but subsequently entered the spot trading arena in 2021.
For more information, contact Kim Bazak at [email protected]