BingX Drops its Half of A Million Dollar Christmas Event for Traders
This event is the first of its kind since BingX completed its rebranding in mid-November.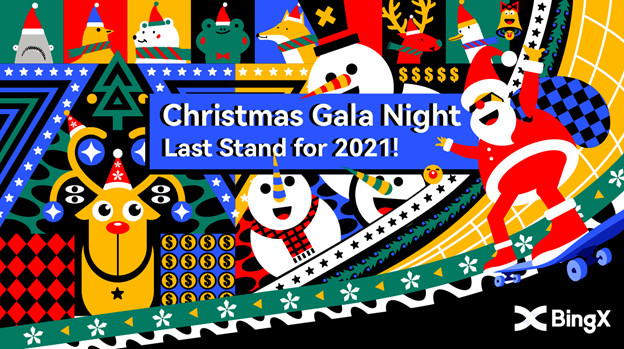 BingX is proud to launch its Christmas Gala Night Last Stand 2021, an event comprising of multiple events and free giveaways from a pool prize over 550 thousand USDT.
BingX is a social trading crypto exchange with a vision to connect traders far and wide.
This event is the first of its kind since BingX completed its rebranding in mid-November.
There will be two separate individual ranking events; Profit Rate Ranking and Profit Ranking where the top ten winners in each ranking event can claim over 100 thousand USDT in prizes.
A Team Ranking event has been designed especially for users who enjoy working in groups or collectively. They will have the option of choosing whether to build a team which requires a minimum of 5 members or join a team. The Team Rankings will be based on the
total team profit, and prizes will be issued based on the final rank of that team.
Participants also stand a chance to win Christmas Surprise Boxes by way of checking in. However, they will need to check-in consecutively for 1, 3, 7, 10, 15 & 20 days to unlock Christmas Surprise Boxes containing bonus prizes and/ or limited Christmas NFT shards. Traders can also unlock the boxes upon the condition that their cumulative trading volume hits a certain level during the event.
Elvisco Carrington, Communications Manager at BingX, said:
"Hosting an event of this magnitude was not only timely but fitting given the fact that Christmas is one of the most celebrated seasons for many of our users. We ensured that BingX Christmas Gala Night Last Stand is an all-inclusive event comprising of engaging and diverse activities which will allow everyone to actively participate. Indeed, this is a good way to close off the year and to show our appreciation to all the loyal users of BingX."
A limited-edition of 500 BingX NFTs and 100 BingX Christmas NFTs will be given away as well, all obtainable via Surprise Boxes or Individual Rankings Prizes. NFTs are exchangeable for USDT at the official buyback rate or withdrawn to the users' wallets within 48 hours after the event. Hence, users are advised to perform the transactions in time.
BingX Christmas Gala Night Last Stand runs until Dec. 26, 2021 (UTC+8) but registration for the individual and team ranking events will end on Dec. 11, 2021. For more information about this event, please visit BingX Christmas Gala Night 2021.
Founded in 2018, BingX is a global digital asset, spot, and derivatives trading platform that provides a user-centric and open ecosystem with intuitive social trading features. Created to enrich the entire cryptocurrency industry, BingX is a safe, reliable, and user-friendly venue for users to trade their favorite and hot assets such as Shiba Inu coin and Dogecoin.