Bitcoin to $1M, Ethereum to $180,000 by 2030: ARK Report
Bitcoin and Ethereum have significant price appreciation potential, according to ARK Invest.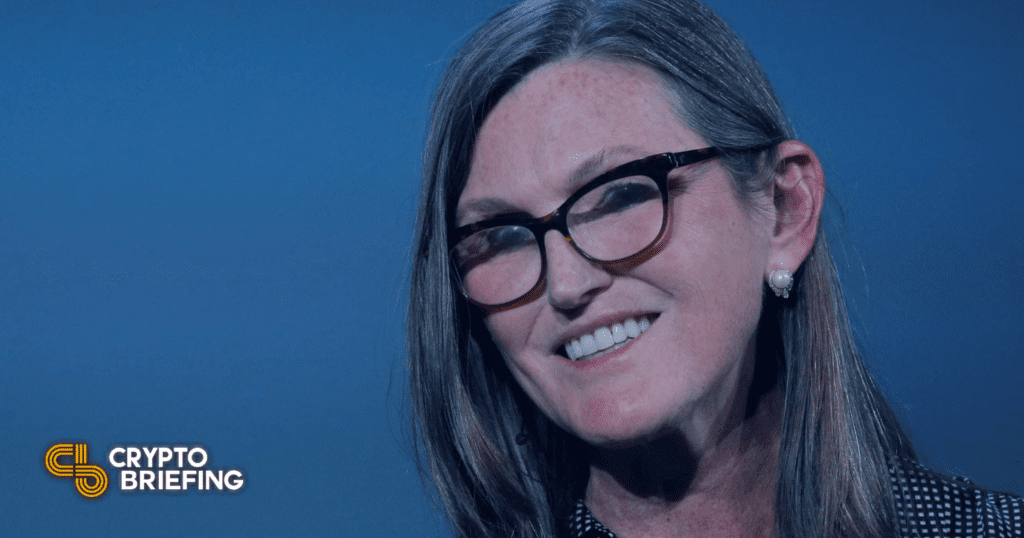 Key Takeaways
In a new research report, ARK Invest has predicted that Bitcoin could hit $1 million by the end of 2030.
ARK argued that Bitcoin represents only a fraction of the value of global assets.
The report also forecasted Ethereum's market capitalization to exceed $20 trillion in the same timeframe.
In a new research report, American investment firm ARK Invest has shared bold price predictions for Bitcoin and Ethereum for the end of this decade.
ARK Makes Bull Case for Leading Crypto Assets
ARK Invest is still bullish on crypto, and specifically the two leading assets in the space.
Cathie Wood's U.S.-based investment firm has published a new report titled "Big Ideas 2022," painting a rosy picture for both Bitcoin and Ethereum. The report gives a price target of $1 million per Bitcoin by the end of 2030 and also says that Ethereum's market cap could exceed $20 trillion. Ethereum has a supply of about 120 million and is estimated to burn roughly 1 million coins annually once it merges to Proof-of-Stake, which would put the supply closer to 110 million by the end of the decade. That would mean the price of ETH would be about $180,000 if ARK's prediction came true.
Discussing Bitcoin's growth potential, ARK analyst Yassine Elmandjra wrote:
"Bitcoin's market capitalization still represents a fraction of global assets and is likely to scale as nation-states adopt it as legal tender. According to our estimates, the price of one Bitcoin could exceed $1 million by 2030."
At $1 million per Bitcoin, anyone buying into the asset today would make a return of about 26 times the current price of $37,800. The firm based its long-term call on the argument that the top crypto asset represents only a fraction of the value of global assets amid increasing adoption each year.
ARK Invest offers several actively managed exchange-traded funds and holds $23.9 billion in assets under management. It's hoping to launch a Bitcoin ETF product in the near future.
Wood has made no secret of her bullish stance on crypto: in 2021, she predicted that Bitcoin could hit $500,000 by 2026. She made the comments in a year that saw increased institutional demand in crypto pave the way for the first Bitcoin futures ETF to hit the U.S. market in October 2021.
While ARK and Wood may have shown confidence in Bitcoin, the market has shown less enthusiasm toward the asset in recent weeks. In the last 30 days, Bitcoin has plummeted from $51,000 to six-month lows below $34,000. Though it's posted a slight recovery over the last few days, it's still 44% down from its all-time high of $69,000 recorded in November 2021.
Despite the poor market conditions, ARK Invest's research points to how Bitcoin adoption could grow on a long-term time horizon. The report used Bitcoin's on-chain metrics to show that its largest holders have focused on the long-term. ARK stated that the number of long-term investors rose sharply in 2021, with addresses showing long-term behavior collectively holding 13.5 million Bitcoin that has not moved in 155 days.
Justifying its $20 trillion market capitalization target for Ethereum, ARK said that ETH has value as the default currency in DeFi, NFTs, and other Ethereum-native applications. It added that ETH could take a substantial chunk of the global financial services market, which is expected to hit a valuation of $123 trillion by 2030. ETH currently trades at $2,630, putting Ethereum's market cap just over $312 billion. It's down 47% since November.
"According to our research, Ethereum could displace many traditional financial services, and its native token, Ether, could compete as global money," the report read.