Bitcoin Cash Network Enables Developers to Create Tokens
The new Bitcoin Cash Network upgrade is set to be a "tool for expanding financial access."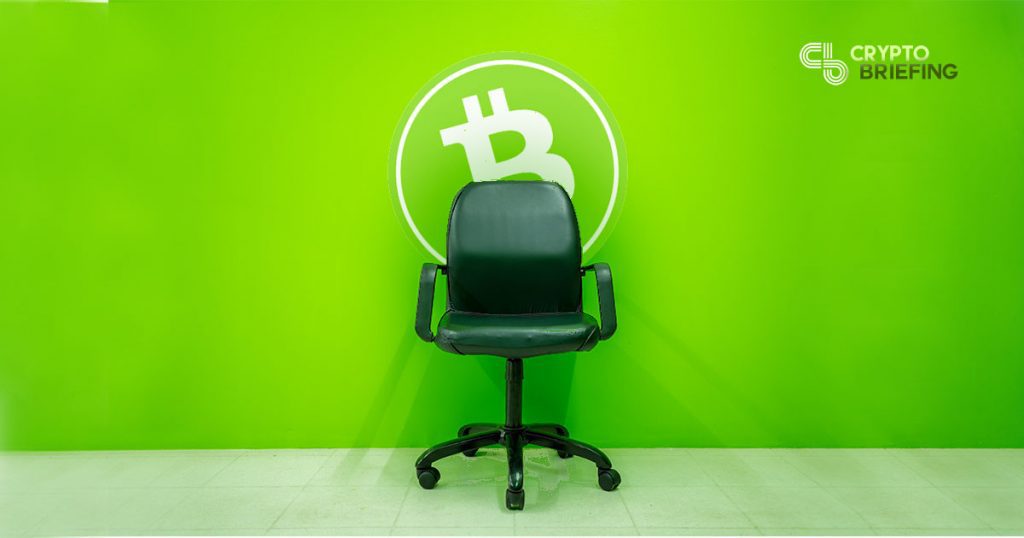 Key Takeaways
Bitcoin Cash upgraded its network to include CashTokens, a token that allows developers to customize tokens for various use cases.
Amid the tepid popularity of BCH, this upgrade is expected to lower transaction fees and improve scalability on a secure platform.
At block height 792,772, CashTokens was officially implemented on the Bitcoin Cash network on May 15, 2023. This new upgrade allows developers to create tokens, CashTokens, with the same properties as Bitcoin Cash (BCH) and be issued by anyone using the network.
Congrats on the 2023 upgrade, Bitcoin Cash! 🎉

Beginning with block #792773 (000000000000000002fc0cdadaef1857bbd2936d37ea94f80ba3db4a5e8353e8), $BCH supports #CashTokens, future-proof multiparty vaults (P2SH32), and several non-breaking technical improvements to TX validation.

— Jason Dreyzehner (@bitjson) May 15, 2023
CashTokens are similar to ERC-20 tokens on the Ethereum network, and they allow users to create and manage their own tokens that could represent a wide variety of assets, including fiat currencies, stocks and bonds.
Bitcoin Cash developer Jason Dreyzehner, also known as Bitjson on Twitter, announced the successful implementation of CashTokens, following with a Twitter thread highlighting exactly what this means for the network.
This upgrade provides a more seamless and user-friendly experience for both developers and end-users. "They can be issued by anyone, and they can both represent physical assets and directly serve as currencies, payment stablecoins, commodities, securities," Dreyzehner tweeted.
With these customizable tokens on the Bitcoin Cash network, the upgrade aims to facilitate a broader range of use cases including DApps and NFTs. Lower transaction fees, improved scalability and a secure and robust platform for token creation will soon follow in an attempt to promote innovation on the network as a way to "show them how free, fair, and resilient money works."
Financial freedom is increasingly the foundation on which other freedoms rest; the right to assemble, peacefully protest, a fair trial, etc. – these offer little protection if you can be instantly excluded from working or buying food when you exercise those rights.

— Jason Dreyzehner (@bitjson) May 15, 2023
Bitcoin Cash hard forked from the Bitcoin network on August 1, 2017, because of a disagreement with increasing block sizes. One year later, due to a further disagreement regarding increasing block sizes, another hard fork occurred and split into Bitcoin SV.
While BTC and BCH hold similar inflation and halving processes, Bitcoin Cash has lower transaction fees at higher speeds. But, it has been having a hard time getting long-term investors.
Despite the upsides that Bitcoin Cash seems to have over Bitcoin, the number of active wallet addresses for Bitcoin Cash has not matched its bullish beginning. Active wallet addresses peaked in January 2018 at 166,000. As of May 16, 2023, that number sits as at around 40,000. It remains to be seen if and how this new update could reignite the interest in Bitcoin Cash.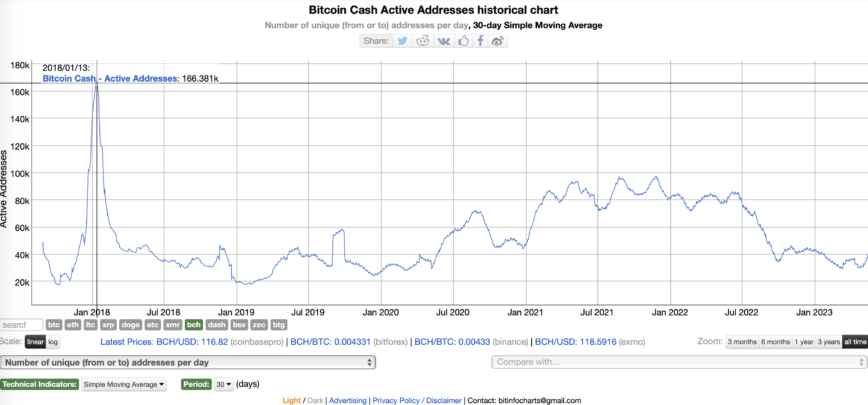 Source:
BitInfoCharts