Bitcoin Cash and SV Among Top Performers in Recent Run Up
The two Bitcoin forks are showing exceptional price performance as BTC jumps 10%.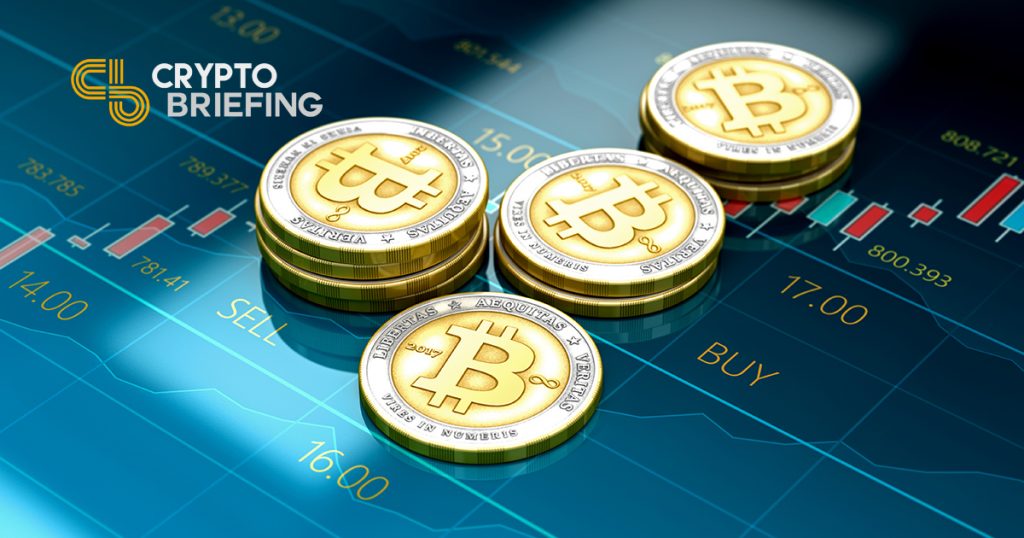 Key Takeaways
Bitcoin Cash and Bitcoin SV are up 70% and 100% in the past 10 days.
BCH appears to be breaking above resistance suggesting a move up to $280.
BSV, on the other hand, is facing significant resistance ahead.
Bitcoin Cash and Bitcoin SV are among the top performers in the recent run-up seen across the entire cryptocurrency industry. Now, these cryptocurrencies sit at a pivotal point that could decide where they are headed next.
Bitcoin Cash Slices Through Resistance
After peaking at a high of nearly $500, Bitcoin Cash plummeted over 70% to hit a low of $134 in mid-March. The significant sell-off appears to have been stopped by the 78.6% Fibonacci retracement level. This major level of support served as a rebound zone pushing BCH up over 80%.
Now that this cryptocurrency moved up to test the resistance given by the 61.8% Fibonacci retracement level, it could either get rejected by this hurdle or break through it.
A rejection off resistance could see Bitcoin Cash move back to the $168 support level before it tries to break through the $243 barrier again.
Meanwhile, breaking through the 61.8% Fibonacci retracement level could increase the odds for a further advance to the next levels of resistance that are presented by the 50% and 38.2% Fibonacci retracement level. These levels of resistance sit at $295.5 and $348, respectively.
Based on the 4-hour chart, it appears like Bitcoin Cash is sitting in a no-trade zone that is defined by its 100 and 50-four-hour moving average. Closing above or below these moving averages could define where this crypto is headed next.
Moving above the 100-four-hour MA, for instance, could trigger a spike in demand that allows BCH to surge to the 200-four-hour MA, which is also where the 50% Fibonacci retracement level sits. Conversely, breaking below 50-four-hour MA could see it retest the 78.6% Fibonacci retracement level for support as mentioned before.
IntoTheBlock's "In/Out of the Money Around Current Price" statistical model estimates that Bitcoin Cash is currently slicing through the most significant level of resistance where over 25,000 addresses are holding nearly 800,000 BCH.

Above this area there is not any major supply barrier between the until the 200-four-hour MA or 50% Fibonacci retracement level. This open space adds credence to the bullish outlook, suggesting that an upswing to $280 could be in the works.
Bitcoin SV Faces Strong Resistance Ahead
Like BCH, Bitcoin SV also dropped over 70% in price after topping at a high of $383 in mid-February.
From a long-term perspective, it seems like the upper boundary of the parallel channel where this crypto has been contained prevented it from reaching higher highs. The bearish impulse saw BSV plunge to the lower boundary of the channel as it has happened since 2018 when this technical pattern began forming.
Now that Bitcoin SV was able to bounce back to the middle of the channel, one of two different outcomes could materialize.
The first one could see the resistance ahead preventing this crypto from a further advance. If this happens, BSV could pull back to the lower boundary of the channel before it tries to break through resistance again.
The second one is more optimistic as it sees Bitcoin SV breaking through resistance and surging to the top of the parallel channel. Such an upward movement could represent a 140% advance that takes this crypto to trade around $415.
Nonetheless, BSV will have to break through a significant resistance cluster that is defined by its 200 and 50-four hour exponential moving averages. These barriers of resistance sit at $180 and $207, respectively.
Additionally, IntoTheBlock's "In/Out of the Money Around Current Price" model reveals that 27,000 addresses bought over 300,000 BSV at an average price of $170. This major supply area could also make it harder for Bitcoin SV to achieve its upside potential.

If resistance continues to hold strong, Bitcoin SV could could be preparing for a retest of the lower boundary of the parallel channel mentioned above. The downward movement could see it pull back to $100.
Moving Forward
Over the last few weeks, the Crypto Fear and Greed Index has been sensing "extreme fear" among market participants. The widespread transmission of coronavirus alongside fissures within OPEC has wreaked havoc on the global financial markets, including the cryptocurrency industry.
Although sizable opportunities are presented when fear reigns the markets, concerns over the global pandemic has investors flying to safety.
Data from IntoTheBlock reveals that the average daily active Tether addresses spiked up to over 60,000 in March compared to the 46,000 daily active addresses in February. Along the same lines, the rate of new addresses creation outpaced the rate of emptied addresses, which is a clear sign that market participants are moving to cash or its equivalents.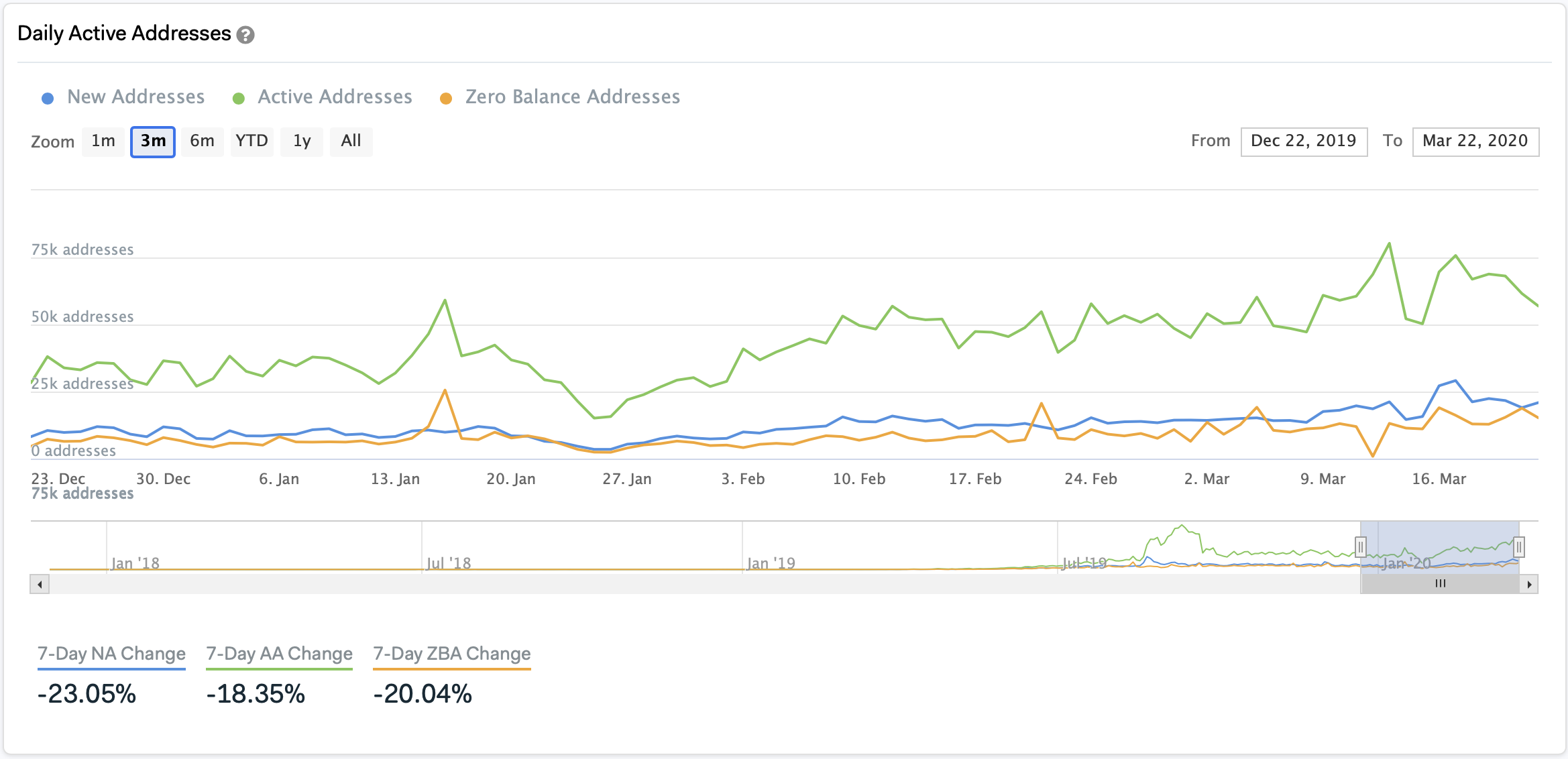 While it remains uncertain whether the Federal Reserve's new stimulus programs will provide relief from the recent downturn, investors should pay close attention to the different resistance levels mentioned above. A definitive close above these areas could give sidelined investors the opportunity they have been waiting for to get back into the market.
For more key market trends, subscribe to our YouTube channel and get weekly updates from our lead bitcoin analyst Nathan Batchelor.