Bitcoin Prices Could Still Dump Before the Halving
There is still a possibility that Bitcoin prices drop before the halving. Several indicators point to an ambiguous price outlook for the coming two weeks.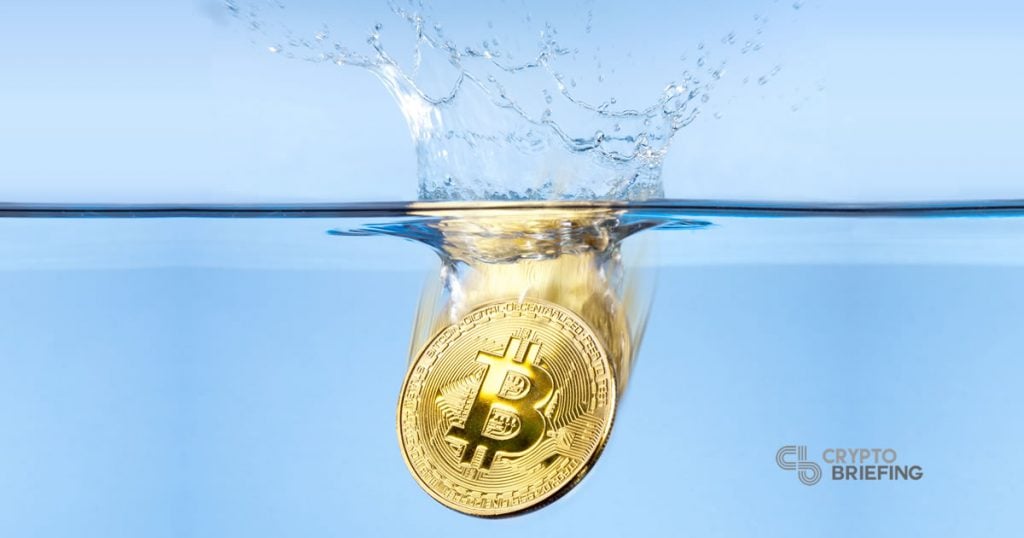 Key Takeaways
Market participants have mixed emotions about what the future holds for Bitcoin.
From a technical perspective, the flagship cryptocurrency sits within a narrow trading range.
However, the upcoming halving could be the catalyst that defines the overall trend.
Despite excitement around the soon-to-come Bitcoin halving, BTC's price could still very well drop. Here are the indicators suggesting volatility is on the horizon.
Low Trading Volumes Behind Bitcoin
Despite Bitcoin's impressive price recovery from Black Thursday, its trading volume across different cryptocurrency exchanges is declining. Arcane Research affirmed that BTC's volume is hovering at levels similar to those at the beginning of 2020, even after the past month's 100% upswing.
The massive divergence between the flagship cryptocurrency's price and volume is certainly a reason to be concerned, according to technical analyst Haejin Lee.
The ongoing global pandemic, high unemployment rate, crash in oil prices, and the state of commotion in the financial markets adds credence to a further downturn. Therefore, Lee suggested that given the current economic environment it is not a good time to be bullish on Bitcoin.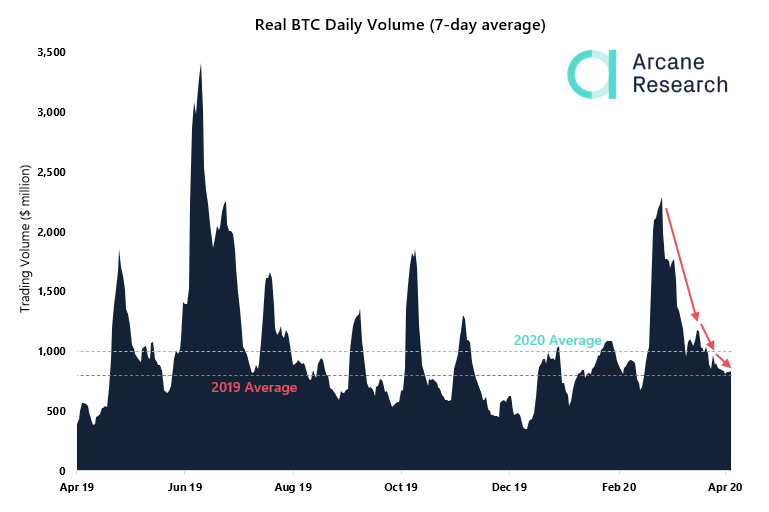 Meanwhile, Tone Vays, a former Wall Street trader and VP at JP Morgan Chase, has repeatedly stated that a global financial crisis presents a wide range of opportunities for the bellwether cryptocurrency to thrive as a safe haven asset. Vays argues that this type of economic landscape is what makes Bitcoin so resilient.
The different opinions about what the future holds for the BTC can be seen across the entire cryptocurrency ecosystem. Prominent figures such as Arthur Hayes and Ross Ulbricht anticipate a drop towards $3,000 while Erik Vorhees and Mike Novogratz call for a moonshot.
Due to the unpredictability of the crypto market, it is hard to say whether any of these scenarios will materialize. But, a look at Bitcoin's daily chart may provide some clues.
Bitcoin's Ambiguous Outlook
On the charts, this month's exponential moving averages (EMA) make everything look simple.
An upswing that allows Bitcoin to break above its 200-day EMA would likely be followed by a further increase in buying pressure. Turning this important resistance level into support can serve as confirmation that the flagship cryptocurrency is bound to resume its historic bull trend.
Conversely, if the bears are able to take control of BTC's price action they might be able to move past its 100-day EMA. If so, the next support level to pay attention to is represented by the 50-day EMA.
Closing below this barrier will be catastrophic for the flagship cryptocurrency as it may trigger panic selling among investors. Such a bearish scenario will considerably increase the odds for a substantial downturn.
Overall Crypto Market Sentiment
Despite Bitcoin's ambiguous outlook, market participants seem to be excited about what the upcoming halving has to offer. Discussion about the halving among crypto media outlets has even eclipsed that of coronavirus, according to The TIE.
The cryptocurrency sentiment startup affirmed that the number of mentions of the word "halving" in news articles about BTC surpassed the mentions of "gold" and "coronavirus." Additionally, "halving" has managed to become the most used word in Bitcoin tweets.
"There have been 1,278 tweets about the Bitcoin halving over the last 24 hours with 68% positive. "Mining" is also one of the ten most used words in Bitcoin tweets today for the first time since at least 2017," said The TIE.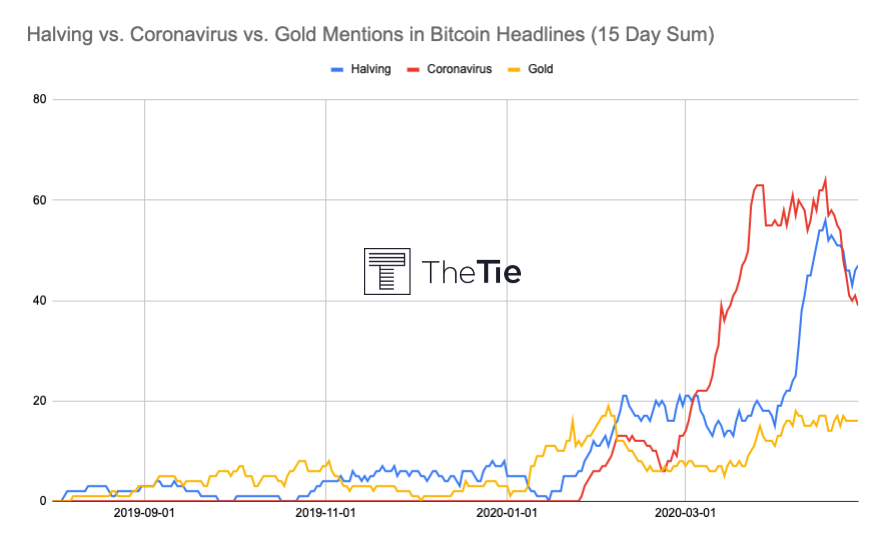 The block rewards reduction event has also pushed short-term BTC holders into a state of "hope," based on Glassnode's Net Unrealized Profit/Loss index. The Swiss-based company maintains that staying above this zone has previously indicated the start of bull markets.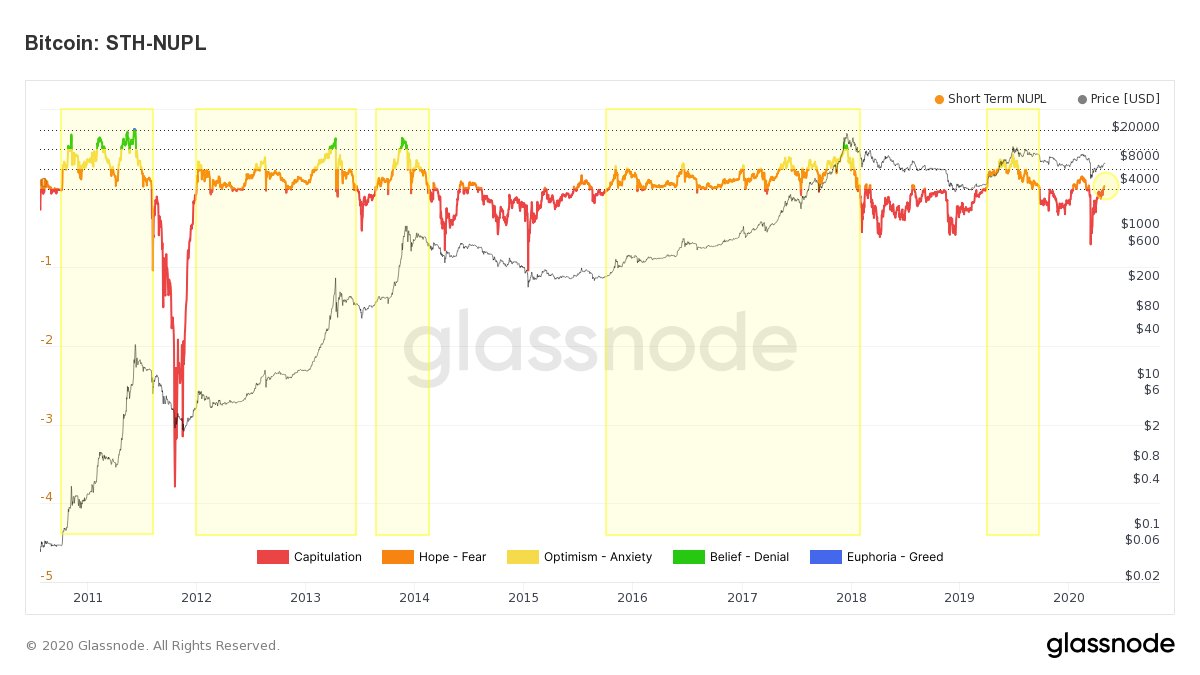 Emotions are running high given the proximity to the halving. Nevertheless, one thing certain true—Bitcoin is highly unpredictable. The cryptocurrency is giving mixed signals as to where it is headed next. The ambiguous outlook means that Bitcoin could very well dump in spite of the halving.
For more key market trends, subscribe to our YouTube channel and get weekly updates from our lead bitcoin analyst Nathan Batchelor.