The Growing Use Cases of Blockchain in Cannabis
Blockchain might relieve some of the pain felt by marijuana-related enterprises.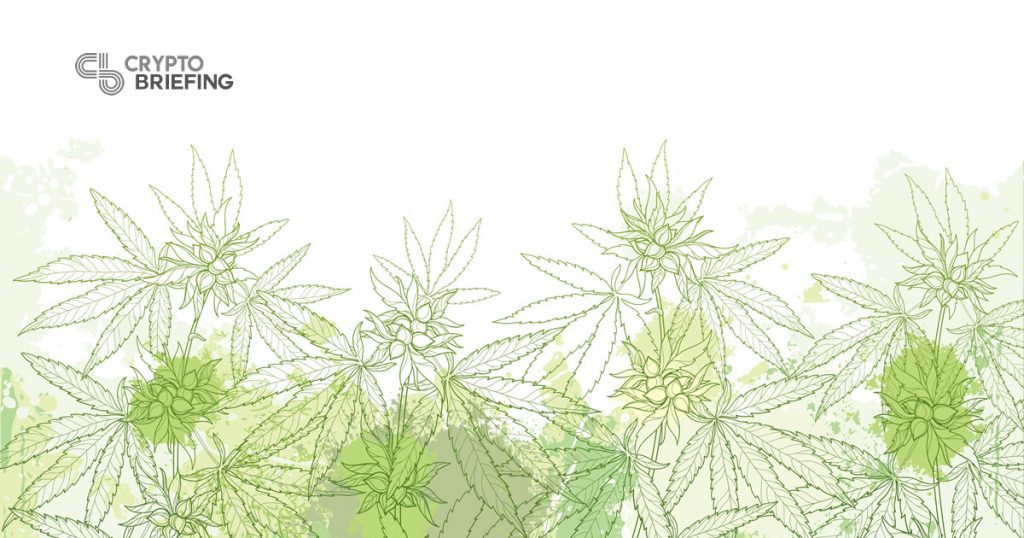 Cannabis is growing the U.S. and Canadian economies as the push for decriminalization moves forward.
In fact, as American industries go, its 250,000+ employees far surpassed the 52,300 coal miners in the USA in 2018. That number is expected to grow to 330,000 by 2022, and cannabis lobbyist group the Marijuana Policy Project reports nearly every state has some sort of pro-marijuana legislation at some stage of approval moving toward the 2020 election.
TruTrace CEO Robert Galarza took some time out from Consensus and Blockchain Week to discuss how his company's StrainSecure platform is leveraging blockchain to resolve the most pressing issues facing the modern cannabis industry.
The company currently operates in California and Canada, two of the most advanced cannabis cultures in the world. California contains Humboldt County, home to the Emerald Triangle, which is known worldwide as the Aalsmeer Flower Auction of pot. Canada joins Uruguay as the only two sovereign states in the world where cannabis is recreationally legal.
Both governments are struggling through growing pains with this emerging industry, and blockchain may hold the answer.
---
CA and CA: A Tale of Two Velocities
Legalizing weed isn't as easy as it sounds. California is ahead of the game in many ways, but it's still struggling with issues regarding its METRC seed-to-sale tracking system. And while legal within the state, it's still federally illegal, so there are a lot of gray areas cannabis companies have to navigate.
This leaves businesses in a precarious position – they have to record, track, and report all data on each plant's life cycle, but the tools to do so don't always work correctly. In fact, it took several years after the 2017 legalization before METRC's implementation, and it's still not fully functioning today.
Many credit software and database issues surrounding licensing and inventory tracking as driving prices up. This, in turn, crippled California's legal market, which fell far short of expectations so far.
And while Canada legalized before the U.S., launch difficulties strangled the supply of legal cannabis on its legal market. Red tape and bureaucracy still exists in the most progressive nations.
---
Relieving Headaches with Blockchain
With the lack of regulation comes lack of quality and safety. Up to 80 percent of the cannabis sold in California comes from the black market, and this creates a problem for medical patients who need dependable medication with predictable effects.
StrainSecure focuses on data integrity and efficiency, much like Factom's smart-contract protocol. The team believes in the power of blockchain to go beyond seed-to-sale to trace from genome-to-user. Like most modern blockchain 3.0 projects, interoperability and cross-compatibility is the aim.
Being able to trace the full supply chain of cannabis means both retailers and end-users can be assured that the product they're buying is exactly what it says it is. The strain genetics are stored in a smart contract, and data is added during each processing stage. It's even more thorough than the farm-to-table model we use for our food.
If molds, pesticides, and other carcinogens are found, they can be pinpointed and recalled effectively. StrainSecure is the blockchain solution helping cannabis-centric platforms like MJ Freeway, BioTrack, and AltThirtySix communicate with legacy platforms from SAP, Oracle, and others.
This interoperability is key to the success of the platform, as companies are using it to track and report data from in-store platforms to state regulators. It even helps dispensaries perform better due diligence on product being supplied by growers and distributors.
While many cannabis tech projects (crypto or not) focus on all the money in the sector, StrainSecure is fixing operational issues in the supply chain. It's a targeted move that will create a massive buzz if it's a big enough hit.
But it's not alone in this race – DMG Blockchain Solutions has a solution on the market, as does Parsl. Chain.io is working with Mile High Labs on another cannabis supply-chain blockchain. The space is highly competitive, and both cannabis and blockchain are too new to tell what's working yet.
Nobody ever said revolution was easy.