Blockchain Fund Summit Welcomes Institutional Crowd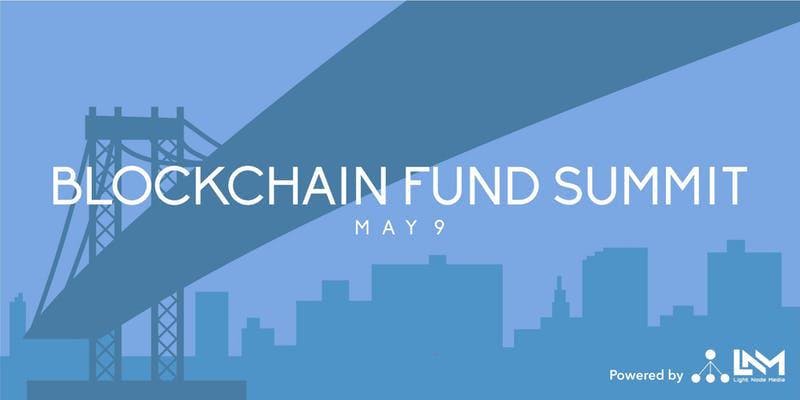 The Blockchain Fund Summit will kick off Blockchain Week in New York on May 9th. Light Node Media, a digital media company covering a variety of topics in the Blockchain sector, will be hosting a very unique event focused on educating family offices and institutional investors on investment strategies and opportunities through the lens of some of the most influential fund managers and thought leaders in the Blockchain space.
Some of the Questions and Topics covered:
Is the ICO market dead?
What are considered "viable" investment opportunities within the Blockchain sector?
How will the digital asset class evolve over time?
What does the 2019 market outlook look like?
Event will be held in Standard Hotel Highline, an iconic luxury boutique hotel in New York's meatpacking district.
Event Link: https://www.eventbrite.com/e/the-blockchain-fund-summit-of-new-york-registration-59662498138
---
Some of the notable speakers include: Zhen Cao from JLAB/JD Capital, Remington Ong from Fenbushi Capital, Paul Brodsky from Pantera Capital, Jalak Jobanputra from FuturePerfect Ventures, Joe DiPasquale from Bitbull Capital, Abhishek Punia from Draper Associates, Ryan Wang from Outpost Capital, Rui Zhang from Gumi Cryptos Capital, Anu Bhardwaj from Women investing In Women Digital, Ran Neuner from CNBC Crypto Trader, Kelvy Ko from LD Capital, Mitchell Dong from Pythagoras Investment Management, Ralf Kubli from Crypto Valley Venture Capital, Caroline Kassie from Blockchange Ventures, Cindy Leow from 256 Ventures, Mike Chen from GBIC, Brady Dale from Coindesk, Ilya Abugov from Crypto Briefing, Nisa Amoils a Venture Capitalist, Luis Gonzalez from Black Bull Advisors Hedge Fund, Cecilia Li from OK Coin, Matthew Nacier from Iconic Funds, Jay Liang from OES Capital Group and Danielle Blackwell, a Blockchain Consultant.
Strategic partners include NYU Blockchain, Hong Kong Blockchain Association, Women investing in Women Digital, the Alternative Investment Club of NY, Outpost Capital, Netcents, PAL Capital , Bull Flag Group, Consensys, Gokhshstein, Ausum Ventures, China Blockchain Expert, Nova Ecofund and JLAB/JD Capital.
Attending media include: Coindesk, Crypto Briefing, CNBC Crypto Trader and others.
Platinum sponsors and event keynotes include Black Bull Advisors Hedge Fund and OK Coin.
Black Bull Crypto Fund LP, managed by Black Bull Advisors, LLC, is currently a crypto-focused hedge fund. They invest in a diversified portfolio of cryptocurrencies and other digital assets using a variety of trading strategies. They use artificial intelligence technology that has demonstrated results in trading over the last ten years on traditional securities markets and since 2018, on the crypto assets markets.
Founded in 2013, OKCoin is a world leading digital asset trading platform. OKCoin currently provides fiat trading with major digital assets, including Bitcoin, Bitcoin Cash, Ethereum, Ethereum Classic, and Litecoin. OKCoin has recently expanded to the United States and is looking to serve more users around the world in the future.
Gold sponsors include Iconic Funds, Vault12 and the Tech Trader Fund.
Iconic Funds is a global crypto asset management firm headquartered in Frankfurt, Germany with offices in London and New York.
Vault12 delivers a decentralized digital custody solution to protect your most precious digital assets.
The Tech Trader Fund is a fully autonomous hedge fund where investments are managed entirely by machine.
Blockparty as a ticketing partner (you can pay in crypto to attend the conference via Blockparty), is hosting the VIP after party, and giving some remarks about NFT's being used in the live events industry/mass adoption.
Reception artwork provided by Andrew Freedman Home, an artist residency, incubator space, and a media center that engages in community development through Art Tech, and education globally.
Light Node Media, founded by Alexis Johnson, covers industry specific events in the space such as their notable Miami Art Week event, Art Decentralized, held at Nikki Beach Miami. Through events they plan to bridge the gap between the traditional world and the Blockchain world by education on a particular vertical ie Art, Investment, Real Estate, Healthcare etc.
This is an unpaid press release provided as a service to interested readers.