BNB Chain Support Launches on PrimeXBT: Why It Matters
PrimeXBT has included support for BTC, ETH, and ERC-20 tokens but now has added support for BNB Chain.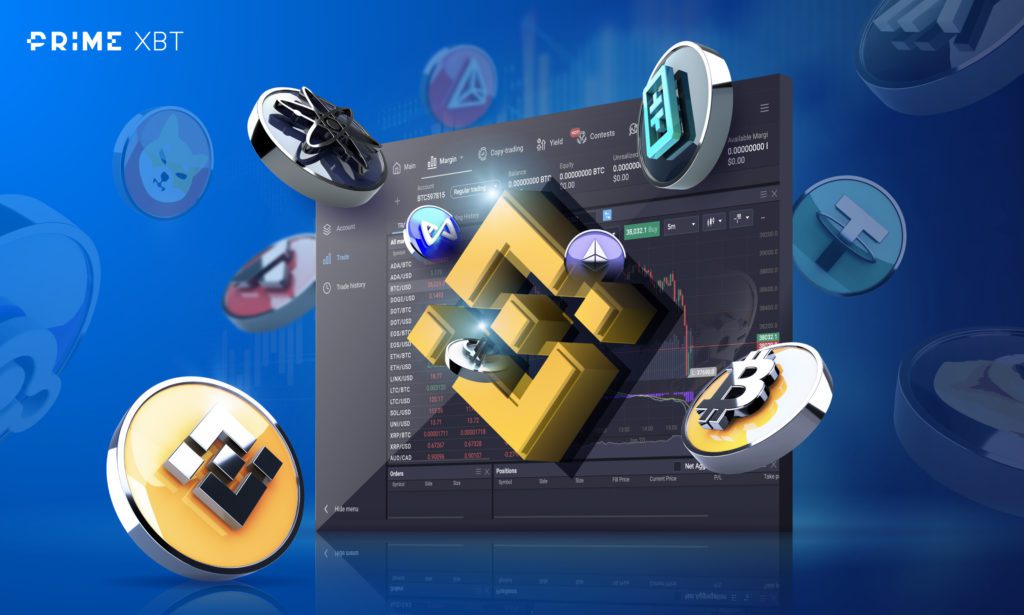 One of the leading platforms in the crypto industry today, PrimeXBT, has revealed that it added support for BNB Chain alongside its long-standing support for BTC and its Ethereum wallet, which includes support for ERC-20 tokens.
This is a big deal for traders and for the cryptocurrency community, and could be a game-changer for those tired of dealing with increasing ETH gas fees.
Lower Fees Matter To Traders
PrimeXBT is a margin trading platform for traders. Traders care a ton about trading tools, technical analysis software, multi-monitor support, and much more. But nothing at all matters more than their bottom line – their ROI.
The best traders take into consideration every transaction, all the way down to the fees associated with each trade. To ensure a trade satisfies the conditions of strict risk to reward ratios, traders must first calculate fees, project possible losses, and plan a price level at which to take profit at.
There are trading fees to consider, overnight financing fees, fees associated with sending funds to a platform, and then the fees related to withdrawals. By the time money is sent, positions are taken, profits are booked, and the money makes its way back to your bank account, the ROI could be significantly diminished. It is even worse when ETH gas fees are so high when using Ethereum.
Felix Hartmann, Managing Partner at Hartmann Capital, compared Ethereum to the "hottest night club in town." Everyone wants to get in, so there is often a long line out the door. Because of this demand, the night club charges a high premium price for entrance. The cost of popularity is expensive, and there are because so many DeFi projects, NFTs being minted on the Ethereum blockchain, gas fees can reach astronomical levels.
Sadly, this cost is passed onto traders who simply want to send their profits off a trading platform to be converted into cash. By the time the funds arrive and ETH gas fees are taken, that ROI will have significantly decreased. If ETH gas fees are extraordinarily high, so will the impact on a trader's capital.
As the industry grows, ways around this bottleneck and scaling challenge are appearing by the day. Many alternative layer one blockchains now exist, as well as many second-layer scaling solutions. Ethereum itself is being upgraded to Ethereum 2.0. But the most popular solution is BNB Chain. Not only does BNB Chain address the scalability issues and high fees associated with Ethereum, but offers full compatibility with Ethereum through the BEP-20 token standard.
PrimeXBT has included support for BTC, ETH, and ERC-20 tokens but now has added support for BNB Chain and BEP-20 versions of Tether, USD Coin, and the COV utility token. The variety of deposit and withdrawal options provides traders with many options to choose from and can take advantage of lower withdrawal fees to bolster ROI.
By comparison, sending ERC-20 versions of Tether or USD Coin costs a 10 USDT or USDC fee. COV tokens are a 5 COV fee to withdraw to an external wallet. Meanwhile, BEP-20 withdrawals of the same tokens are only 0.8 for USDT and USDC and only 2 COV. These greatly reduced fees are a convenience to any user.
It is also among the most innovative ways to hold onto more profits and ROI from things like margin trading, the Covesting copy trading module, yield accounts, and more. More than 100 trading instruments are available to choose from, ranging across cryptocurrencies, commodities, forex, and stock indices.
BNB Chain support is now live on PrimeXBT. BNB was also among the altcoins added earlier this year, so in hindsight, we should have seen this update coming. But PrimeXBT is continuously improving its platform, adding new instruments, or expanding its feature set to keep customers coming back for more.
Take advantage of BNB Chain support at PrimeXBT, or try one of the many other alternative funding methods to get started with the award-winning margin trading platform.