Breaking: eToro Officially Touches Down On U.S. Soil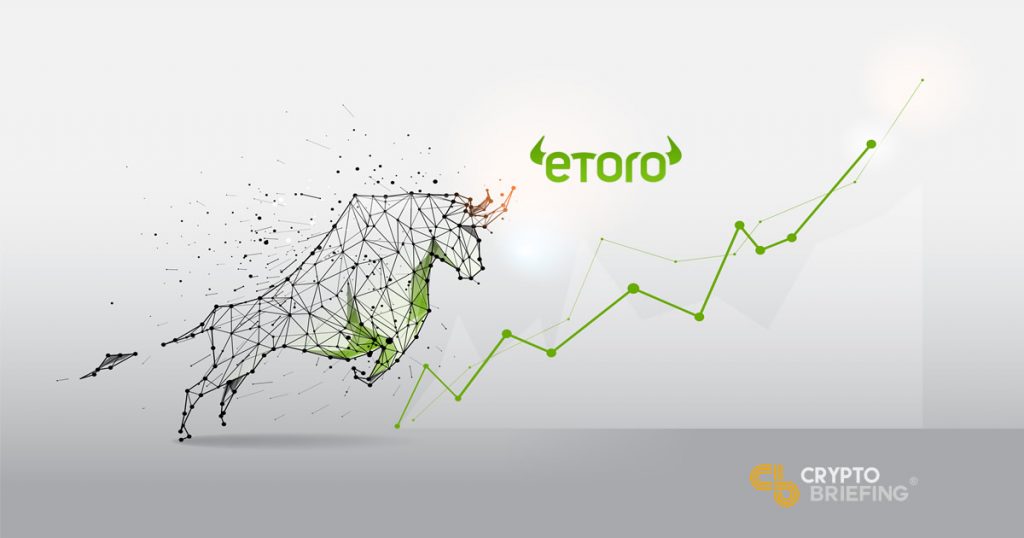 Today, social trading and multi-asset brokerage company eToro announced its long anticipated arrival to U.S. customers. Already operating in 140 countries with a base of over 10 million users, the platform will now open its doors to customers in 32 U.S. states and territories, who will now have access to eToro's plethora of trading, asset management, collaborative and educational features including:
CopyTrader: Which allows users to allocate funds for automated and proportional trades identical to trades of other users, allowing beginners to emulate strategies of more experienced traders.
CopyPortfolios: Portfolios curated by eToro's experienced analysts that bundle together crypto assets based on specific trading strategies. Three portfolios will be available at this feature's launch, with plans for further updates.
Support for 13 digital assets available for trading: Including; BTC, ETH, LTC, XRP, DASH, BCH, XLM, Ethereum Classic, NEO, EOS, ADA and Zcash.
Multi-Signature crypto wallet: Providing secure storage for BTC, ETH, LTC, BCH, XRP and XLM for easy token transfers and instant token conversions to improve inter-asset liquidity.
eToro's hallmark strength is its accessibility to traders of various financial backgrounds and differing degrees of expertise, allowing users to display their track records, portfolios, recent trades, and strategies thus facilitating the exchange of trading ideas and the optimization of user portfolios.
eToro also offers bonus incentives for experienced traders who wish to share their strategies by compensating traders with a proven track record for their performance. Now, this unique blend of trading, educational and social elements is available to traders based in the U.S.
eToro's mission has always been to span the gap between traditional and digital finance, between the old and the new. In an official press release, eToro CEO Yoni Assia said:
"For the first time, Americans can collaborate with other crypto traders when making buying and selling decisions. Users can adjust their trading strategies by watching and learning from others on the platform. eToro also acts as a bridge between the old world of investing and a blockchain-powered future."
Early investors also feel that in positioning itself as the binding element from the old to new financial worlds, eToro has secured a lucrative lucrative niche. Santo Politi, General Partner at Spark Capital said:
"Since Spark Capital's initial investment in 2012, we believed that eToro would lead the charge in disrupting the financial services market. eToro's launch into the U.S. market marks a significant milestone for the company as it builds a leadership position in the online trading space."
Moving forward, global financial markets will almost certainly see a shakeup in trends. Millennials show a dismally low interest in stocks and bonds versus a markedly high enthusiasm for purchasing and using cryptocurrencies among the same group.
The advent of the new digital asset class along with a general air of distrust towards wall street among younger generations could spell major changes in the way capital flows in the developing world economy.
The author is invested in digital assets, but none were mentioned in this article.