Bullish Social Sentiment for Tezos and Cardano Is Waning
Social engagement around Tezos and Cardano is tiring, spelling trouble for their token prices in the short-term.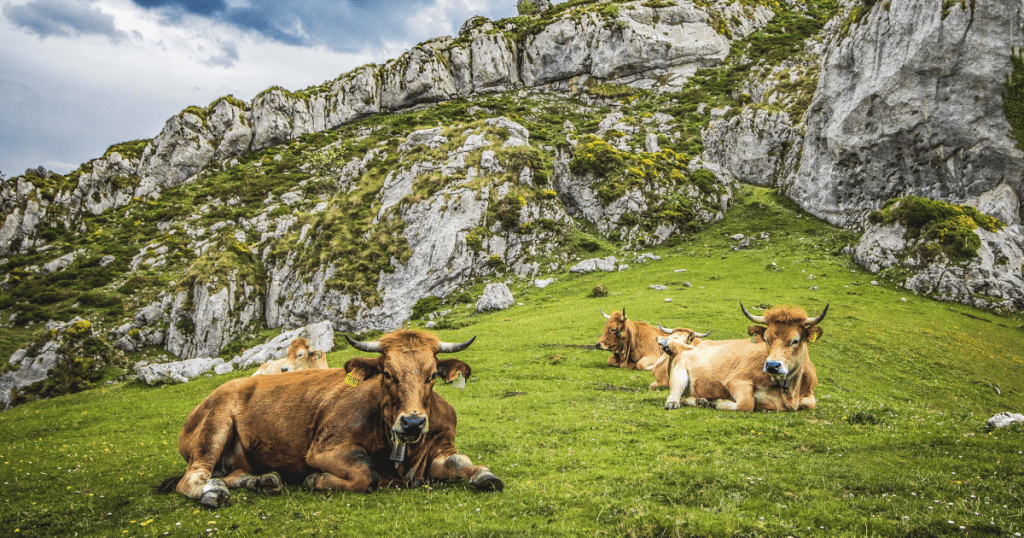 Key Takeaways
Tezos and Cardano's social engagement metrics have exploded over the past six months.
However, more recent engagement metrics show that enthusiasm for XTZ and ADA is waning, a sign that momentum is getting exhausted.
The drastic change in the global economic landscape stemming from COVID-19 could also impact the optimism around these altcoins.
Due to the unpredictability of the crypto market, both XTZ and ADA are contained within no-trade zones. A breakout is necessary to confirm the direction of the trend.
Six-month community engagement around Tezos and Cardano has been outstanding, showing the potential for bullish price movement. Though, the seven-day sentiment is not so optimistic.
Cardano and Tezos Social Metrics are Changing
Over the past six months, Tezos and Cardano's social engagement metrics are through the roof, according to crypto insights provider LunarCRUSH. The California-based firm reported that more than 75% of all the social interactions, across multiple platforms, has been bullish about these two altcoins.
Tezos saw more than 700 million social engagements throughout this period while Cardano had over 620 million engagements, staggering numbers considering that there are only about 30 million people who own cryptocurrency.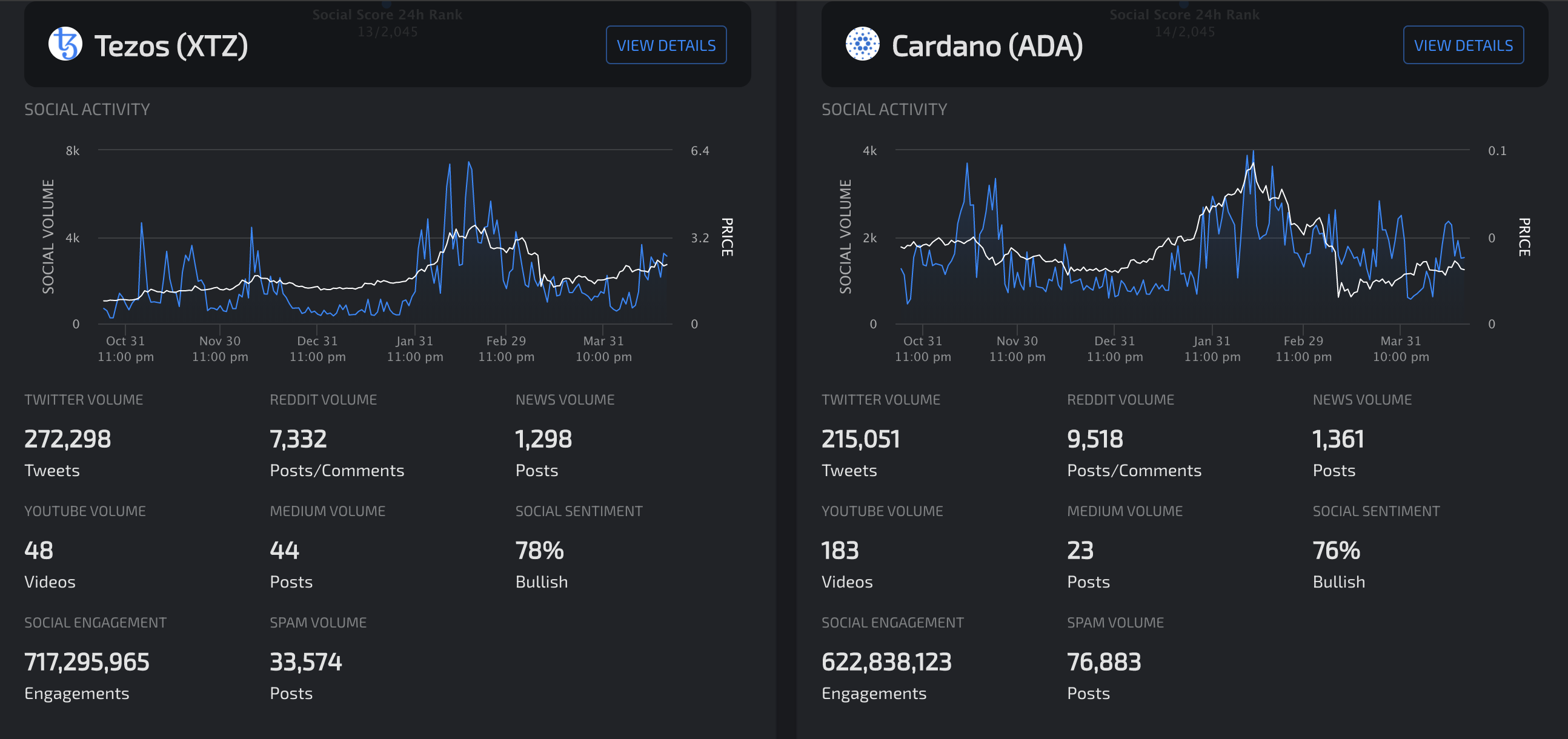 LunarCRUSH takes into consideration the depth of community interaction across all social posts. These include favorites, likes, comments, replies, and other metrics. By analyzing these metrics, the company maintains that the XTZ and ADA community have remained overwhelmingly bullish over the last six months.
Nonetheless, the state of commotion in the global financial markets could still spill over to these tokens.
In contrast, data from The TIE, an institutional sentiment analysis firm, shows that daily sentiment has started to wane. Over the last seven days the number of positive conversations on Twitter regarding Tezos and Cardano has been fast declining from a local peak.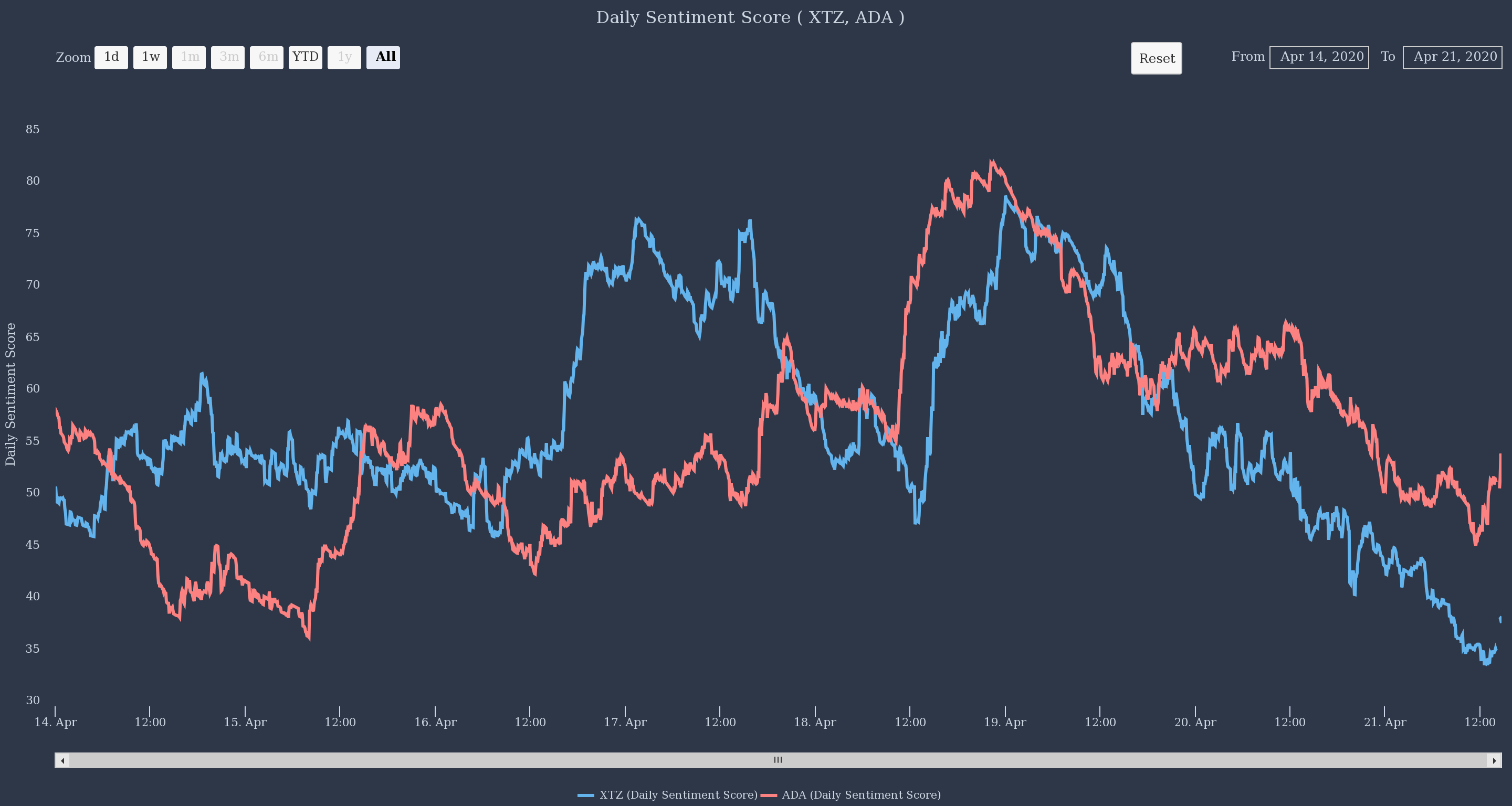 The sudden sentiment change could spell trouble for these altcoins in the near-term future, especially as the worldwide economic crisis deepens. Though, this still needs to be weighed against six months of strong sentiment. Moreover, Cardano seems to be returning to a multi-week average, rather than hitting new weekly lows like Tezos.
Is a Correction in the Works?
Indeed, there are multiple technical patterns that add credence to the bearish outlook.
Tezos, for instance, appears to be printing a rising wedge on its 12-hour chart. This technical formation developed as a direct result of the price action seen after the Mar. 12 market meltdown. One trend line can be drawn around the swing highs while another seems to join the swing lows.
An increase in the selling pressure behind XTZ that allows it to break below the lower boundary of the wedge could foreshadow a price drop of 36%. If validated, Tezos could be preparing to plummet to $1.34.
This target is determined by measuring the height of the wedge at its thickest point and adding that distance to the breakout point.
Meanwhile, Cardano keeps getting rejected by its 50-day exponential moving average. Failing to move past this supply barrier may allow bears to take control of the price action. This would, consequently, increase the odds of a downward impulse.
Under such circumstances, ADA could drop to $0.03 or lower.
Not Everything's Lost for ADA and XTZ
Regardless, the unpredictability of the cryptocurrency market makes it impossible to omit the bullish outlook. Considering that Bitcoin's halving is just around the corner, and that the crypto market tends to become wildly volatile around this event, investors must be cautious to avoid getting caught on the wrong side of an upswing.
Therefore, the area between the $2.1 support and the $2.4 resistance level is a reasonable no-trade zone for those trading Tezos. A 12-hour candlestick close below this trading range would likely validate the bearish target presented by the rising wedge previously mentioned.
Conversely, breaking above this no-trade zone with enough volume will jeopardize the pessimistic outlook. If that happens, investors may go through a stage of FOMO (fear-of-missing-out) pushing the price of XTZ to $3 or higher.
Along the same lines, the upper and lower Bollinger bands on Cardano's 12-hour chart will help determine where it is headed next. These resistance and support levels sit at $0.037 and $0.032, respectively.
Moving below support could trigger a spike in supply that sees ADA plunge to $0.03. Meanwhile, climbing above resistance may ignite panic buying among market participants, pushing its price towards $0.05 or higher.
Overall Cryptocurrency Sentiment
The impact of the pandemic is starting to reveal itself. Oil prices just hit unprecedented lows after the value of a barrel of oil turned negative, for the first time ever, on the futures markets. Meanwhile, the total unemployment claims in the U.S. rose to 22 million over the past month, according to the U.S. Department of Labor, forecasting Great Depression levels of joblessness.
These factors affect the way investors feel about the market, even in crypto. Indeed, the Crypto Fear and Greed Index estimates that market participants are extremely fearful over the probability of a deep recession that spills into the cryptocurrency market. Even BitMEX founder Arthur Hayes thinks that a $3,000 target for Bitcoin is quite realistic given current economic conditions.
However, there are opportunities to be had when fear reigns the market. Though, bulls still need to tread with caution as things may get worse before they get better. Currently, it would be wise to wait for confirmation before entering a major trade. Patience is the key to profiting from the next major price movement in Tezos and Cardano.
For more key market trends, subscribe to our YouTube channel and get weekly updates from our lead bitcoin analyst Nathan Batchelor.