Buterin And Lubin Among $700,000 MolochDAO Investors
Moloch was the Canaanite god of sacrifice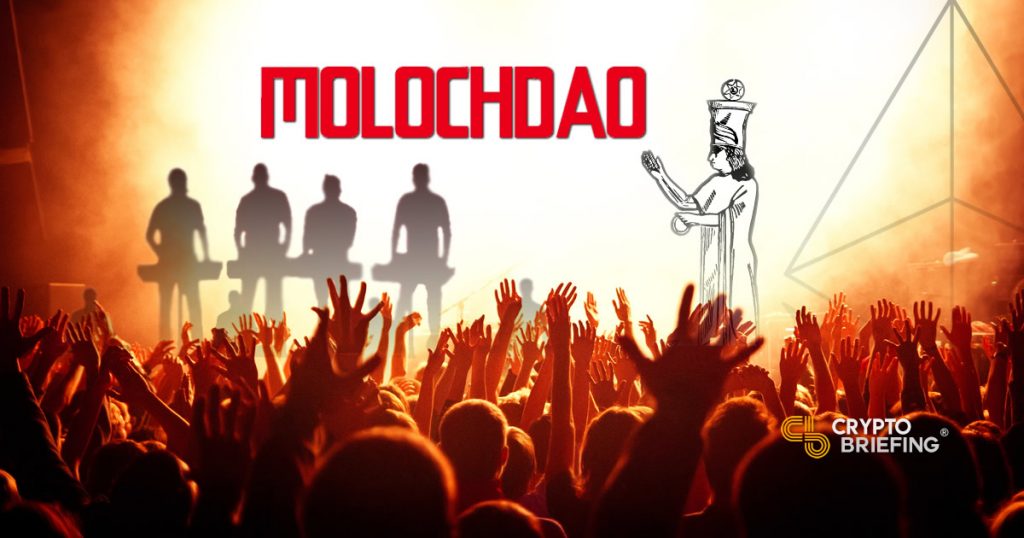 Vitalik Buterin, Joseph Lubin, and the Ethereum Foundation will be investing $700,000 of Ether (ETH) into MolochDAO, a decentralized incubator program for prospective Ethereum projects.
Co-founder Ameen Soleimani announced at the Ethereal Summit in New York that all three parties had submitted proposals to invest in MolochDAO.
Launched in mid-February by a group of Ethereum developers, MolochDAO – named after the Canaanite god of sacrifice – is designed to be a communal source of funds which members can use to help finance new projects and enrich the wider Ethereum ecosystem.
The clue's in the name: MolochDAO is a decentralized autonomous organization. Like most DAOs, it relies on a series of interconnected smart contracts to effectively coordinate funds.
Soleimani, who is also the founder of SpankChain, a decentralized payment solution for the adult industry, said that MolochDAO represented a "paradigm shift" in how Ethereum develops and expands, going forward.
The idea, according to Solemani, is MolochDAO will effectively allow Ethereum to fund itself. Investors can decide which projects they want to support and collaborate with like-minded ecosystem members.
"Voluntary incentive alignment is really powerful", said Solemani. Project financing will rely less on developing connections with centralized entities, funds or incubators. With MolochDAO providing the technological foundation, it will not only make the investment space more accessible but hopefully make it more meritocratic as well.
Although Buterin and Lubin are its two most high-profile investors, other projects in the Ethereum ecosystem have come out in support of MolochDAO. Both prediction market platform, Gnosis, as well as stablecoin provider Maker, have sent representatives to help guide the next phase of Ethereum dApp funding.
As the founder of ConsenSys, Lubin is head of the largest incubator in the blockchain space. Investing into MolochDAO suggests a push to align the realities of project investment with the founding principles.
This isn't Ethereum's first DAO experiment. The infamous DAO hack of 2016 is widely remembered, leaving a strong legacy in Ethereum Classic (ETC).
Hackers targeted the original DAO because it held hundreds of millions of Ether: hopefully the sacrifice that Lubin, Buterin, and the Ethereum Foundation are making in MolochDAO will be much more productive.