California Governor Signs Executive Order on Blockchain
Governor Gavin Newsom wants to help blockchain businesses thrive in California.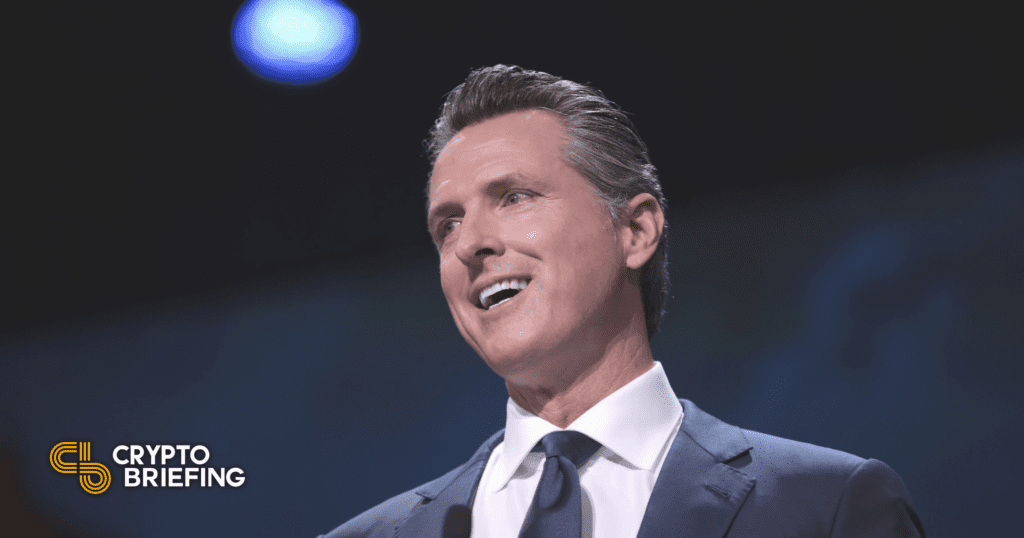 Key Takeaways
California Governor Gavin Newsom has signed an executive order focused on regulating blockchain technology.
The executive order aims to promote responsible crypto development in California and ensure consumer protection.
The order also aims to harmonize state and federal laws and is built on Biden's earlier executive order from March.
California's governor has signed a new executive order promoting blockchain development within that state.
Newsom Signs Executive Order
Gavin Newsom, governor of California, has signed an executive order to promote blockchain development in the U.S. state.
The executive order is broadly intended to promote responsible crypto development and ensure consumer protection. It also aims to create a consistent environment for businesses and attempts to harmonize laws at the federal and state level. Finally, it will require the state to investigate how blockchain technology can be used in state and public institutions.
Newsom called California "a global hub of innovation" but lamented that "government [often] lags behind technological advancements." He explained that the order announced today will help create the groundwork for "consumers and business to thrive."
In a statement to CNBC, Senior Advisor to the Governor Dee Dee Myers noted that one-quarter of American blockchain businesses are based in California. She added that the order aims to help them remain in the state through responsible regulations.
The new directive builds upon President Joe Biden's executive order on cryptocurrency, released in March. That order had similar goals of protecting consumers and promoting innovation.
Newsom Is a Pro-Crypto Politician
Newsom was recognized as a pro-cryptocurrency politician prior to his election as governor of California in January 2019.
In 2014, Newsom became one of several American politicians to accept Bitcoin donations for his election campaign. He directly challenged Jared Polis, now the governor of Colorado, to competitively collect Bitcoin donations that year.
Later, in 2020, Newsom signed a law that is similar to today's executive order. That law renamed a California state department and gave it the power to regulate virtual currencies while promoting consumer-friendly innovation.
Apart from that, Newsom has said very little about cryptocurrency and blockchain. But it seems that after today's announcement, California will begin dealing with the technology directly.
Disclosure: At the time of writing, the author of this piece owned BTC, ETH, and other cryptocurrencies.