Canada Bans 34 Crypto Wallets Tied to Freedom Convoy
Those wallets allegedly contain $1.4 million in Bitcoin and other cryptocurrencies.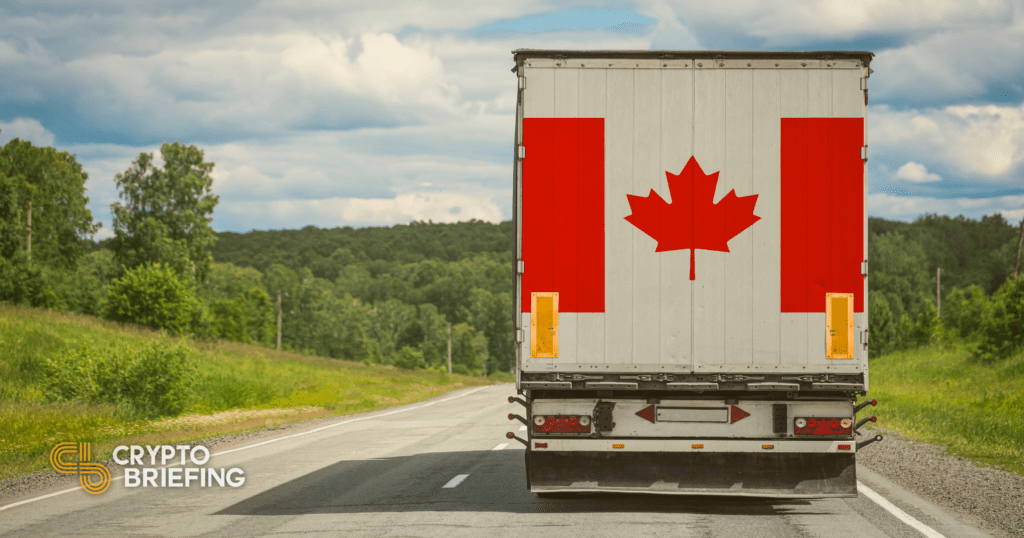 Key Takeaways
Canadian police authorities have issued an order that blacklists several crypto wallets linked to the Freedom Convoy.
There are reportedly 34 cryptocurrency wallets on the list containing approximately $1.4 million in cryptocurrency.
Canada invoked the Emergencies Act on Monday, allowing for funds to be frozen without the need for a court order.
Canadian authorities have reportedly banned companies from working with 34 cryptocurrency wallets associated with the Freedom Convoy, a protest against COVID-19 restrictions.
$1.4 Million of Crypto Could Be Halted
Canadian Prime Minister Justin Trudeau invoked the Emergencies Act on Monday, allowing the government to freeze bank accounts funding the protestors without needing to obtain a court order.
Now, according to reports from Keann Bexte of the Counter Signal, the Royal Canadian Mounted Police (RCMP) and the Ontario Provincial Police are attempting to freeze transactions from 34 crypto wallets associated with the Freedom Convoy.
The list purportedly includes 29 Bitcoin wallets, two Ethereum wallets, as well Litecoin, Monero, and Cardano wallets. The wallets are said to contain about 25 BTC worth $1.4 million.

The order says that Canadian authorities have been "investigating cryptocurrency donations being collected in relation to illegal acts falling under the scope of the Emergency Measures Act."

The police order does not suggest that the authorities can freeze the wallets directly. Rather, it aims to prevent FINTRAC-regulated companies from accepting funds from those wallets, thereby preventing the holders from cashing out their crypto via exchanges.
Emergencies Act Allows for Crypto Regulation
Crypto Briefing was unable to locate a full copy of the police order in full, and authorities have not confirmed the report.
However, the Canadian government made it clear on Monday that it would target cryptocurrency alongside traditional transactions. The Emergencies Act "cover[s] all forms of transactions, including digital assets such as cryptocurrencies," Deputy Prime Minister and Minister of Finance Chrystia Freeland said this week.
It is unclear whether the police order targets HonkHonkHodl, a fundraising effort that succeeded in raising nearly $1 million in Bitcoin. Vice suggested on Tuesday that the movement organizers have obtained Bitcoin from that fundraising effort and are now in the process of distributing the funds to individuals.
The utility of cryptocurrencies for donations has increasingly been utilized by civilian protests. Notably, Ukrainian volunteer groups and non-government organizations saw a 900% increase in funding via Bitcoin last year from the previous year, possibly in the face of the increasing Russian military presence at its borders.
Disclosure: At the time of writing, the author of this piece owned BTC, ETH, and several other cryptocurrencies.