Cardano's Shelley Testnet to Launch Tomorrow, ADA Holders Skyrocket
Cardano will open the Shelley testnet to any operator who wants to set up a stake pool, sending social engagement metrics through the roof.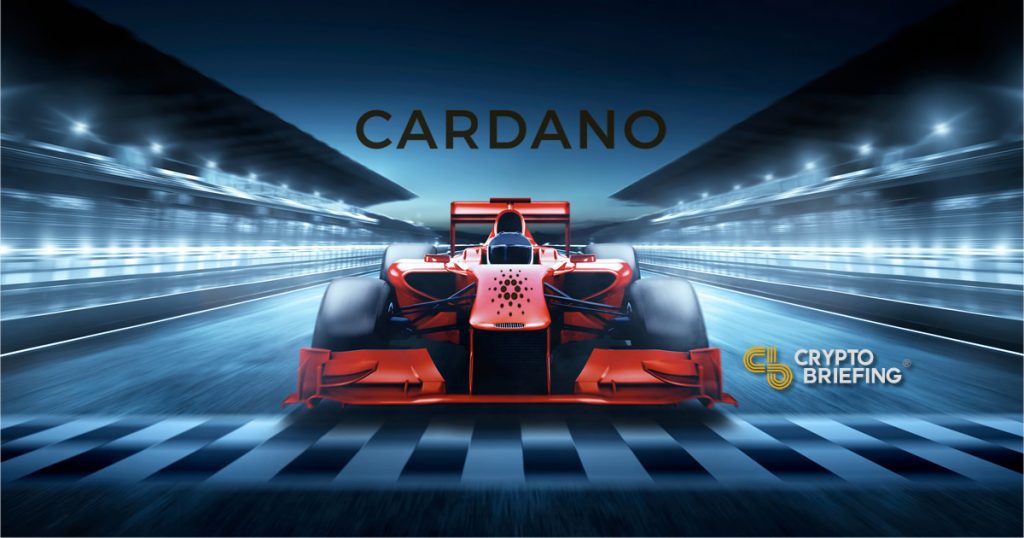 Key Takeaways
The IOHK team announced the roll-out plan for the upcoming Shelley upgrade.
Following the announcement, social engagement metrics skyrocketed showing high levels of speculation around this hardfork.
However, ADA continues consolidating within a no-trade zone without clear signs of where it is headed next.
Cardano has kept to its long-term roadmap, and as the protocol transitions to a proof-of-stake consensus algorithm, speculation on the project's native token ADA runs rampant.
The Shelley Upgrade Is Underway
IOHK, one of the leading entities contributing to the development of Cardano, is preparing for a busy couple of weeks ahead.
As the team transitions to the next milestone in the roll-out plan for the upcoming Shelley upgrade, things are moving quickly, according to Tim Harrison, the marketing and communications director at IOHK.
Harrison noted that the introduction of the incentivized testnet (ITN) had been a success since a handpicked group of experienced stake pool operators were able to refine the documentation regarding the upcoming changes.
Now, these" "pioneers" will guide and help new pools onboard starting tomorrow.
"On [June 9], we're entering a new phase for Cardano. The Shelley testnet will open up to any operator who wants to set up a Cardano stake pool, ready for staking, and delegation on mainnet later this summer… There will be bugs and a few bumps in the road still. But our pioneer community has been doing an excellent job of bashing and smoothing things out with well over 60 pools now up an running and they'll be around to help," said Harrison.
ADA Holders Rise to New All-Time Highs
Following the announcementCardano's'sannouncementCardano's's social engagement metrics spiked up based on data from LunarCRUSH. The firm recorded over 1.1 million interactions across multiple social network platforms, with roughly 70% of them being bullish about ADA.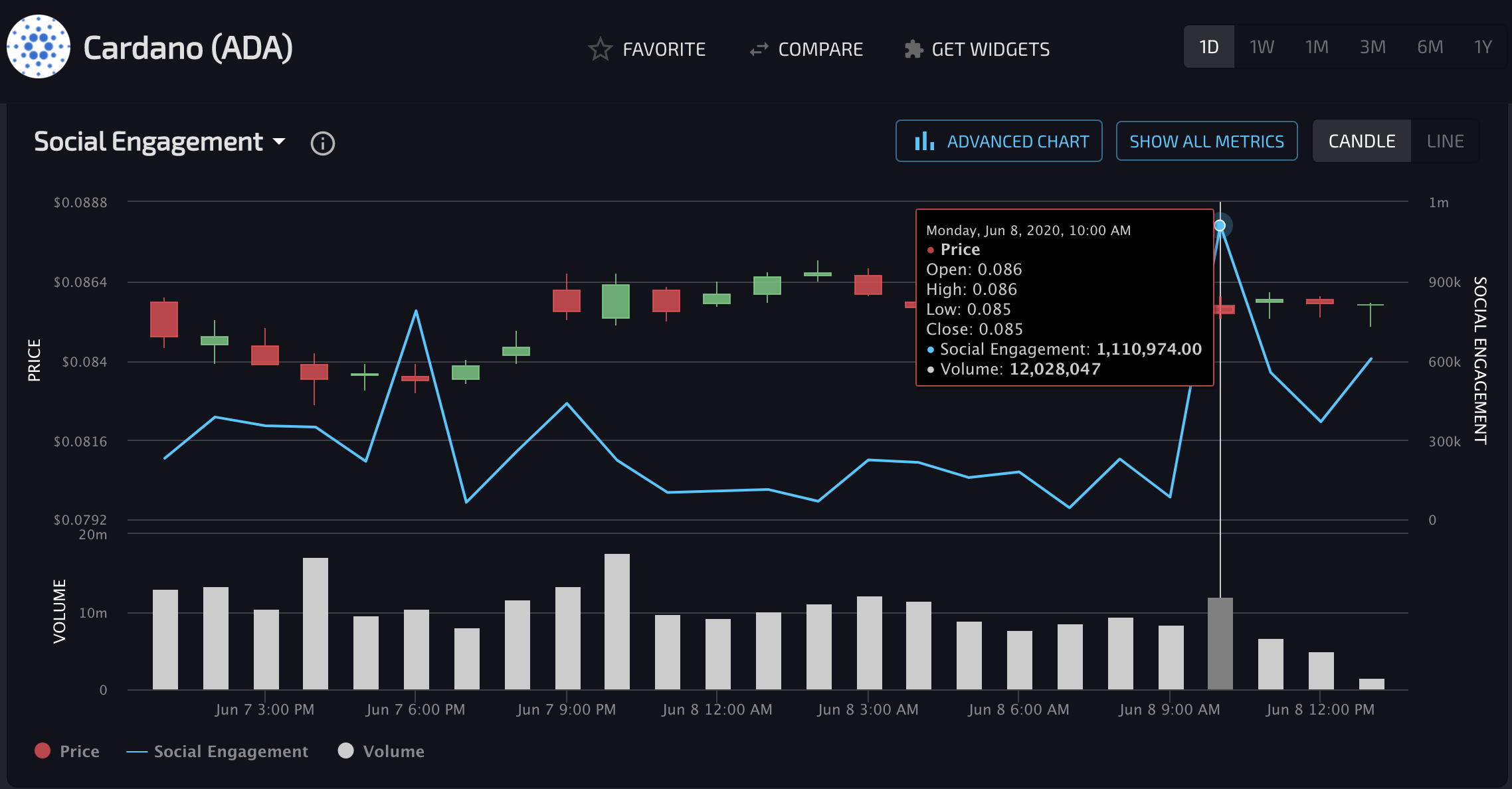 As speculation mounts around the Shelley hardfork, demand for the so-called "Ethereum Killers" is on the rise.
The total number of addresses holding ADA reached a new all-time high of nearly 390,000 addresses, according to IntoTheBlock.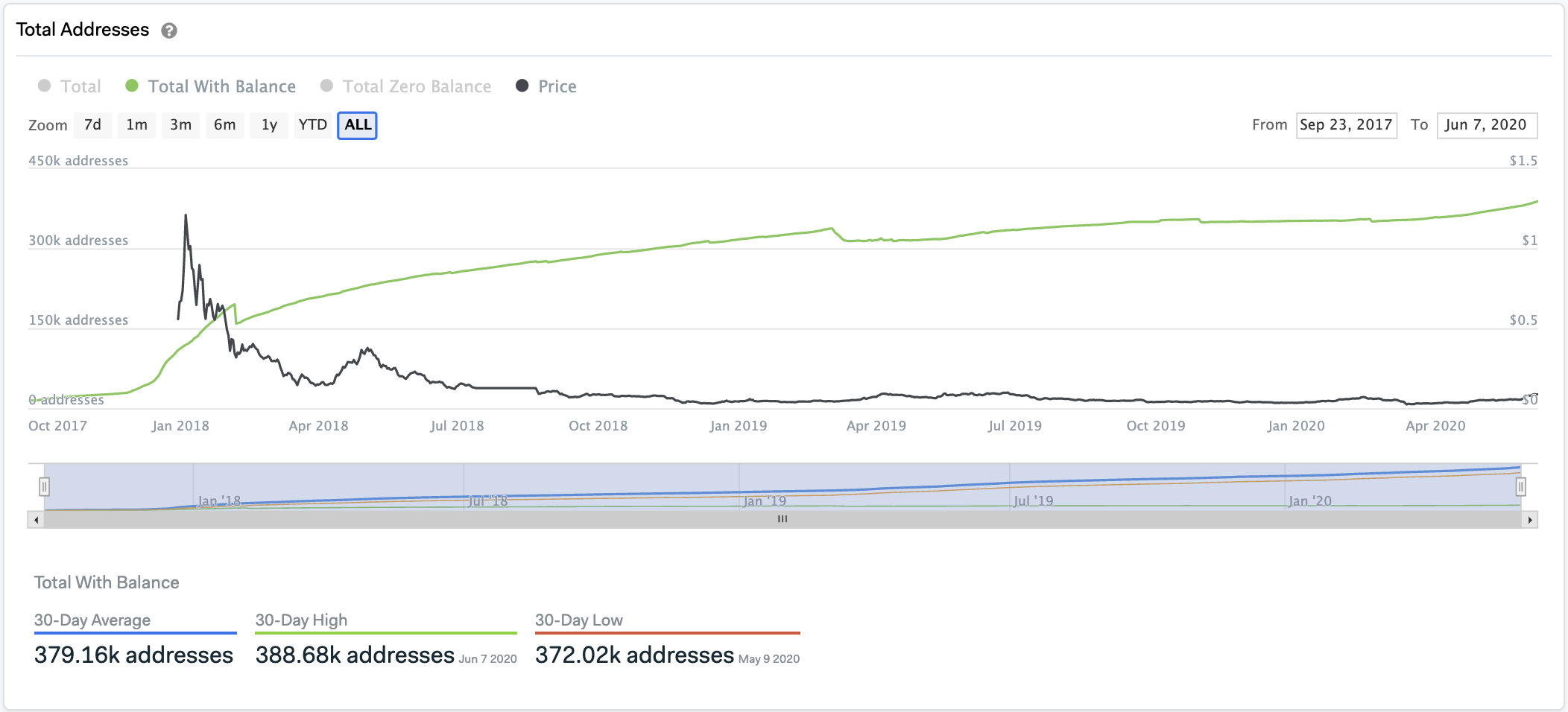 The sudden uptick could be fueled by those who want to earn staking rewards as the Cardano protocol transitions to a proof-of-stake algorithm.
Cardano Consolidate With Massive Resistance Ahead
RegardlessIntoTheBlock's "In/Out of the Money Around Price" (IOMAP) model suggests Cardano faces a massive resistance barrier ahead.
Based on this on-chain metric, approximately 15,500 addresses bought over 3.25 billion ADA between $0.086 and $0.089. These price levels represent a significant supply wall that may reject the smart contracts token from advancing further.

From a technical perspective, Cardano continues to consolidate within a narrow trading range. The price action of this altcoin has been contained between the $0.083 support level and the $0.090 resistance since the beginning of the month.
Throughout this stagnation phase, the Bollinger bands were forced to squeeze ADA's 6-hour chart. Squeezes are indicative of periods of low volatility and are typically succeeded by wild price movements.
The longer the squeeze, the higher the probability of a strong breakout.
Since this technical index does not provide a clear path for Cardano's direction, the area between the lower and upper band is a reasonable no-trade zone.
A spike in volume that triggers a decisive move below or above this zone will determine the direction of the trend.
An increase in the selling orders behind this altcoin that allows it to break below support would likely be succeeded by further selling. If this were to happen, the most important areas of demand to watch are provided by the 38.2% and 50% Fibonacci retracement levels.
Such support points lie around $0.073 and $0.062, respectively.
Moving past the $0.090 resistance level, however, may ignite FOMO among investors sending Cardano to Jun2019's'sJun2019's's high of nearly $0.11 or higher.
Since much of the activity around Cardano hinges on the impact of the incoming Shelley upgrade, this event might serve as "buy the rumor and sell the news" scheme.
It is worth noting that IOHK has also notoriously delayed many of the network's upgrades previously scheduled. Thus, there is still substantial uncertainty as the hardfork edges closer to its launch date.
It remains to be seen whether support or resistance will break first and identify where Cardano's price is headed next.
For more key market trends, subscribe to our YouTube channel and get weekly updates from our lead bitcoin analyst Nathan Batchelor.