CertiK Partners with Binance Smart Chain for the Future of DeFi Security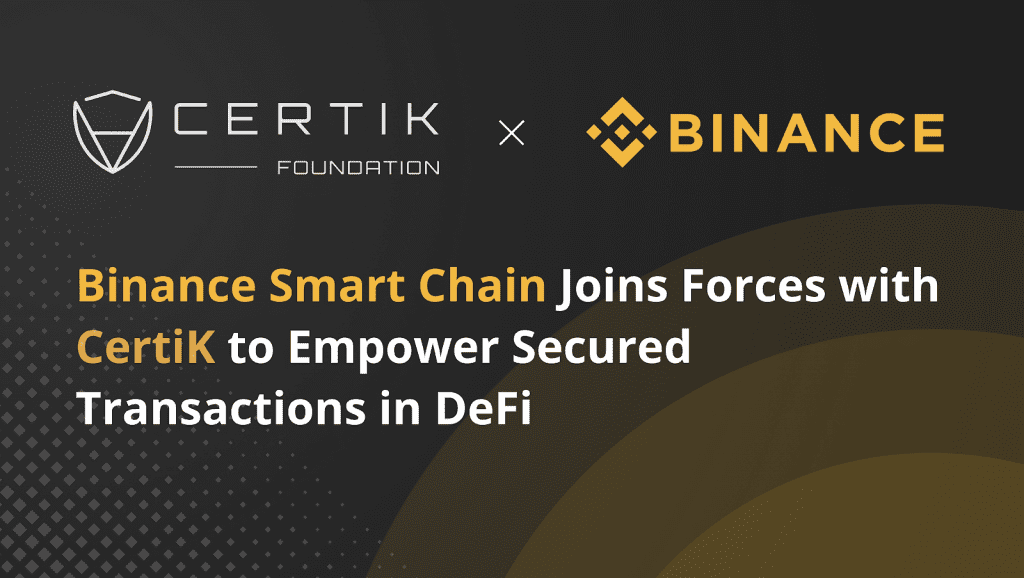 Binance Smart Chain, a sovereign smart contract blockchain delivering Ethereum Virtual Machine compatible programmability developed by Binance and its global developers, joins forces with CertiK to accelerate security implementations in the rapidly expanding Decentralized Finance sector. An interoperability protocol will be created between BSC and the security-oriented CertiK Chain to grow the DeFi tools and services ecosystem and protect users against bad actors.

According to DeFi Pulse, the total value locked in decentralized finance products is hovering just below $10 billion worth of cryptocurrency as of Sept. 20, with Ether and Ethereum based-products contributing to over 80% of the value. While the skyrocketing growth in DeFi could be seen as a positive sign for blockchain as a whole, the recent surge in demand for digital financial products has caused unexpected congestion, raising questions about the scalability of the Ethereum network once again.
The Binance Chain team launched the Proof of Staked Authority consensus-powered BSC that offers a high-speed network with faster block time and lower transaction fee, providing an alternative solution for the growing DeFi audience by enabling smart contract functionalities, dApp facilitation, sophisticated DeFi tools, and access to the broader Binance ecosystem.
CertiK, the leading blockchain auditing firm trusted by industry leaders including Aave, Kava, and Ampleforth, will provide BSC with best-in-class cybersecurity services such as customized security audits and penetration testing, as well as decentralized security products such as CertiK Security Oracle scores and CertiKShield reimbursement pools.
CertiK will help ensure that transactions and smart-contract interactions on BSC follow the industry's highest standards. Potential fraud, leaked sensitive data, and malicious code hidden in unverified contracts can be detected and flagged programmatically with CertiK's technologies.
The CertiKShield system, an insurance-like protocol that enables users to purchase protection against the loss or theft of any digital assets, will relate directly to the "Security Oracle" scores: a higher score means the project is more secure, leading to cheaper rates. Reimbursement pools will be created by staking, giving stakers normal staking rewards on top of a portion of the fees paid by smart contract users looking to protect their funds. Shortly following the initial launch, Binance Smart Chain and CertiK will partner to create a CertiKShield pool to protect holders of BNB.
"The security audit is not the end, but actually just the beginning," said Daryl Hok, COO of CertiK. "As experts in security, CertiK is well-positioned to use its analyses and technologies to provide risk management solutions to blockchain projects and users."
The rise of DeFi has reaffirmed the disruptive potential of blockchain, but obstacles in scalability and security have impeded its growth. Binance Smart Chain and CertiK aim to approach these problems together, utilizing scalable and compatible infrastructure with top-notch security to boost the continuous growth of DeFi.