Chainwire Bags Nine G2 Excellency Badges for Its Crypto Press Release Distribution Platform
A total of nine decorations recognize Chainwire's efforts in providing a Best-in-Class PR service for blockchain companies.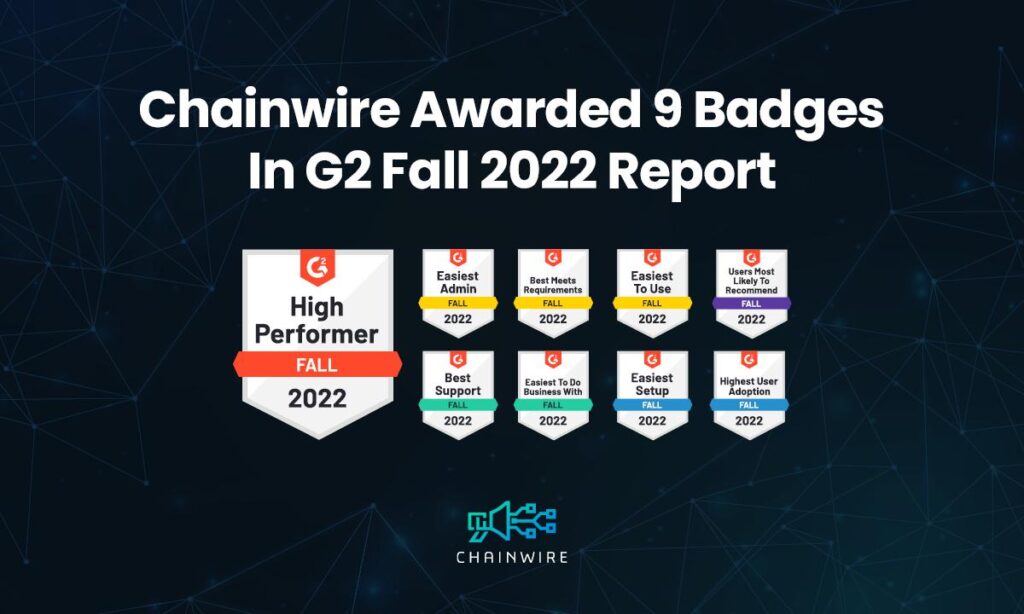 Chainwire, a crypto press release distribution service, has been awarded nine badges by software marketplace G2. The badges were assigned in G2's Fall 2022 report based on the responses from real users featured in its quarterly review form.
Best-in-Class PR Service for Blockchain Companies
Accolades earned by Chainwire include High Performer, Users Most Likely to Recommend, and Highest User Adoption. A total of nine decorations recognize Chainwire's efforts in providing a Best-in-Class PR service for blockchain companies. Additional badges awarded to Chainwire include Best Meets Requirements, Easiest Admin, Easiest Setup, Easiest To Do Business With, Easiest to Use, and Best Support.
Alon Keren, CMO at Chainwire, said:
"We're delighted to have been recognized by G2 for our efforts in delivering an industry-leading newswire syndication service. We're proud to be the first PR service of its kind for the blockchain industry, facilitating press release distribution across the entire cryptosphere, and providing Web3 projects the attention they deserve."
Sara Rossio, Chief Product Officer at G2, added:
"Rankings on G2 reports are based on data provided to us by real software buyers. Potential buyers know they can trust these insights when researching and selecting software because they're rooted in vetted, verified, and authentic reviews."
Popular with more than 300 clients in the cryptosphere, including crypto exchanges, Web3 events, blockchain companies, launchpads, investment firms, DeFi projects and Web3 PR agencies, Chainwire allows press releases to be published automatically across the leading crypto media publications all around the world.
Learn more about what real users have to say (or leave your own review of Chainwire) on G2's Chainwire review page.
Chainwire automates the process of submitting press releases to major crypto news outlets, enabling Web3 projects to reach multiple publications and tap into a global audience that's seeking their products and services. Developed by an experienced team with long-established media connections, Chainwire takes the guesswork out of crypto PR campaigns. Get noticed across the industry's busiest platforms and news desks and then sit back and watch the results come in.
G2 is the world's largest and most trusted software marketplace. More than 60 million people annually — including employees at all of the FORTUNE 500 — use G2 to make smarter software decisions based on authentic peer reviews. Thousands of software and services companies of all sizes partner with G2 to build their reputation, manage their software spend, and grow their business – including Salesforce, HubSpot, Zoom, and Adobe.