Chris Williams Appointed as Crypto Briefing's Editor-in-Chief
A letter from our newly appointed Editor-in-Chief.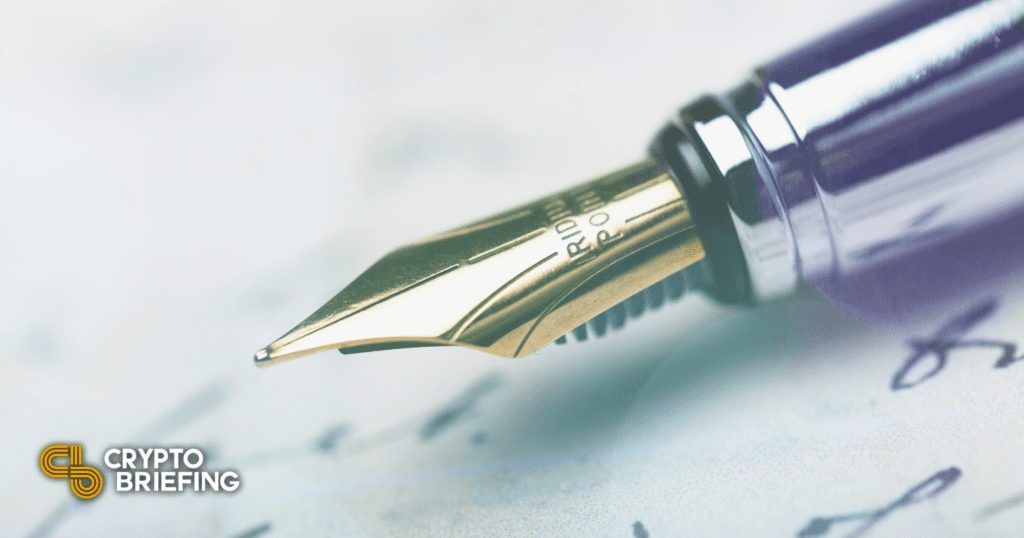 Key Takeaways
Crypto Briefing has appointed Chris Williams as its new Editor-in-Chief.
Mitchell Moos will remain CEO, though there will be some other small changes to the editorial team.
The publication will continue to focus on the most important developments in the crypto space.
Crypto Briefing's new Editor-in-Chief shares some insights into the publication's plans for the future.
Crypto Briefing Appoints New Editor-in-Chief
Over the few years that I've been following crypto, I've come to learn that this space has a way of playing on your perception of time. It feels like a lifetime ago that my first article was published on Crypto Briefing, yet it was only November 2020.
That was during the hangover from DeFi summer, and just ahead of what would go down as the biggest bull run in history. Our whole editorial team was just starting to get excited as it was obvious what was coming around the corner. MicroStrategy and Square had just bought Bitcoin, and people were starting to care about crypto again as lockdowns persisted.
I remember writing that 2021 would be a big year for NFTs, but I don't think I or anyone else could have predicted how wild things would get. A JPEG sold for $69 million at Christie's, and suddenly the world was rushing to understand them. A year and an extremely valuable set of bored-looking apes later, most people still think they're useless because they can right click save them.
But obviously it wasn't just NFTs. Dogecoin, Axie Infinity, EIP-1559, El Salvador, SOLUNAVAX, and more multi-million dollar hacks than any of us could count—there was never a dull moment, and we had a lot of fun getting stuck into the reeds to cover the important parts.
The whole space has got much, much bigger in a short timespan, and Crypto Briefing has also grown. We had millions of readers last year and are targeting the same in 2022.
Crypto Briefing prides itself on its crypto-native line-up—we are all active users, and we believe that this has a strong impact on our output. As we move forward, I'll continue to oversee the editorial team, and there are some other changes in place or coming very soon.
Tim Craig, who astounded me with his immediate grasp of how to cover this fast-paced world, has taken on the role of Assistant Editor. It's thoroughly well deserved; you should check his NFT features and newsletters if you haven't yet.
Stefan Stankovic will also soon be moving over to SIMETRI to fulfill his ambition of becoming a full-time Research Analyst. I knew from my first call with Stefan that he was just like me; we were both early DeFi believers who had refused to waver in our conviction even as Ethereum suffered a brutal 94% bleed in 2018. We both used that time to learn (he's also a killer writer, but you probably know that by now).
Meanwhile the rest of the editorial team—including our U.S. editor Jacob Oliver and reporters Brooks Butler and Vishal Chawla—will continue on our mission to share all of the important stories with the world, from DeFi to DAOs and everything else. Mitchell Moos will remain CEO, and we may also welcome a few new recruits soon.
We will also endeavor to highlight the hacks, bad actors, and projects we think tarnish the space. Crypto Briefing got its start exposing the scammy side of the industry, and God knows there's still a lot of trash out there these days.
While 2021 was crazier than I ever imagined, it was likely just a taste of what we can expect to come over the next decade. Soon, multiple countries and major corporations will invest in Bitcoin, and Ethereum will become the nexus of a multi-chain financial system (I think it will probably be a multi-trillion dollar network too). And—eventually, despite what the current mainstream perception may be—hundreds of millions of people will be collecting NFTs.
Crypto Briefing will be there to document the whole story.
Disclosure: At the time of writing, the author of this note owned ETH, a selection of NFTs, and several other fungible cryptocurrencies.