Circle Bids Farewell To Poloniex: Poloniex Bids Farewell To The U.S.
Forget Wash Trading: Poloniex Is Washed Out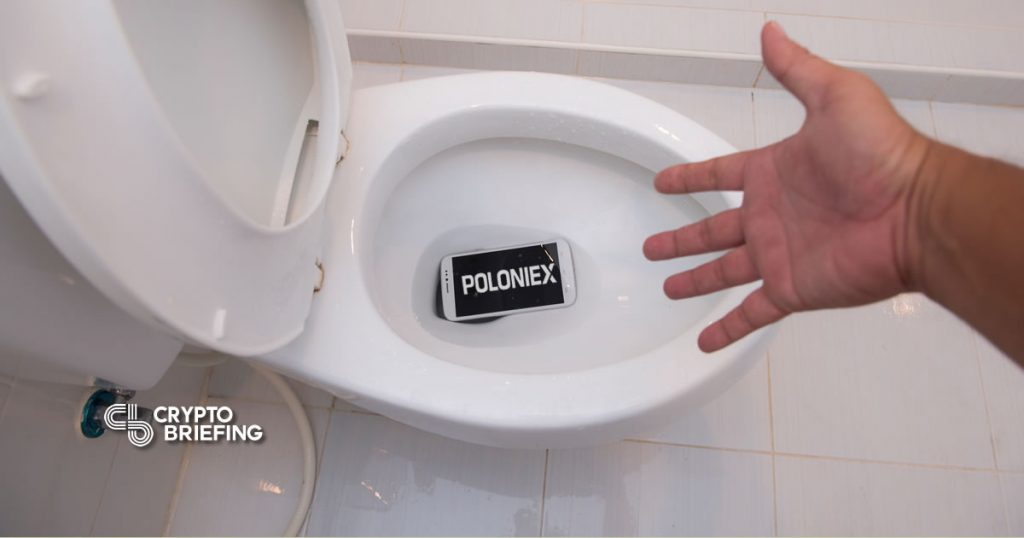 It's always hard to say goodbye to an ex- in which you've invested so much… but Circle CEO Jeremy Allaire seems to have no problem with dumping the baggage.
Circle has announced that it is "doubling down" on efforts to "build a more open, global and accessible financial system" – and that as part of that endeavor, it is spinning off its troubled Poloniex exchange.
An Asian investment group will inject $100M into the new entity, Polo Digital Assets, Ltd. and the exchange will cease working with U.S.-based traders as of November 1st, 2019.
4/4: With the spinout, Circle will be winding down operations for US Poloniex customers. US customers will no longer be able to trade starting on Nov. 1, 2019, & they will have until at least Dec. 15, 2019, to withdraw their assets. Full details here: https://t.co/XQXZl11Kt4

— Circle (@circlepay) October 18, 2019
As a modicum of comfort, Poloniex will reduce all spot trading fees to 0% until the end of the year.
Circle insists that it is not giving up on its vision – an open financial system accessible to the entire world – and the company has recently acquired SeedInvest, the largest equity crowdfunding platform in the USA.
"As Poloniex moves on from Circle, we are excited to be able to focus on growing mainstream use cases for payments, investment, lending and fundraising built on the open rails of crypto and public chains," claimed Circle in a statement.
Poloniex was launched in 2014, and acquired by Circle in 2018 for a reported $400M. However, its share of the crypto exchange market has dived in recent times. The exchange is now listed as 79th on the CoinMarketCap rankings of exchanges by volume, with just $18M traded over 24 hours – a dramatic fall from grace, and less than a sixth of Kraken, for example.
At the time of the acquisition by Circle, Poloniex was the 18th-largest exchange ranked on CoinMarketCap.
Circle also recently 'paused' its research division, and Circle Pay – a payments business – was also shuttered as Allaire complained of "an increasingly restrictive regulatory climate".
Jeremy Allaire was one of the two brothers who oversaw the development of Flash during his time at Macromedia – a format largely ignored by web developers today, and that Adobe will discontinue in 2020.
It's ironic that his crypto business now appears to be another Flash in the pan.