Coinbase Sparks Ire With Possible Token Listings
Some of the listed tokens are soaring, though critics have accused Coinbase of considering worthless tokens.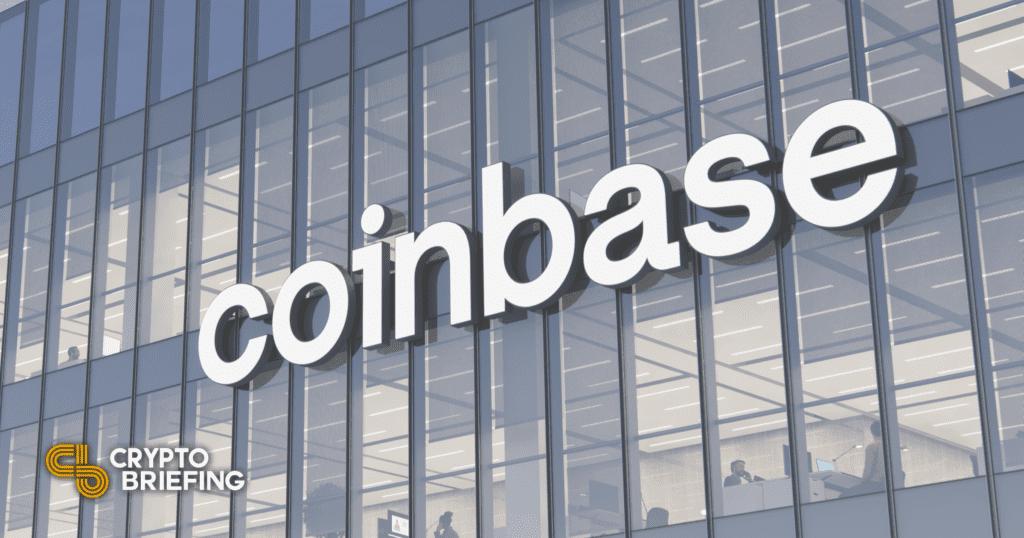 Key Takeaways
Coinbase released a list of 50 new tokens that it is considering listing on its platform.
Many of the tokens have seen their price skyrocket over the past 24 hours.
Some in the crypto community have accused Coinbase of considering scams or dead tokens.
Coinbase has released the names of 50 cryptocurrencies that could be listed during the second quarter of 2022. While some of the tokens have surged by triple-digit percentages after the announcement, prominent figures in the industry rushed to criticize the exchange's listing criteria on Twitter.
Coinbase Listings Spark Outrage
The largest crypto exchange in the U.S., Coinbase, revealed a long list of digital assets that it is evaluating for listing in the second quarter of 2022.
Candidates that made it on the shortlist include 45 ERC-20 tokens on Ethereum and five SPL tokens on the Solana network. The move is said to be part of an effort to "increase transparency by providing as much information symmetry as possible." Coinbase reportedly wants to reduce the likelihood of so-called "pump-and-dump" events, which have become so common with new token listings on the exchange that crypto enthusiasts have dubbed the phenomenon the "Coinbase effect."
Despite Coinbase's intentions to increase transparency and avoid pump-and-dump schemes, a few of the tokens on its radar are already soaring. Big Data Protocol (BDP) has risen by more than 185% since the announcement, ArcBlock (ABT) surged by 56%, and Radar (RADAR) jumped by nearly 40%.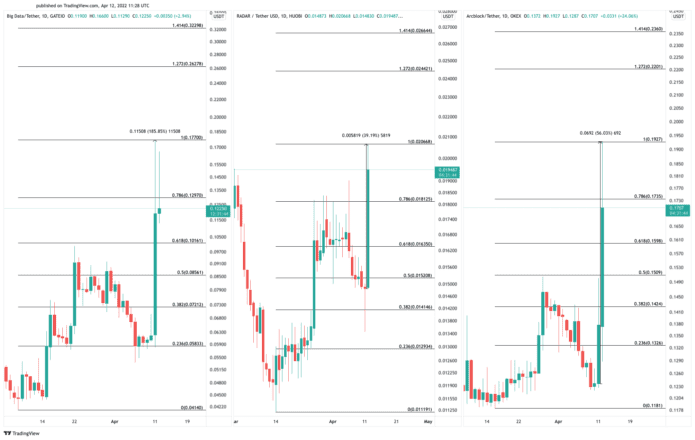 A decisive close above $0.13 could send BDP to retest the recent high of $0.18 or even rise to $0.26. ABT would have to avoid closing below $0.16 to be able to make higher highs. On the other hand, RADAR looks like it wants to advance further as it threatens to close between $0.021 and $0.024.
Popular crypto persona and host of the UpOnly podcast Cobie—real name Jordan Fish—roasted Coinbase on Twitter today, saying that the exchange was planning on listing a number of previously "rugged" projects and "dead shitcoins," which significantly hurts the credibility of the entire crypto industry. He ironically quipped:
"Very glad to see Coinbase remaining on the bleeding edge of decentralization, pioneering continued trustless technology adoption by listing rugged, dead shitcoins over a year after they died. Proud to work in an industry as innovative and agile as ours."
According to Cobie, the most significant development behind the Big Data Protocol was a 5.7 million BDP airdrop followed by a bug that caused users not to get their rewards. Meanwhile, other tokens like Polkamon are well-known for having their early backers dump their holdings within the first week of token generation events, which caused prices to plummet by 95%.
Coinbase's legal, compliance, and technical security standards remain unclear.
Disclosure: At the time of writing, the author of this piece owned BTC and ETH.
For more key market trends, subscribe to our YouTube channel and get weekly updates from our lead bitcoin analyst Nathan Batchelor.