CoinMarketCap To Integrate SIMETRI Research Ratings Into Token Info
Data transparency evolves on both exchange and project sides.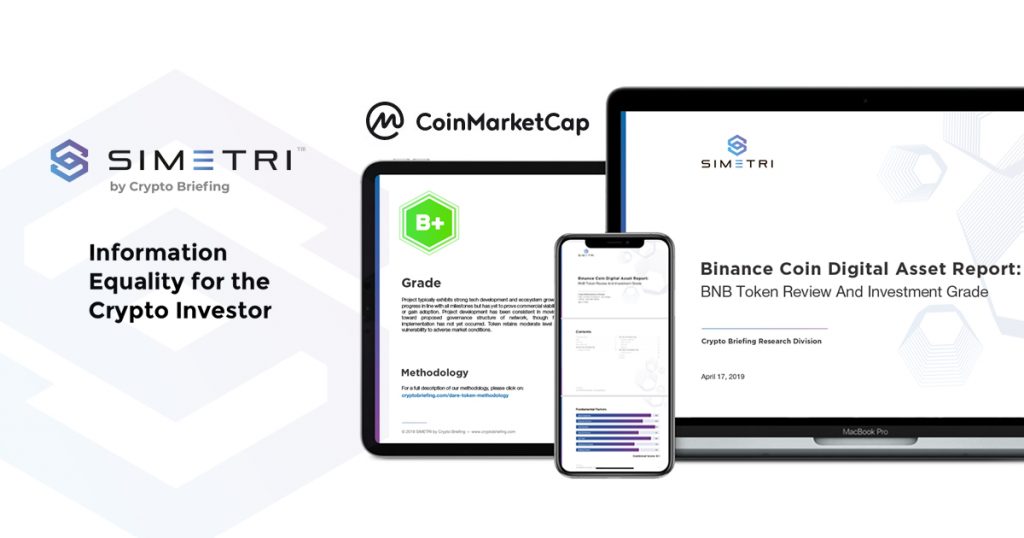 SIMETRI Research, an institutional-grade digital asset evaluation product created by the research team at Crypto Briefing, will be added to CoinMarketCap – the largest crypto-focused website on the planet with over 78 million views per month.
Last month, Crypto Briefing became the first media partner to join CMC's Data Accountability and Transparency Alliance (DATA) – an organization dedicated to "(i) empowering our users to make more informed decisions and (ii) providing a means for projects to differentiate themselves through enhanced disclosures."
On the exchange side, the upgraded requirements for reporting have met with strong industry support from major players including Binance, Huobi, and Bittrex. CoinMarketCap Chief Strategy Officer Carylyne Chan explained that over 70% of all exchanges voluntarily submitted order book data to support their volume claims.
"Crypto Briefing has built its reputation for independence, and their input will be invaluable for the topics we are tackling with the DATA Alliance. We look forward to how the SIMETRI team will provide recommendations regarding data standardization, which will in turn offer project teams guidance for reporting," explained Chan.
S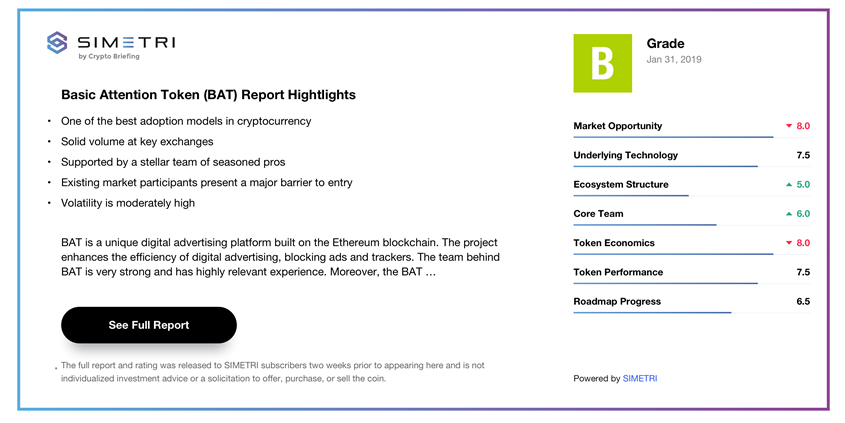 SIMETRI Research / CoinMarketCap
SIMETRI is the result of two years of research development at Crypto Briefing. "When we formed this company, our goal was to bring informed, actionable intelligence to the crypto investor," explained CEO Han Kao.
"We built a media company as well as a research team because even the best information means nothing… unless people read it. For the last two years we've been very active in the crypto community, so that by the time our research was tested, proven, and available, there would be a pool of people who knew that we never take ads, never take sponsored stories – and we can't be bought off by crypto projects with deep pockets."
"Trust is earned, not given," he added.
SIMETRI will offer readers not only institutional-grade reports on major cryptocurrency projects, along with an investment grade, but also a "Pick of the Month" – a deep dive into a token that has near-term catalysts as well as fundamental strengths.
Kao explains that a portfolio based on the SIMETRI framework has delivered startling results, delivering ROI of 50% — while outperforming Bitcoin by 21% and the overall market by 35%.
As SIMETRI is embedded into the CoinMarketCap website over the next few weeks, Kao promises that there are more partnership announcements to come. "Data transparency is an industry-wide issue, and if we are ever going to see mass adoption, we need standards."
"The combination of SIMETRI and CoinMarketCap's DATA initiative represents a positive trajectory for the standardization of crypto data," agreed Chan.
CMC also recently made its first acquisition, bringing on board Hashtag Capital, which has developed a set of algorithms for "true price" involving liquidity.