Colizeum Raises $8.4 Million From Renowned Investors and Welcomes DOTA Legend Wusheng to the Team
Colizeum is already having negotiations with multiple major league mobile game developers who are willing to join and start testing the SDK.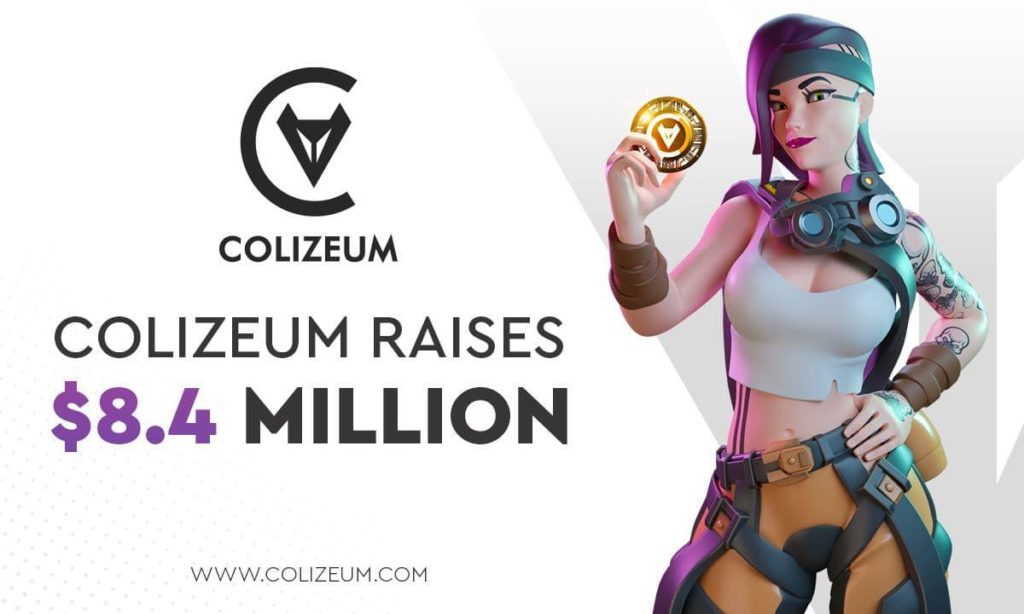 Colizeum is proud to announce the completion of a fundraising round to the tune of $8.4 million. Various notable investors led the round and were joined by other participants. Colizeum is also excited to welcome the most-awarded DOTA player Wusheng (Sheng Wu) to its team.
Colizeum's Team Combines Years of Experience in Mobile Gaming with Expertise in the Crypto and Blockchain World.
Things are progressing quickly for Colizeum, the frictionless shortcut for mobile game developers to implement tokenized game modes and play-to-earn mechanics. As an SDK solution, any game developer can integrate these features regardless of their knowledge of blockchain development. Moreover, game developers can combine monetization options, including existing models with tokenized game modes and basically convert their existing game to a blockchain Play to Earn model.
The vision by Colizeum has attracted the attention of multiple renowned blockchain investors. The recent fundraising round for $8.4 million was led by Deribit, SevenX Ventures, Axia8, LD Capital, and Genblock Capital. Other participants include TPS Capital, Momentum6 (Lumen Capital Group), DWeb3, X21, Profluent Ventures, Good Games Guild (GGG), CRT Capital, Au21 Capital, Pluto Digital, Basics Capital, and Tokenomik.io.
Additionally, Colizeum welcomes one of the world's most-awarded DOTA players to its team in the form of Wusheng (Sheng Wu). Expanding the team through an individual with such expertise in the video game industry will bring more attention to what Colizeum can bring to the table for current and future mobile game developers.
It is crucial to note that Colizeum will not replace the traditional mobile app stores. Instead, it aims to facilitate the co-existence of traditional monetization options and play-to-earn mechanics.
Founded in 2021, Colizeum's team combines years of experience in mobile gaming with expertise in the crypto and blockchain world. Moreover, the team has founded Beetroot Lab and noted significant success and awards for products – including Dystopia: Contest of Heroes – developed under that banner.
The immense research and development of this project have been going on for 6 months, and the team is currently in talks with certain game developers onboarding their mobile games once the Colizeum SDK reaches its beta stage.
Davis Ziedins, Colizeum Co-founder:
"Last year brought significant changes to the mobile gaming industry, which led to game developers of every size to discover new monetization methods and user accession tactics in order to continue to compete in the current market. Our mission is to build a set of tools that lets any traditional game developer broaden their game monetization methods by implementing tokenized games modes and Play-2-Earn economy in their existing and future games and at the same time unlocking new gaming markets. We're proud to serve the growing game development community and to offer a set of tools that will help developers to focus on what they know the best – building great games. The whole Colizeum team is honored that Colizeum is backed by outstanding industry professionals and enormous communities which are helping us to build the product and has helped us to set the ambitions of the project on a whole different level. "
Michael Swan, Managing Director at Tokenomik Inc. added:
"Tokenomik views Colizeum as an excellent proxy exposure to the vast NFT/play-to-earn gaming multiverse segment, which continues to expand exponentially, making it increasingly difficult to identify long-term popular gaming platforms.
Colizeum, through its blockchain-centric game development toolset, represents an excellent macro-level collaboration opportunity, with its class-leading modular game building tools, which has already attracted some of the best-in-breed developers to the ecosystem. We are delighted to be an early collaborator in this fantastic project, founded by an experienced leadership and development team."
Colizeum is an SDK – a frictionless shortcut for mobile game developers to implement tokenized game modes and Play-To-Earn economy without prior knowledge in blockchain development. Game developers will be able to add tokenized game mode monetization on top of their existing (traditional) monetization or build blockchain native games.
Colizeum is planning to have their own games to be the first games on Colizeum ecosystem in order to test all SDK features and economy before we offer this solution to 3rd-party developers.
At the same time — Colizeum is already having negotiations with multiple major league mobile game developers who are willing to join and start testing the SDK.
Having 8+ years of experience in game development – Colizeum team knows the main pain points for the game developers. Blockchain has come as a blessing — game developers can finally monetize Tier 3 markets while still being listed on traditional mobile app stores.
Mobile game developers implement Colizeum SDK which takes a couple of days (depending on each game's complexity) and the game developer can start building blockchain-based game modes and implement a true Play-To-Earn economy.
Game developers will be able to add blockchain monetization layers on top of the traditional monetization (in-app ads, in-app purchases). But of course, game developers can build blockchain only for games and even metaverses.
We have built not only the tech (SDK) but also a unified economy — this allows game developers to focus only on their game and they don't need to worry about the monetization part.