Community Will Battle Big Investors in Super How's NFT Auction
During the auction, superhow.ART will host an experimental competition between big investors and the community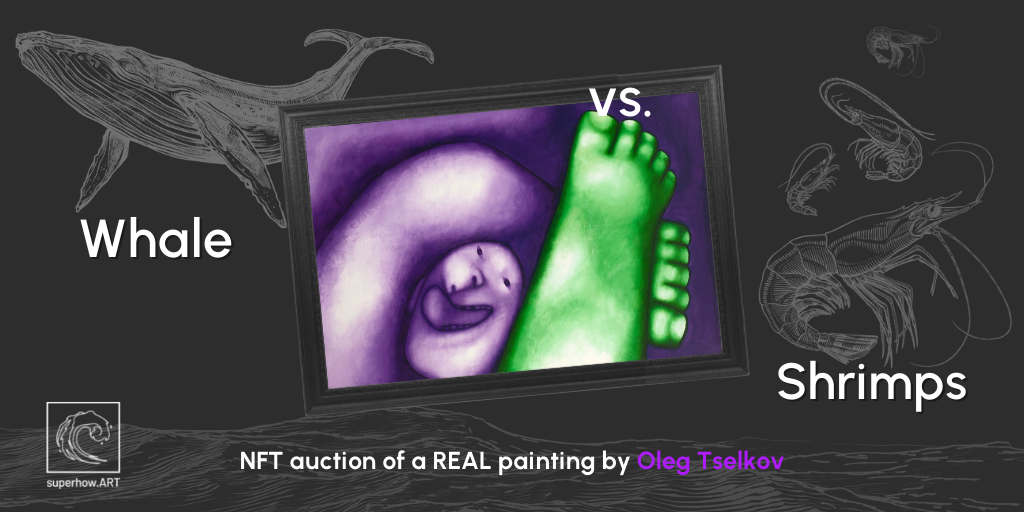 The art platform superhow.ART is launching a special NFT auction.
During a week-long event, a genuine oil painting, "Head with Legs," by one of the greatest Russian surrealist artists, Oleg Tselkov, will be auctioned together with the corresponding NFT.
During the auction, superhow.ART will host an experimental competition between big investors and the community of enthusiasts to see who has more power in their hands.
Organizers are introducing two bidding sides: Whales and Shrimps. All bids placed by the Shrimps are accumulated into a pool, which will compete with the Whale's bid. If a Whale wins, they get the actual painting, and the corresponding NFT is assigned to them.
If Shrimps win, it will be split into multiple parts that correspond to the Shrimp bids and assigned to their wallet addresses. The painting will remain in the gallery but will become co-owned.
Vytautas Kašėta, CEO of superhow.ART, explains:
"We want to check if whales are stronger than the community. Maybe the community will show that small market players with joint forces can win and become fractional owners of this beautiful investment asset."
The NFT market is booming; however, the skeptics question the actual financial and artistic value of .jpg images claimed to be worth millions. By leaving the current NFT hype aside, the project encourages the art community to invest in an authentic, truly valuable piece of art and digital asset.
As blockchain technology is rapidly adopted, Kašėta and the superhow.ART team believe that this is a significant time for galleries and art investors to get on top of technological advancements to bring new ideas to the community and create hybrid solutions that bridge the physical with the digital. Kašėta claims:
"To tokenize fine art means you make it accessible to more people by implementing the partial ownership concepts used in superhow.ART. All this is making a huge impact on art investors. They need to evolve together with the market and become more flexible and liberal if they want to keep their positions."
Blockchain, in its essence, empowers the community and decentralization. It can potentially alter power dynamics in the consolidated art market and bring a new level of transparency. In addition, Kašėta reassured:
"We will always need experts for proof of authenticity, provenance, valuation, yet new technologies will help and automate the processes, bring much more transparency, social relations, social acceptance."
SUPER HOW? is an innovative research and development company committed to harnessing the power of blockchain for the advancement of society with next-generation solutions. The team strongly believes that blockchain, in convergence with other new technologies, is the backbone of almost all the prominent infrastructure with vast potential in many domains.
Entering the art world is the next step for the company to enhance the adoption of blockchain technology and define the future for NFTs. According to the team, it should be about art and culture, not hype or low-quality images.