COTI to Issue "Djed," the First Algorithmic Stablecoin on Cardano
Djed will maintain a reserve of base coins and let users mint and burn coins.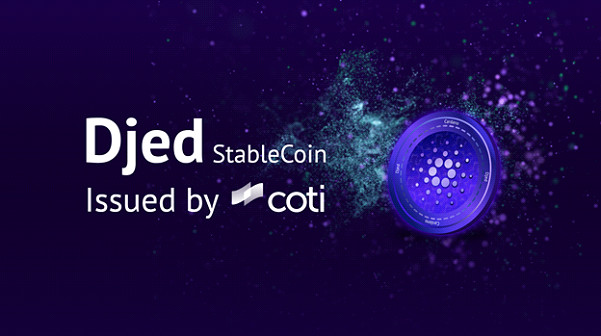 Thanks to COTI, Cardano is getting its first algorithmic stablecoin.
COTI Launches Djed on Cardano
Charles Hoskinson, the founder of Cardano (ADA), one of the world's largest blockchain platforms, revealed during the Cardano Summit that COTI will serve as the official issuer of a new stablecoin based on the Djed stablecoin protocol for the fast-growing Cardano ecosystem.
The Djed stablecoin protocol is based on an algorithmic design that leverages smart contracts to ensure price stability. Smart contract programming is also used to ensure that the stablecoin will work effectively for decentralized finance (DeFi) transactions.
Djed operates by maintaining a reserve of base coins while letting users mint and burn stablecoins and reserve coins. According to its creators, there are ongoing discussions about making an implementation of Djed on Cardano to provide stablecoins with which Cardano's network usage (transaction) fees could be paid through the "Babel fees" approach.
Shahaf Bar-Geffen, the CEO of COTI Group, said of the update:
"The stablecoin ecosystem has matured tremendously over the past few years. Blockchain participants are using stablecoins to engage in everyday transactions because they allow monetary value to be exchanged in a seamless manner, regardless of the sender and recipient's location. I believe that adding the Djed-based stablecoin to the Cardano blockchain will significantly improve how transactions are settled on the platform."
Hoskinson, the CEO of Input Output Global, added:
"The Djed stablecoin could be a game-changer in the crypto space, appealing to an entirely new audience at a time when the industry is already experiencing astronomical growth. Djed shares our commitment to formal verification, proving a robust method of combating price volatility of crypto markets. COTI has been a long-time partner of the Cardano ecosystem; it's great to have them on board with this new venture."
COTI is a fully encompassing "finance on the blockchain" ecosystem, specifically designed to meet the challenges of both centralized finance (fees, latency, global inclusion, and risk) and DeFi (fees, clogging, and complexity) by introducing a new type of DAG-based base protocol and infrastructure that is scalable, fast, private, inclusive, low cost and is optimized for finance.
For more information on COTI, contact press at [email protected]