Crypto Briefing Partners With San Francisco Blockchain Week
Explaining, educating, and enthusing!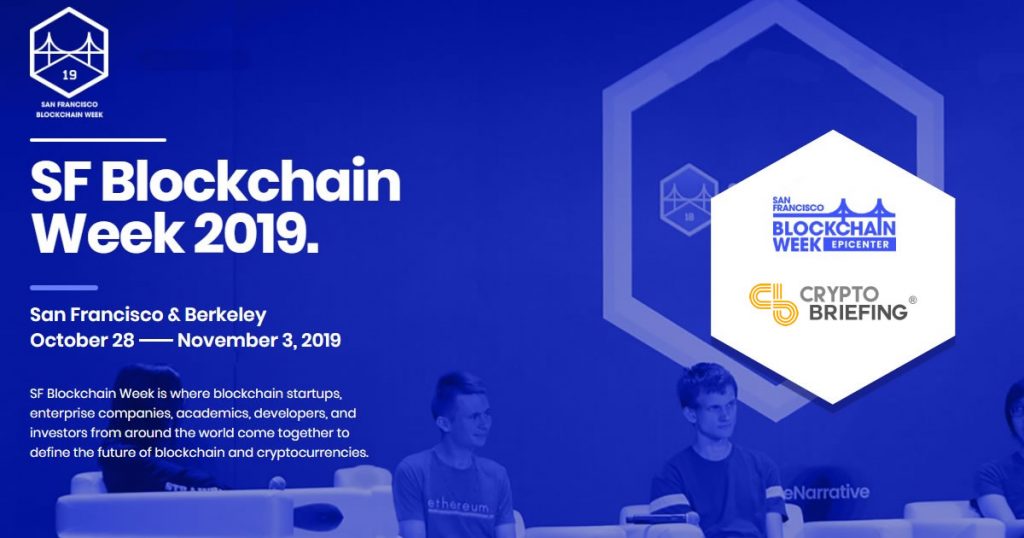 While we have partnered with many event hosts around the world over the past two years to help them get the word out about blockchain technology, today we are taking a much bigger step.
We are extremely honored and excited to partner with San Francisco Blockchain Week – and we have a whole host of exciting news about the event to share with you over the coming weeks!
SFBW is without a doubt the pre-eminent blockchain conference on the west coast. The speaker list is formidable, to say the least…
Vitalik Buterin – Olaf Carlson-Wee – Meltem Demirors – Chris Larsen – Jill Carlson – Joseph Lubin – Dovey Wan – Charlie Shrem – Chris Burniske – Michael Arrington – Jed McCaleb – Taylor Monahan – Sunny Lu – Dawn Song – Silvio Micali…
And that's just a few of the crypto 'household names'. The full, incredibly diverse list of speakers is available here.
---
Why San Francisco Blockchain Week?
Our goal has always been to advocate for blockchain and cryptocurrency. We believe that the organizers of SFBW hold the same values close to their hearts.
They want to educate, to enthuse, and to explain.
Over the course of the week, SFBW will be running several events including Epicenter (the main conference), a CryptoEconomics Security Conference, a major Blockchain Career Fair, and a DeFi Hackathon.
With over 5,000 expected to attend, and over 350 blockchain companies represented, it's one of the world's most impressive line-ups in only its second year.
One thing we especially love about this conference: the ticket price.
"Our mission is to support consumer adoption and to educate the masses. This led us to challenge the high costs of conference tickets around the world. Therefore, we have decided to price our tickets at a cost where we can deliver a meaningful event yet still be inclusive to everyone who desires to attend.
In addition, we decided to donate any profits left after the event to multiple non-profits who are donating their time and sweat to the blockchain community in SF." – SFBW Organizers
Right now you can still get a ticket to Epicenter for $398!
AND – better still! – if you use the code 'cryptobriefing' you'll get an ADDITIONAL 10% off the cost of any ticket!
(For comparison, a ticket to Consensus in NYC would set you back around $2,000!)
---
What Is Our Involvement?
Right off the bat, let's be clear – we are not being paid for this. As you know, we don't accept advertising. We will not make any 'affiliate' bonuses if you buy a ticket.
We support what San Francisco Blockchain Week is doing to further the cause of blockchain adoption, and we believe that our readers will too!
So we will be bringing you news from SFBW… highlighting new speakers… interviewing guests… and we will host a couple of events ourselves, including a discussion with Han Kao, our CEO, on how to evaluate a crypto asset.
We'll also have some exciting news about an Awards Ceremony presented by SIMETRI Research – and you will have a chance to vote for your favorite projects!
And finally… well, we might throw one of our legendary parties and invite a few lucky Crypto Briefing readers. After all, this is supposed to be fun too!
If you have the chance, we hope to see you there – we'll be in touch with more news very soon!
Visit San Francisco Blockchain Week here…