Crypto.com Integrates PayID Offering 5M+ Users an Easy and Unique Way to Send & Receive Crypto
PayID, a universal payment identifier, enables Crypto.com's 5M+ users to send/receive crypto across any network under the same initiative, connecting 100M+ consumers worldwide.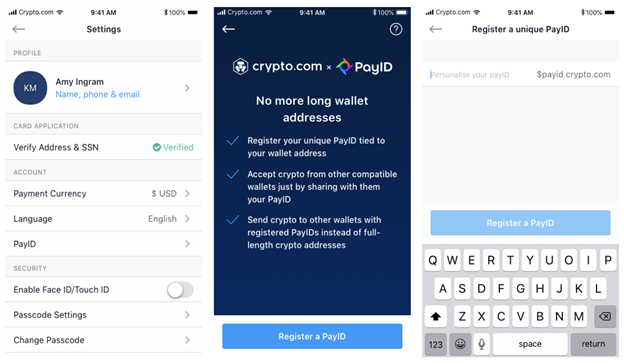 Crypto.com today announced PayID, a universal payment identity developed by the Open Payments Coalition, is now available on the Crypto.com App.
Crypto.com's 5M+ users can register for a PayID from the Crypto.com app, consolidating complex wallet addresses and accounts into a simple ID that works across any payment network and currency. Users who register for their unique PayID will get an exclusive Crypto.com-branded, easy-to-read ID — such as "yourname$payid.crypto.com — that enables users to send/receive crypto payments from other compatible wallets with just a single ID, easing their ability to connect to 100M+ crypto users worldwide.
PayID solves a key pain point in the crypto payments world, consisting of many closed and complex networks. Participants must manage multiple long and random wallet addresses, increasing the likelihood of erroneous transactions. PayID creates a free, open, and common protocol that allows interoperability between any payment network or currency.
Starting today, Crypto.com is offering early access to select customers to register their unique Crypto.com PayID. To be eligible:
Stake 10,000 CRO or more in Crypto.com Exchange; or
Stake 10,000 CRO or more in Crypto.com App
On Nov. 2, 2020, all Crypto.com App users can register their own Crypto.com PayID within the Crypto.com App.
Once registered, users can send crypto from other compatible wallets to the Crypto.com App with just their PayID, instead of a full-length crypto address. At launch, supported cryptocurrencies include CRO, ETH, BTC, XRP, and many more ERC20 tokens. Users can also send crypto to other compatible wallets using PayID hosted by other Open Payments Coalition members.
About Crypto.com
Crypto.com was founded in 2016 on a simple belief: it's a basic human right for everyone to control their money, data, and identity. Crypto.com serves over 5 million customers today, providing them with a powerful alternative to traditional financial services through the Crypto.com App, the Crypto.com Card, the Crypto.com Exchange, and Crypto.com DeFi Wallet. Crypto.com is built on a solid foundation of security, privacy, and compliance and is the first cryptocurrency company in the world to have ISO/IEC 27701:2019, CCSS Level 3, ISO27001:2013 and PCI: DSS 3.2.1, Level 1 compliance. Crypto.com is headquartered in Hong Kong with a 600+ strong team. Find out more by visiting https://crypto.com
For inquiries: [email protected]