Crypto Thefts On Track To Hit $1.2bn This Year
It's a big number, but $500M lower than last year.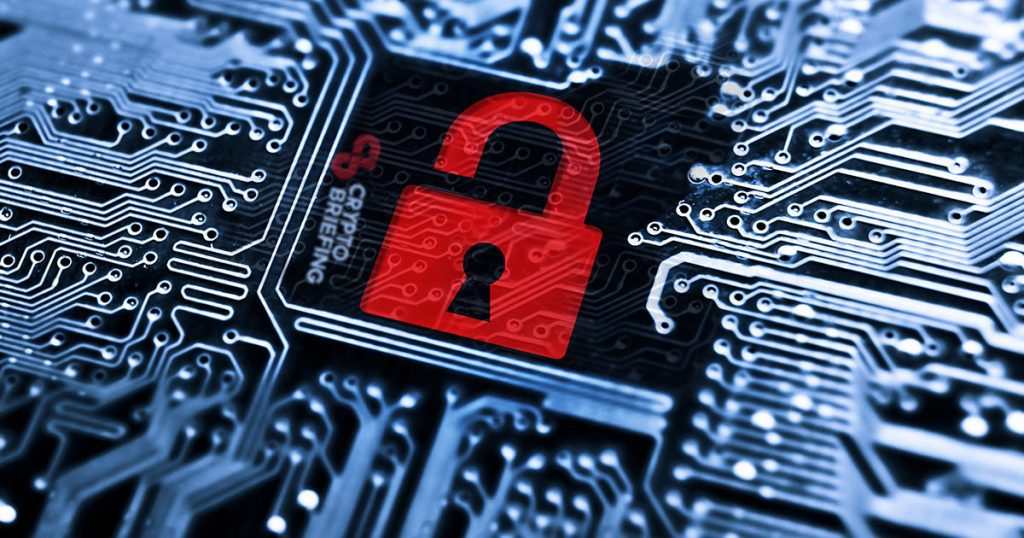 The amount of cryptocurrency stolen this year by malicious agents is currently on course to hit more than a billion dollars, says a new report. But with regulators increasing their scrutiny and enforcing anti-money laundering controls, that figure is $500M lower than the amount stolen last year.
In its quarterly anti-money laundering report, the cryptocurrency security and tracking firm CipherTrace found that more than $356M had been stolen by scammers and thieves in Q1 2019.
The figures include the Cryptopia and CoinBene exchange hacks as well as the $195M lost after Gerald Cotten, the founder of the Canadian Quadriga CX exchange, mysteriously died in December. "CipherTrace analysis casts severe doubt that this [Cotten's death] was anything other than a theft, fraud, or foul play," the report said.
CipherTrace projects that at current rates, more than $1.2bn worth of cryptocurrency is likely to be stolen this year. The figure had originally been $1bn, a CipherTrace spokesperson told Crypto Briefing, but this was bumped up by an extra $200M last week after the New York Attorney General alleged $851M in crypto had been 'misplaced' by Bitfinex.
"The recent revelations have allowed us to add significant insights surrounding exchange breaches and potential impropriety," the spokesperson said.
Although still high, CipherTrace's 2019 projection is considerably lower than the amount of crypto stolen in 2018. As its annual report highlighted, more than $1.7bn worth of digital assets were stolen last year, an increase of 400% compared to 2017.
Illicit funds are likely to be taken offshore, out of the reach of regulators. CipherTrace found that there has been a significant 46% increase in the number of crypto cross-border payments going from exchanges in the US to offshore platforms in the past two years.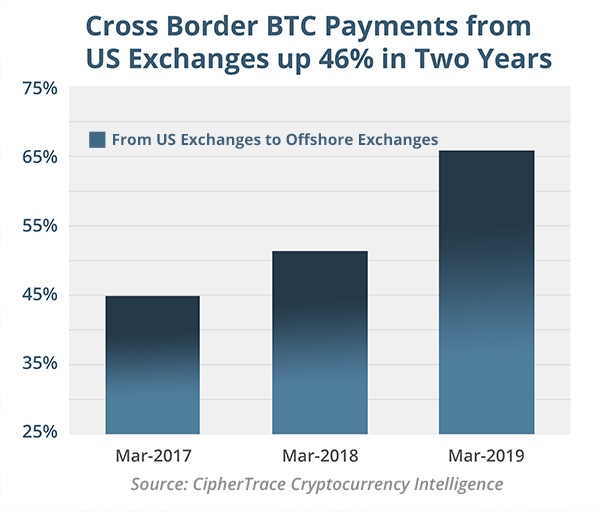 At the time of writing, the market cap for digital assets stood at $175bn. If CipherTrace's projections, that more than $1.2bn worth of crypto will be stolen this year, turn out to be true, thefts this year could amount to a depressing 0.7% of the sector's total value.
That's a dismal figure, but CipherTrace believes the figure is likely to be larger. "Cybercriminals also developed ingenious new techniques to drain millions more from user accounts and wallets," the report said. "These thefts only represent the losses that are visible. CipherTrace estimates the true number of crypto asset losses was much higher."
But the 'good times' may be about to end. Regulators are beginning to close loopholes which allow criminals to convert illicit digital assets into fiat currencies.
CipherTrace predicts "a tsunami of tough new global anti-money laundering (AML) and counter-terror financing (CTF) regulations will roll over the crypto landscape in the coming year."
The net is already beginning to tighten. Jurisdictions like the UK and France are already pressing ahead with new regulation. The Financial Action Task Force (FATF), an inter-governmental enforcement agency, is beginning to clarify its digital asset guidance to the 32 nation-members.
$1.2bn is still a lot of money, but so is $500M. If reportable crypto thefts fall by that amount, it may be a sign the industry is passed the higher water mark.