Cryptocurrency Charting & Price Tracking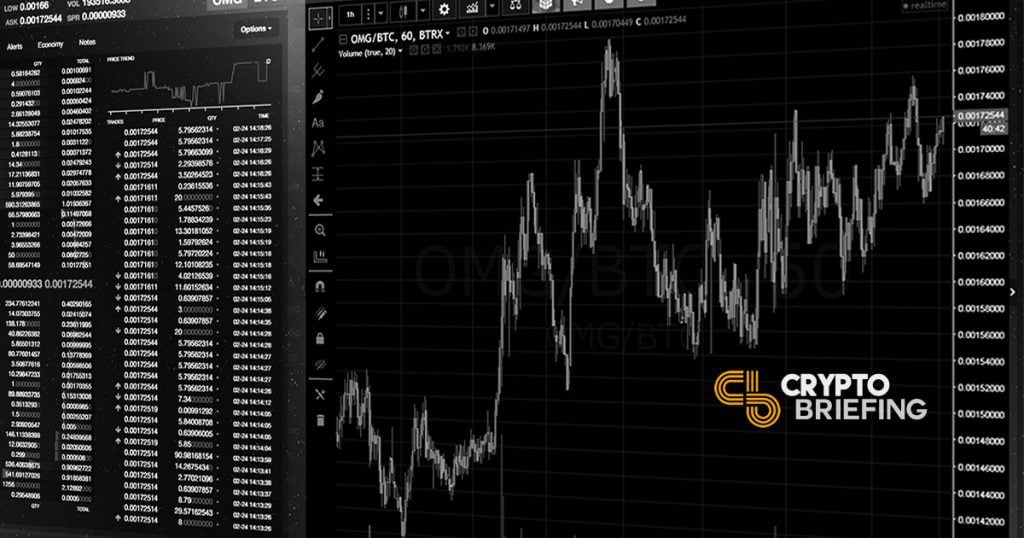 Cryptocurrency charting tools offer traders a wide range of techniques in order to track and (ideally) predict price movements in the market. The highly technical nature of cryptocurrencies, paired with the tech-centric perspectives of crypto developers and trades, creates a market environment that is particularly compatible with technical analysis— the study of patterns and mathematical trends.
Using technical analysis, traders are able to make informed predictions on the future value of cryptocurrency tokens and isolate key trends. Technical analysis commonly involves the collection and assessment of historical price movements, volume data, and a range of other factors.
There are many different ways to chart technical analysis— performing a simple moving average is relatively easy, but delving deeper into the realm of Japanese candlesticks and how they work can quickly give a new trader a headache.
Fortunately, there are a number of platforms that make cryptocurrency market analysis quick, streamlined, and effective. In this short guide we'll present a breakdown of the four most popular and easy to use cryptocurrency charting and price tracking platforms.
---
Coinlib.io – Cryptocurrency Charting Best All Round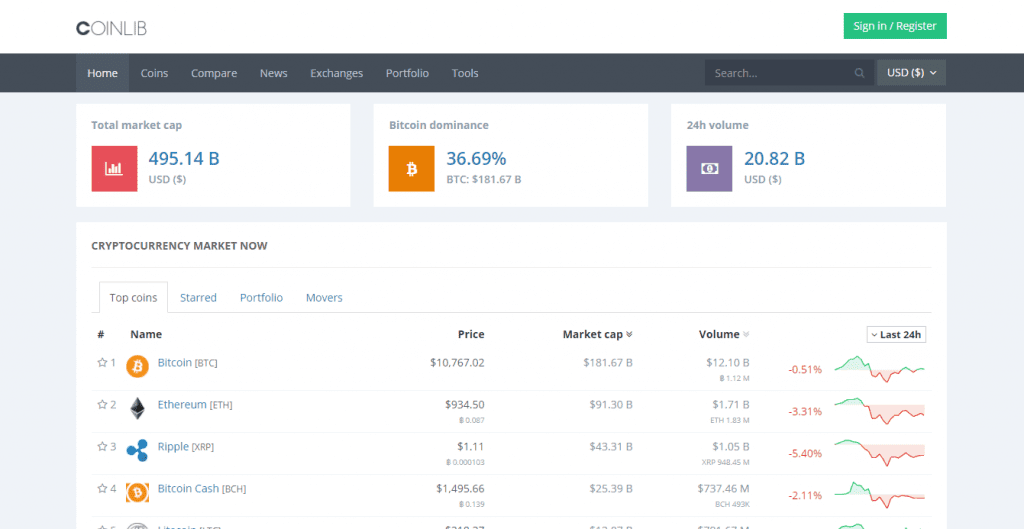 Coinlib is a comprehensive price tracking platform that can be considered a "one stop shop" for gaining perspective on the current state of the cryptocurrency market. The Coinlib platform tracks the prices of every single cryptocurrency in existence, and provides a detailed breakdown of price, volume by exchange, volume by currency, and even provides a convenient news ticker for each token.
Coinlib's cryptocurrency charting desktop functionality also tracks exchange data, ranking volume and supported trading pairs. A convenient "Compare" function allows users to directly compare two different tokens and chart their performance over time. Creating a free account on Coinlib allows traders to track their preferred cryptocurrencies, set up price alerts, and find the best price for any given token. The platform even has a feature that allows users to see how to get the most from exchanging their money through arbitrage.
What we love about Coinlib:
Clean, streamlined user interface

Completely free!

Everything needed for price tracking in one place
What we'd do differently:
More detail in exchange tracking is needed

Coinlib could definitely benefit from advanced charting functionality
---
CoinMarketCap – The Market Leader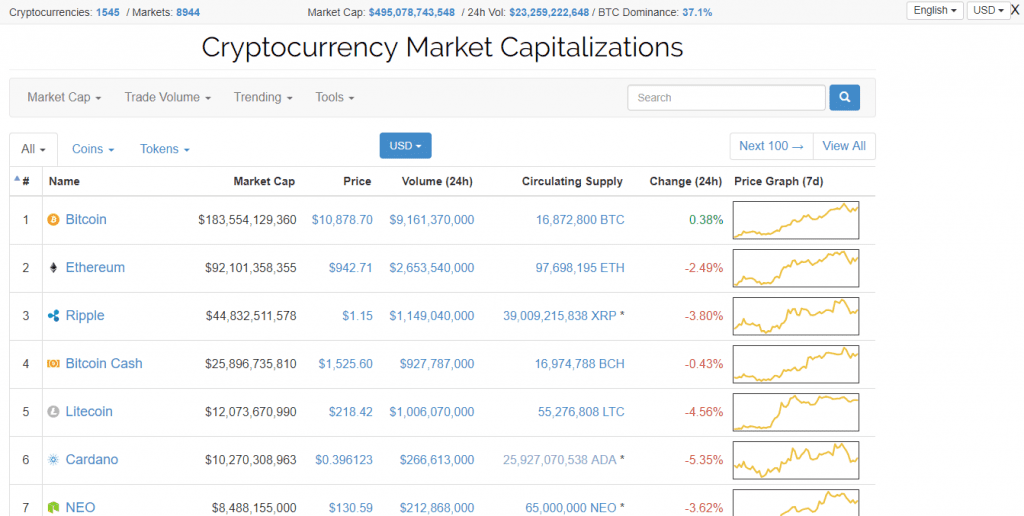 CoinMarketCap is the most visited cryptocurrency price tracking platform in the world, and is considered the de facto primary source of token pricing information by almost every news outlet internationally. CoinMarketCap presents pricing information in a simple, streamlined manner, tracking both individual cryptocurrencies and exchanges.
A convenient feature offered by CoinMarketCap is the "Gainers and Losers" function that presents a concise list of the biggest market movers both up and down over an hourly, daily, or weekly basis. Aside from ranking each crypto by cumulative market cap, CoinMarketCap also offers 24-hour volume rankings for both exchanges and individual cryptocurrencies.
What we love about CoinMarketCap:
The #1 source for crypto pricing information

Extremely easy to use

Simplified charting tools deliver quick snapshots of token performance
What we'd do differently:
Interface is clean but somewhat static— could use a visual overhaul

Price alerts would complete the CoinMarketCap platform
---
TradingView – For Getting Your Trade On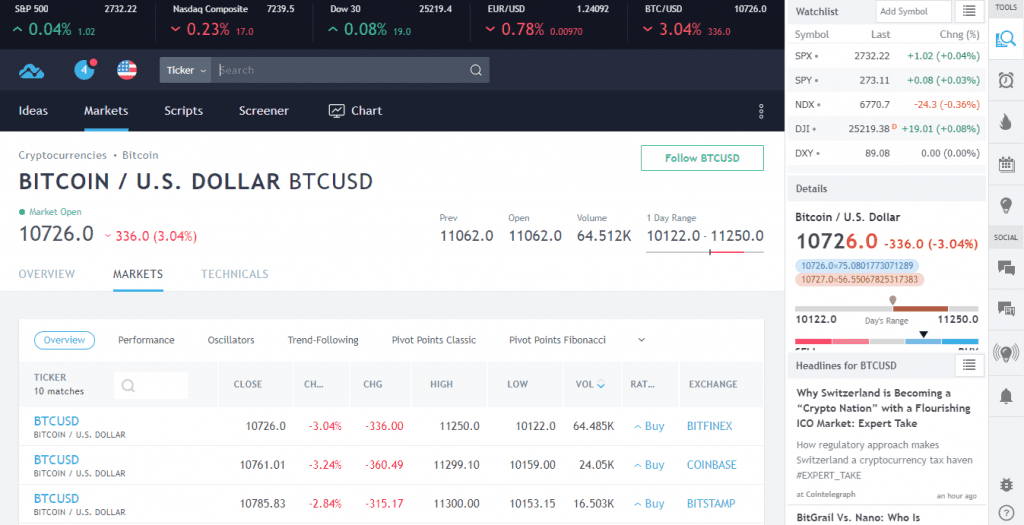 When it comes to cryptocurrency charting for intermediate to advanced market analysis, TradingView is king. Founded in 2011, TradingView is free-to-use market analysis webapp that offers paid extra functions, and can be used to great effect when tracking and analyzing cryptocurrency price movements.
TradingView offers traders seeking basic information on any given cryptocurrency with a concise summary that includes a simple chart, a buy/sell indicator, and a technical overview that features oscillators and moving averages.
More advanced traders are will feel at home with the TradingView interactive chart, which provides a slew of complex charting options. Depending on the plan level of a user, TradingView delivers basic candlestick and bar charts as well as Heiken Ashi and Renko charts. The interactive chart is extremely feature-rich and is an indispensable tool in cryptocurrency analysis.
What we love about TradingView:
The best advanced analysis tools available online

Both simple and complex market analysis
What we'd do differently:
More complex features are somewhat intimidating to newer traders

Weak newsfeed and relatively confusing file saving system if you're interested in preserving your charts
---
CryptoWatch – Cross-Exchange Charting Tools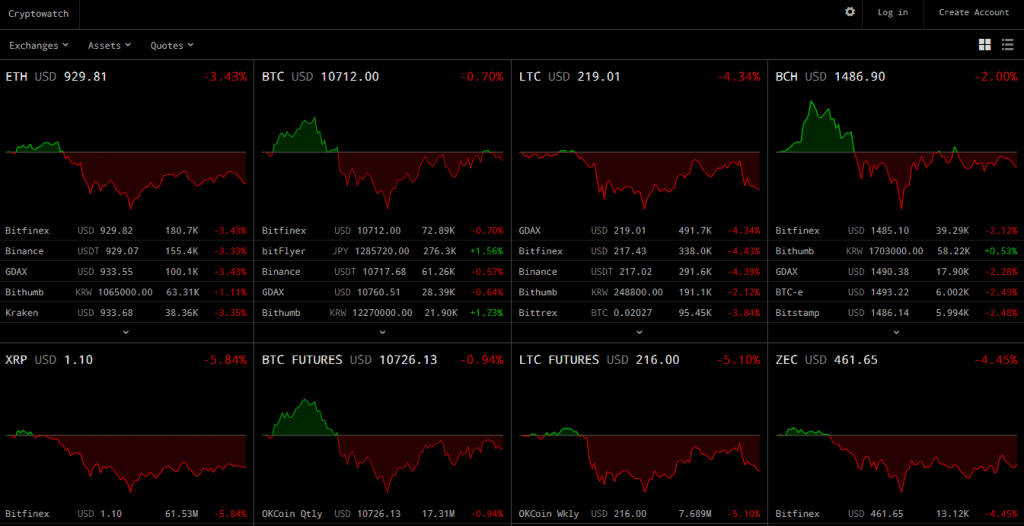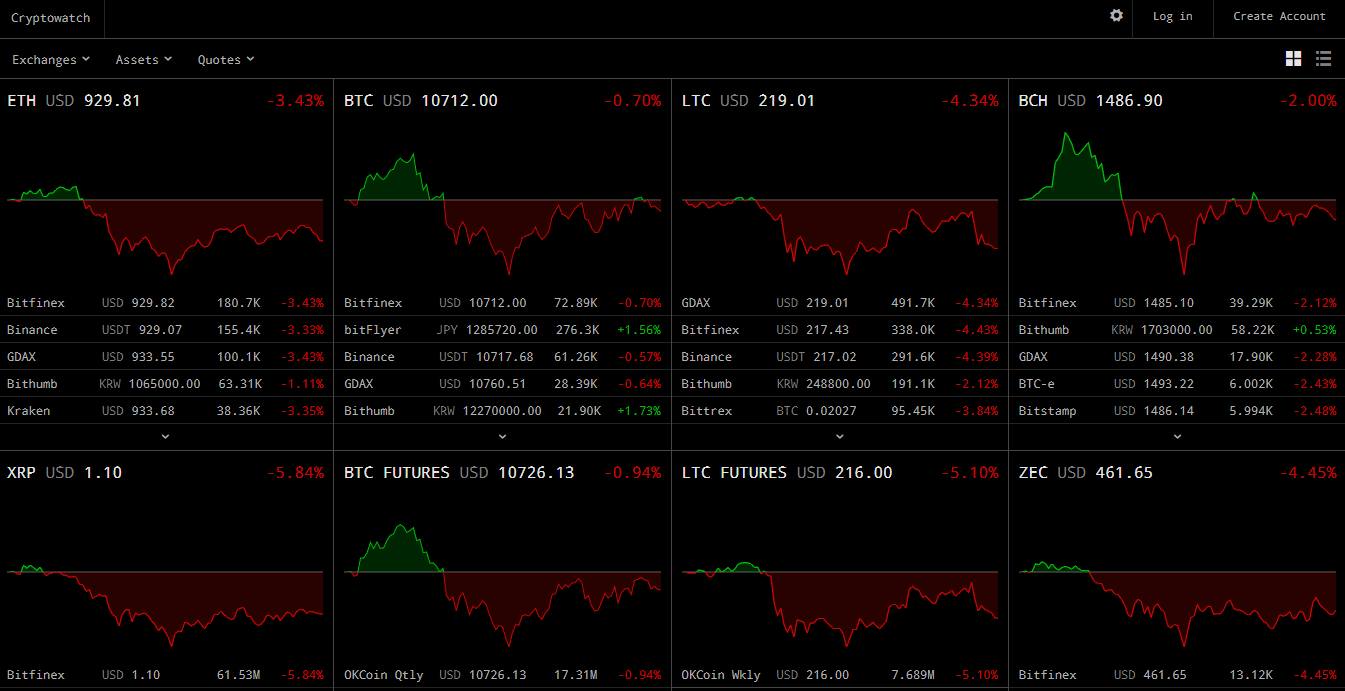 CryptoWatch, owned by exchange platform Kraken, provides pricing data on a range of different cryptocurrencies drawn from more than 20 different international exchanges. The basic version of CryptoWatch is free, but upgraded paid accounts are able to access more functionality.
CryptoWatch allows users to trade via the market view for each trading pair it monitors, which is a major draw for investors that maintain a presence on multiple exchanges.
What we love about CryptoWatch:
Simple trading functionality

Advanced charting tools

Aesthetically pleasing dark UI
What we'd do differently:
Not beginner friendly

Charting tools adequately labeled
Want to discuss your personal favorite? Our Telegram Group is always open for a chat!