Cryptocurrency And Formula One Could Be Fast Friends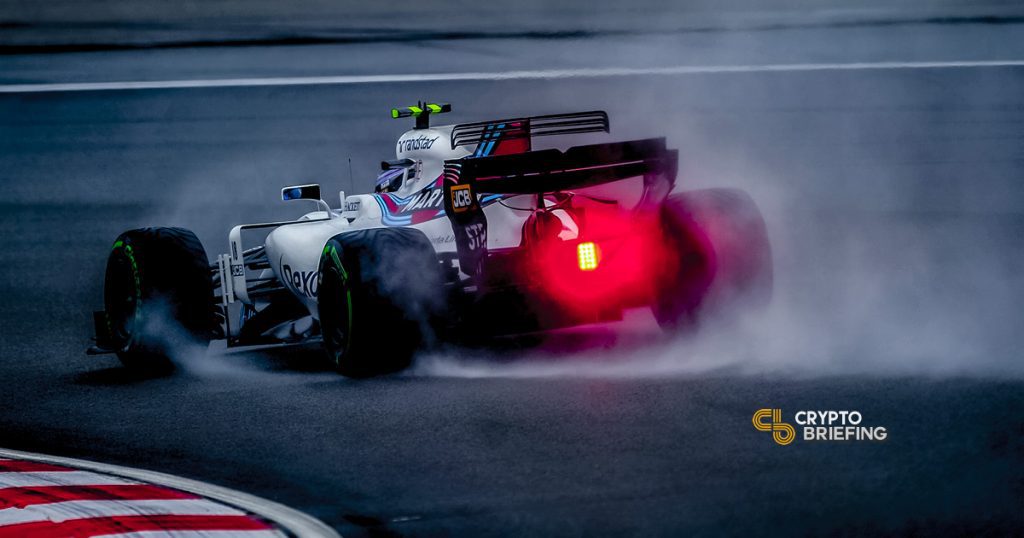 Crypto and cars have had a long relationship. "When Lambo?" is a question that speculators repeatedly ask in Telegram groups; a tokenized social media platform has funded and produced a film on Lamborghini; and Volkswagen (which now owns the sports car manufacturer) has formed a partnership with IOTA, using its data sharing technology in an autonomous vehicles program.
Perhaps surprisingly, we haven't yet seen a Formula One car with a cryptocurrency logo emblazoned on the rear wing – but the process of integrating these two fast-moving worlds has begun.
Last month, the Williams F1 Team formed a partnership with the British-based blockchain company, Omnitude, to explore whether their technology could offer a competitive advantage.
Later this month, a crypto car rally is expected to take place in Lithuania, which will bring figures from the worlds of crypto and motorsport together under one roof.
And given the strong demographic synergy between fast cars and digital asset investing, cryptocurrency Formula One cars may not be far away.
---
Why Would Crypto Sponsor Formula One?
Formula One is a costly affair. Major teams like Ferrari, McLaren and Red Bull each spend around $320m every year to compete. Although winners receive cash prizes, teams rely on deals with big firms to pay for people, equipment, and travel costs on a regular basis.
Sponsorship deals are in no means restricted to Formula One, however, as the value of sponsorship deals in other sports has declined, the amount spent on Formula 1 has increased by a billion dollars in the last six years: why?
Companies sponsor F1 in part to increase the public's awareness and sponsors have their brands on their team's cars and uniforms, as well as featured on the race tracks. However, one of the main appeals is also to supply their products and equipment for the race.
This is clearly advantageous for the auto and oil industries, which directly contribute to the performance of the car itself. However, over the past decade, F1 teams have begun to look towards technology for ways to secure advantages over their competitors.
During races, computers perform swift and comprehensive data analysis on the car's performance, with the data sent wirelessly from the track to the computer. The faster this process happens, the faster a team can evaluate their car's performance and suggest new tactics for the driver.
In order to help teams win this advantage, BT has sponsored the Williams F1 Team, while AT&T has sponsored Red Bull Racing. They use their networks to transfer the racetrack data, and Williams has estimated that BT's input has shaved tenths of seconds off their racetrack time: a crucial advantage in a sport where marginal time differences really do count.
---
Cryptocurrency Formula One: A match made in heaven?
Formula One sponsorship would be a showcase for cryptocurrency. Like AT&T and BT demonstrating the speed of their networks, crypto companies would be afforded the opportunity to demonstrate the benefits of their technology both to the teams themselves and the wider audience.
Crypto offers clear opportunities for F1 teams. IOTA's Tangle could well find a clear use-case in managing and processing the data collected from the race track. As the sport is an international event, with 21 countries hosting a Grand Prix this year, teams could use VeChain to monitor and check on the equipment – like the car – being sent in transit.
And as for crypto… despite the protestations of those who follow it closely, it still exists in a bubble. The select few who understand the technology often have a hard time in communicating its potential to the outside world.
A cryptocurrency Formula One sponsorship deal could address this. This publication has already highlighted the importance that branding can play for crypto companies in trying to forge an identity and a loyal base of followers. Considering that F1 is watched by over a billion people every year, sponsorship would give many of these companies crucial international exposure.
Sponsorship isn't cheap of course: but some crypto companies have plenty of disposable cash. Those that held successful ICOs or that have the backing of major corporations, such as Ripple, could see Formula One involvement as an opportunity to expand the brand.
Although on the rise, cryptocurrency awareness among the general population is still low. With its appeal and following, Formula One affords crypto the opportunity to drive into the limelight.
A strong sponsorship deal could be a major accelerator for a crypto brand… what are the odds of seeing it during the next F1 season?
Cryptocurrency Formula One Cars: Coming Soon?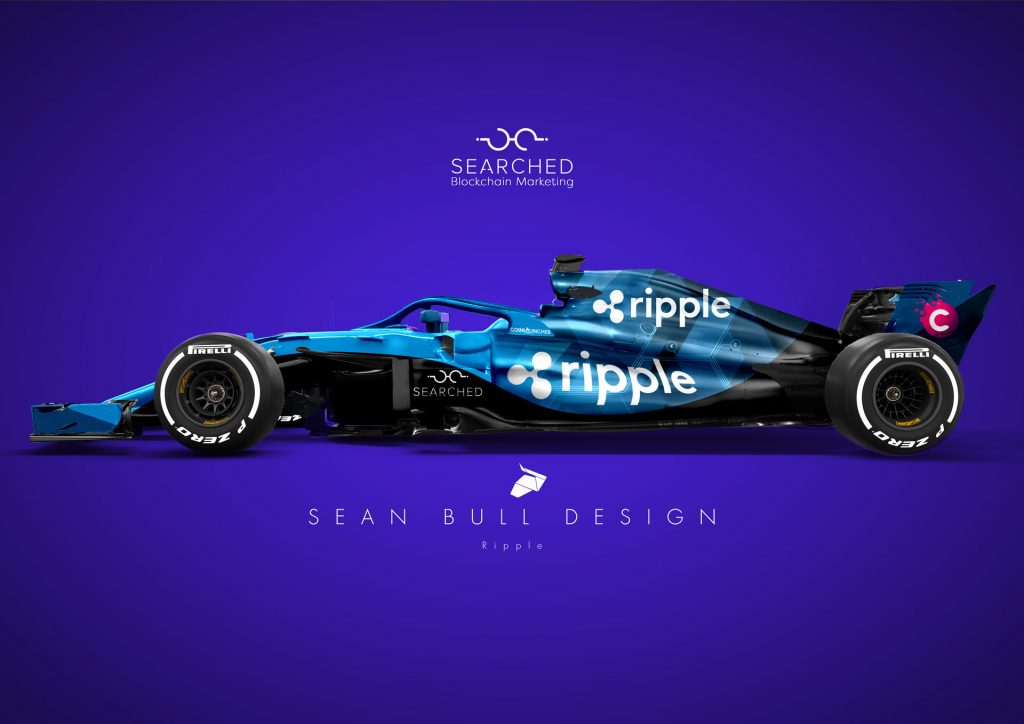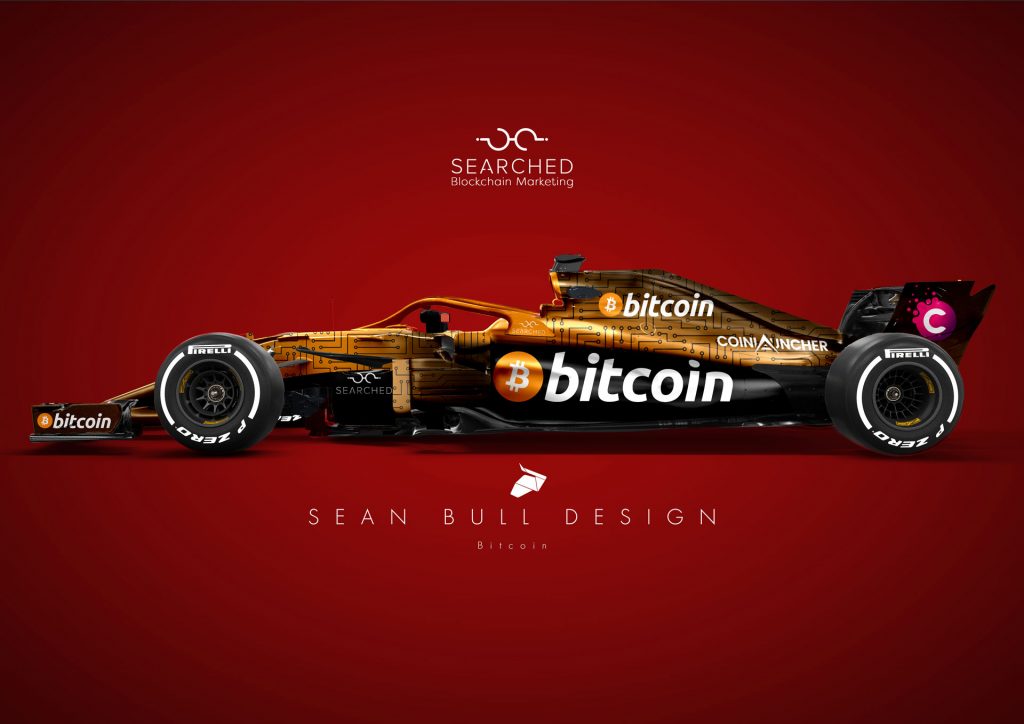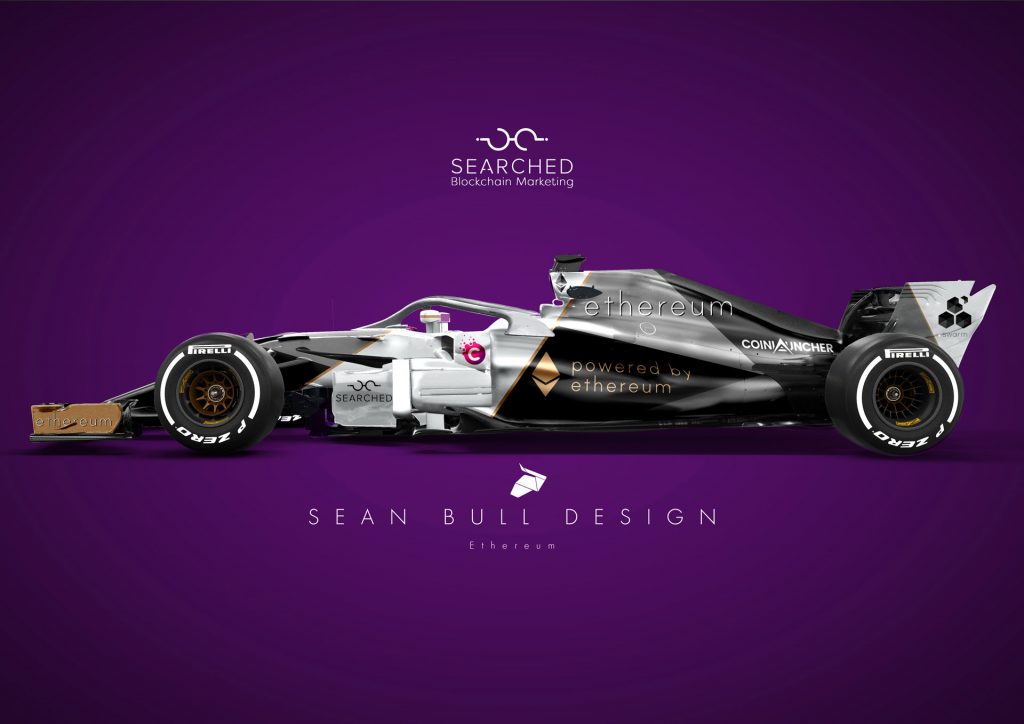 Images courtesy Adam Grist and the blockchain marketing team at Searched.io
Disclaimer: The author is not invested in any cryptocurrency or token mentioned in this article, but holds investments in other digital assets.