Daily Briefing: Catch Me if You Kwon
The Terraform Labs CEO has had an eventful few days as South Korean prosecutors attempt to track him down.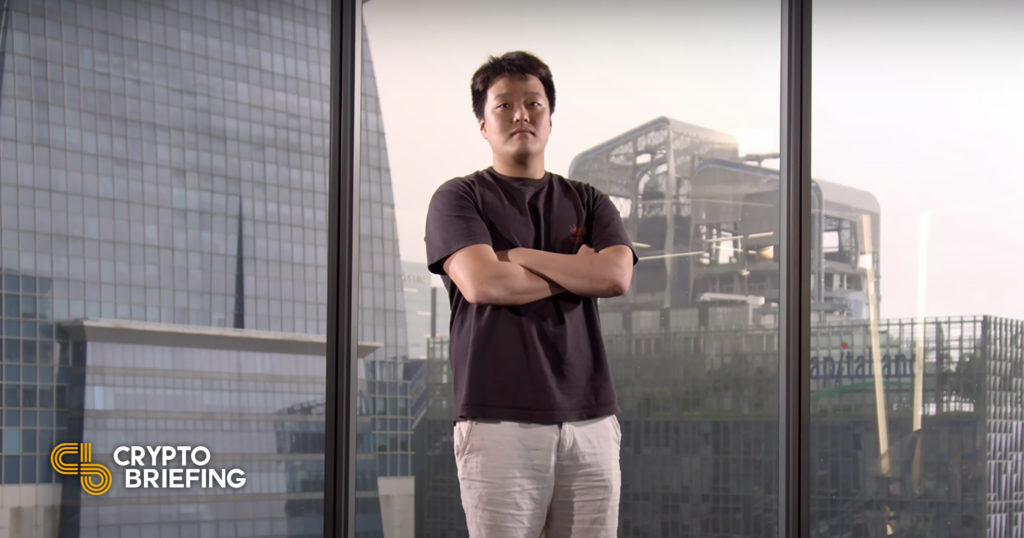 Key Takeaways
South Korean prosecutors have commenced a manhunt for Do Kwon.
Singaporean officials have said that Kwon has fled the country, but he has insisted that he is "not 'on the run.'"
The prosecutors say that they are looking to add him to Interpol's red notice list.
Is Do Kwon on the run? Jacob Oliver unpacks crypto's latest big drama.
More Trouble for Kwon
Hope you're all hanging in there alright—I've seen the price action over the last few days, and I think it's safe to say that nobody had a particularly good weekend.
Still, you likely didn't have as bad a weekend as Do Kwon, the bombastic CEO of Terraform Labs and former lead hype man for its blockchain ecosystem. Kwon oversaw the rise of Terra and its UST stablecoin as a prominent staple in the DeFi space. He also saw its monumental collapse in May, which lost investors over $40 billion and kicked off a domino effect that hobbled the entire industry.
Well, it seems the law is finally catching up to DeFi's erstwhile wunderkind. Over the past few days, South Korean authorities have taken a series of escalating steps toward bringing Kwon to accountability. First, on September 14, prosecutors in Seoul issued a warrant for Kwon and five others involved in the failed project, ending months of speculation about his status as a wanted man. At the time, Kwon was thought to be in Singapore, which has no extradition treaty with South Korea. Naturally, that raised questions about whether or not Kwon would actually face justice.
But pressure increased very rapidly for Kwon soon after that. As a next step, prosecutors requested that the South Korean Ministry of Foreign affairs invalidate Kwon's passport (as well as those of four of his suspected accomplices), effectively eliminating his ability to travel legally. Nevertheless, on Saturday, Singaporean officials reported that they believed Kwon had already skipped town, passport be damned. And so the gloves are off—the Seoul Southern District Prosecutors' Office announced today that it had begun a formal process to place Kwon on Interpol's red notice list.
Interpol's Red Notice List
Interpol's "red notice" distinction alerts authorities in all 195 member states that a suspect is actively wanted by a given jurisdiction. It is not technically an arrest warrant, but it is still a firm, polite, unequivocal suggestion that a person be apprehended on site if located. By Interpol's own description, it is "a request to law enforcement worldwide to locate and provisionally arrest a person pending extradition, surrender, or similar legal action."
Kwon, for his part, has insisted that he's "not 'on the run,'" but prosecutors directly contradicted this, telling South Korean news agency Yonhap News that Kwon was "obviously on the run." Today's request to Interpol is still technically in process, but even issuing it in the first place is a big deal. Whether or not Interpol places Kwon on the red notice list may be largely irrelevant at this point. Kwon is not an unknown figure to law enforcement worldwide; today's move by Seoul prosecutors effectively gives the green light to authorities everywhere to arrest him on sight.
So we'll see how far he makes it. It's possible that we may never see him again; then again, he could be in handcuffs before you receive this newsletter. As in all things, time will tell.
Whether or not Kwon should face jail time is an open question and one that authorities are clearly exploring. There are more than a few in the crypto community who want him to face some accountability for his actions, but one must be wary of the wisdom of the mob. Whatever he did, the truth will come to light.
In the meantime, all we can really gain from Kwon's outsized role in the crypto world this last year is another cautionary tale, of which there are already plenty. I don't have to tell you to be suspicious of conmen—everybody knows that. The trick is spotting them before it's too late.
Disclosure: At the time of writing, the author of this piece owned BTC, ETH, and several other cryptocurrencies.