Dash Targets Massive Expansion Into Gambling, Mexico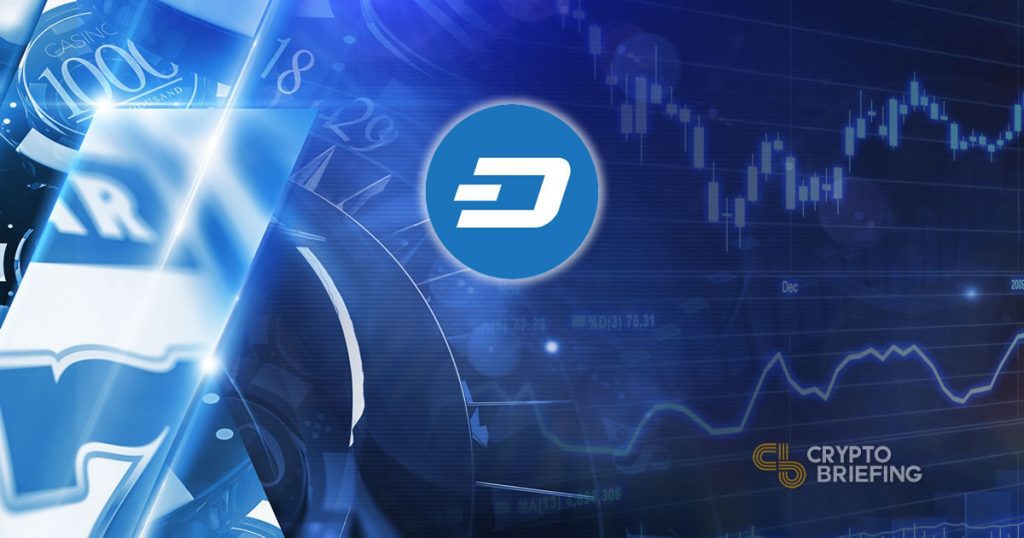 Despite sinking prices, Dash's leading corporate body has announced an aggressive expansion in search of new markets and users. In its Q2 Earnings call this morning, the Dash Core Group announced plans to expand the reach of the fourteenth-largest cryptocurrency. Among the new targets: credit cards, gaming and Mexican workers abroad.
---
New Targets For Remittances and Payments
International Remittances remain a cause célèbre in crypto space, and several communities are trying to penetrate Asia's hundred-billion-dollar remittance markets. However, due to loose regulations and sparse fiat onramps, adoption by Chinese and Indian Markets has proved easier said than done.
Smaller markets are more promising. "Mexico in particular started to stick out for us," said Bradley Zastrow, DCG's Head of Business Development. "Over 90 percent of the inbound remittances are coming from a single point of origin, the US, and we know we've got probably the best and most complete infrastructure in that market."
In addition, Dash's existing relationships in the country, along with a regional office in Mexico City, offer advantages in developing Mexican partnerships.
Remittances are one of Mexico's largest sources of income, Reuters reports. Last year Mexican expatriates sent home $28.8 billion USD.
The pivot complements simultaneous developments in the hemisphere, particularly in South America. The Dash DAO has voted to fund developments in Latin America, and has established a partnership with Brazil's largest cryptocurrency exchange.
But the brightest spot was Venezuela, where Digital Cash experiences more use than all other cryptocurrencies combined. More than 800 Venezuelan merchants now accept Dash, and DCG is entertaining the idea of hiring a country manager to supplement the work of local groups and facilitate simpler payments.
"We're launching a partner at the end of August which will result in a device that not only wraps three international partners into a larger solution for both Venezuela and Latin America at large, but also provides a physical asset that can help the community with adoption and scale on the ground," Zastrow said.
---
DCG Bets on Gambling, and Against Credit Cards
Along with a new international pivot, the Core Group also announced designs upon US industries. In particular, industries with high levels of credit-card chargebacks were singled out as likely candidates for crypto payments.
"With credit cards, the companies and industries that experience high credit card chargebacks actually pay a lot to a accept a credit card as a form of payment," Zastrow said. "Those costs fall down to the consumers who eventually pay those fees."
The likeliest candidates for Dash adoption were gambling, both for traditional games of chance and eSports. "We saw a huge opportunity to leverage the changes in the US regulations around the gambling space," Zastrow said. "Online gambling is expected to see huge growth, and we're already integrated into some of the crypto casinos."
We're excited to announce our partnership with Dash, the Official Cryptocurrency Partner of FanDuel! Stay tuned for updates on this exciting partnership! pic.twitter.com/0O2tjz61Tt

— FanDuel (@FanDuel) August 1, 2018
Fanduel, one of the US leading fantasy sports bookmakers, recently announced an exclusive partnership with Dash, along with its first "crypto cup." Winners of the online tournament stand to win up to 15 Dash, around $3000.
---
Optimism, but some frayed nerves
But the earnings call was not without tensions, and the Q&A session brought out some of the frictions between the Core Group and its investors.
Asked to explain Dash's fall from fifth to fifteenth place, CEO Ryan Taylor acknowledged that the Core Group had failed to uphold its roadmap. "We had a published roadmap that was stale, people saw that it wasn't being updated," he acknowledged. "We did not do a good job explaining to the community what the expectation would be….I think we have some trust-rebuilding to do with the community."
Other questioners proposed appointing a supervisory board to oversee its operations, or dividing the Core Group into independent functional bodies. However, the CEO continued to defend DCG's actions, and emphasized that DCG does not hold a monopoly over treasury funding.
"A lot of our proposals pass, but they don't all pass." Taylor noted. "I don't think they'll continue to pass unless we do a good job."
The author has investments in Dash and other cryptocurrencies.