DeFi Protocol Rodeo Finance Hacked; $1.53M of ETH Stolen
Rodeo Finance, an Arbitrum-based DeFi protocol, has suffered another significant exploit losing $1.53 million due to a code vulnerability in its Oracle.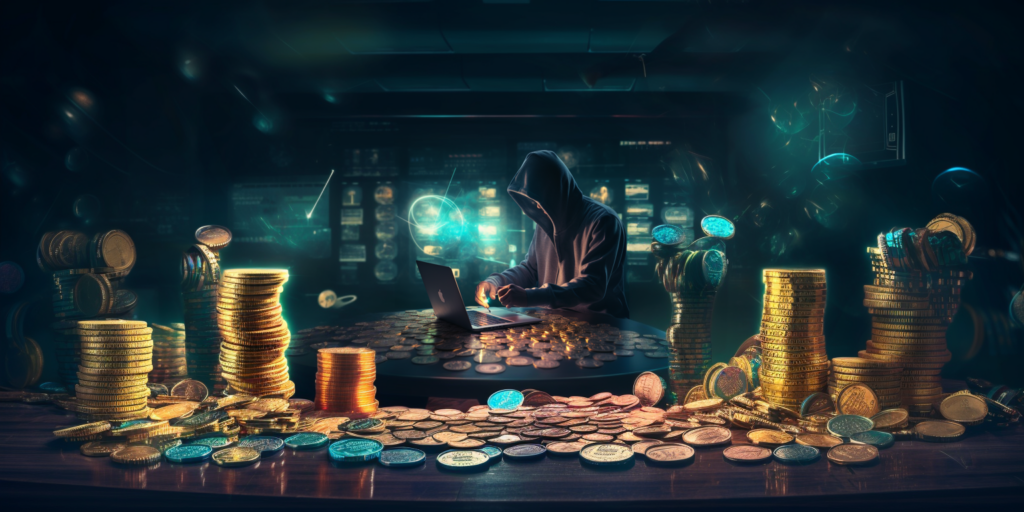 Rodeo Finance, a DeFi protocol residing on the Arbitrum blockchain, suffered its second significant exploit on July 11, resulting in a loss of 472 ETH, equating to approximately $888,000 million. The exploit was orchestrated through a code vulnerability within Rodeo's Oracle.
The exploiter transferred the stolen funds from Arbitrum to Ethereum and then swapped 285 ETH for unshETH, according to data shared by PeckShield, a blockchain analytics firm. Following the swap, the exploiter deposited ETH into Eth2 staking before sending 150 ETH to Tornado Cash, a mixer service used frequently to obfuscate the transaction trail.
PeckShield later confirmed that the amount was 472 ETH, equalling $888,000, confirming a recalculation:
Correction: the total loss w/ 472 $ETH (~$888K)
The exploiter swapped 285 $ETH for $unshETH and bridged them back to #Arbitrum to continue the hackhttps://t.co/wmlQ7pJlKV

— PeckShieldAlert (@PeckShieldAlert) July 11, 2023
The exploit was performed using a strategy involving time-weighted average price (TWAP) oracle manipulation, a tool used by DeFi protocols to average out the price of an asset over a given period, thereby reducing the risk of market volatility. This method, however, has been identified as a potential vulnerability.
The exploiter started by borrowing a substantial amount of an asset, after which they manipulated the price downward, enabling them to purchase the same asset at a significantly reduced price. This allowed the exploiter to pay off the loan and gain a profit from the lower price they managed to set through their manipulations.
This latest breach has had a profound impact on Rodeo Finance, causing the total value locked (TVL) to nosedive from $20 million to less than $500.
The wallet address tied to the exploit is still in possession of over 370 ETH and has been flagged by Etherscan as connected to the Rodeo exploit.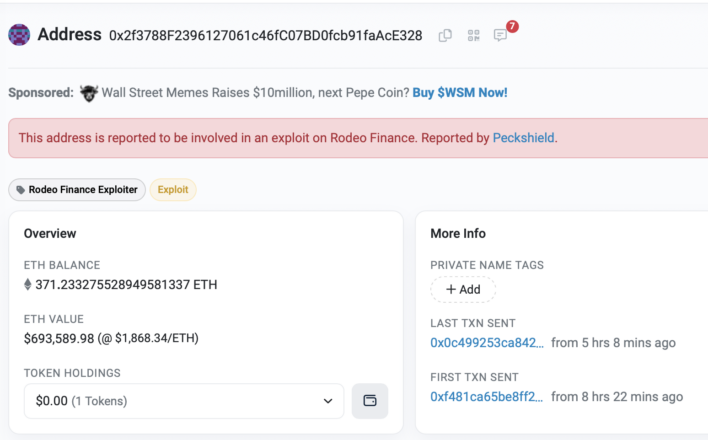 HypernativeLabs on Twitter spotted a similar hack on Rodeo Finance last week on July 5, losing around $50,000:
Our platform detected a hack against @rodeo_finance on Arbitrum. The attack spanned multiple transactions of the course of ~1 hour. We counted ~50K USD in losses.
attack contract: https://t.co/TvQKEldQeX
sample txs:https://t.co/jiCtGt2EzWhttps://t.co/IGQYKVdZke

— HypernativeLabs (@HypernativeLabs) July 5, 2023