DeFi Risk Coverage Application Bridge Mutual Reveals its Version 2 Update
The launch introduces new features such as Leveraged Portfolios, Reinsurance Pool, Capital Pool, Shield Mining, and many more.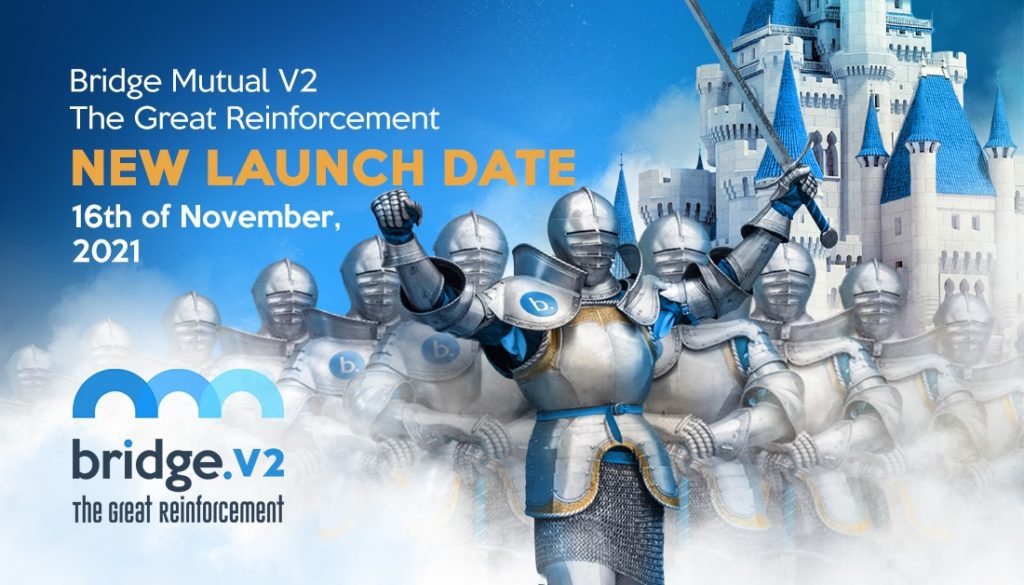 DeFi Risk Coverage Application Bridge Mutual Reveals its upcoming Version 2 update: Leveraged Portfolios, Reinsurance Pools, Shield Mining, and Plans to Lead DeFi Insurance.
Bridge Mutual V1 successfully went live on July 9, 2021 with the support of Tether and Bitfinex.
Bridge Mutual is a decentralized, p2p/p2b discretionary risk coverage protocol that allows users to purchase and provide coverage against exploits and rug pulls, decide on policy payouts, gain yield as an underwriter, and get compensated for adjudicating claims. It is the most decentralized and privacy-oriented coverage protocol in DeFi.
Bridge Mutual is now ready to launch its Version 2 with a massive list of upgrades and new features. The huge platform update is set to deploy in the middle of November. View the Q4 2021 BMI roadmap and the list of upcoming V2 features here.
The protocol can offer coverage for any other Ethereum-based protocol in existence, because any user can create any pool at any time simply by adding a new pool via the interface.
Currently, there are large coverage pools for some of the biggest projects in DeFi, such as SushiSwap, Compound, Aave, Bancor, BarnBridge, Cream, and many more. Bridge Mutual's platform was verified as functional on August 4, 2021, when a user purchased a $50,000 coverage policy to cover their LP position during Popsicle Finance's hack. The BMI community approved the valid claim, which resulted in the affected user being paid back $49,982 USDT from Bridge Mutual's Popsicle Finance pool out of the $50,000 policy maximum. Notable events that came afterward included collaboration and transition of liquidity to SushiSwap and initiating the development of Bridge Mutual on Solana.
Bridge Mutual is fully permissionless, meaning no one can prevent a claim from being filed or unfairly influence/control the result of a claim on the protocol. The platform utilizes game theory concepts and economic incentives to encourage honest votes, justified payouts, and a fair process. To learn more about this, read the Bridge Mutual Whitepaper here.
Introducing Bridge Mutual V2: New Features, Revenue Generation, Future DAO
The launch of Bridge Mutual V2 introduces new features such as Leveraged Portfolios, Reinsurance Pool, Capital Pool, Shield Mining, and many more. Bridge Mutual's Reinsurance Pool will enable an increased supply of cheaper coverage on selected pools with improved supplementary operations and increased capital efficiency. Additionally, Bridge Mutual V2 will also introduce Leveraged Portfolio(s), a specially dedicated pool where users can deposit their funds for leveraging high-reward / high-risk yield farming scenarios. The leveraged portfolio will bring more exposure to riskier high- reward pools with attractive APYs, enabling users to utilize new yield farming strategies.
Bridge Mutual will start to generate revenue by investing idle liquidity in low-risk yield generators DeFi projects. This will further support the Vault and allow the future DAO to interact with the world of DeFi, optimize the platform itself, and buy back BMI's from the market. Bridge Mutual will also amplify the platform's growth by introducing its widget for affiliates, a mobile compatible version, and UI improvements.
Bridge Mutual Plans to Lead DeFi Insurance
As the DeFi industry expands with multiple protocols using complex layers of code, Bridge Mutual is looking to fill the lack of security-focused and risk hedging products in the DeFi space. With more and more hacks occurring in the industry, Bridge Mutual plans to bring trust and safety to DeFi. Its new V2 features will begin plans to integrate more advanced coverage options to enable users to feel confident in their crypto investments and activities.