DeFi Saver Introduces a Native Compound v3 Extension
The two teams have collaborated over the past months on preparing the DeFi Saver extension.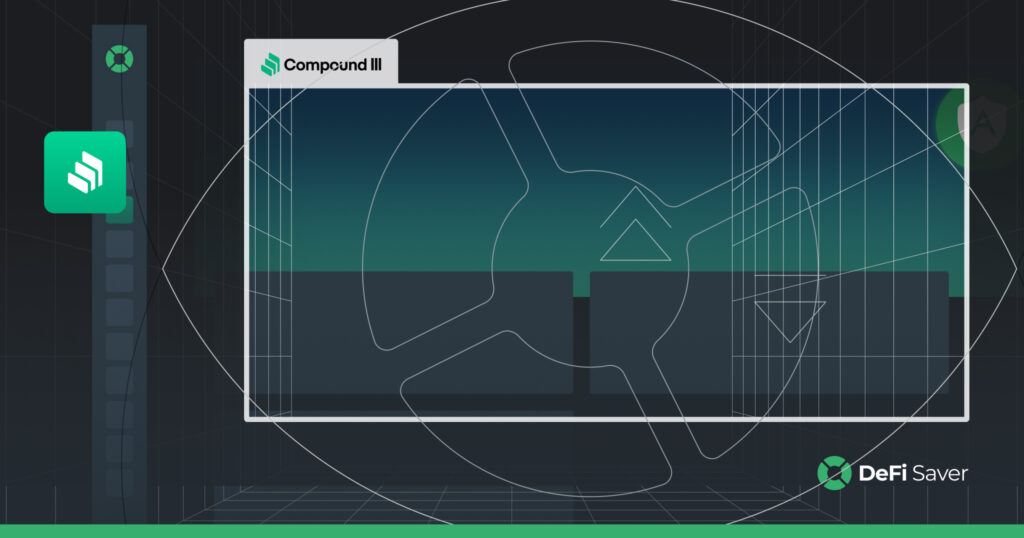 DeFi Saver, a DeFi management app best known for its automated liquidation protection services for DeFi lending protocols, is now available as a native extension in the Compound application thanks to their newly released extensions framework. With the improvements introduced with Compound v3 earlier this year, the Compound team envisioned an all-new extensions framework to enable various developer teams to build new features on top of the Compound protocol and make it available to their users directly within the Compound application.
The New Extension Framework
DeFi Saver has supported the Compound protocol since the early DeFi days with a dedicated management dashboard, including a number of advanced features, such as 1-tx position unwinding, collateral and debt swaps as well as their signature automated liquidation protection options. The two teams collaborated over the past months on preparing the DeFi Saver extension, in order to provide all Compound v3 users with easy access to 1-tx position rebalancing and automated liquidation protection.
Using the DeFi Saver extension, all Compound users can now utilise signature Boost and Repay options for 1-tx position rebalancing, which can, for example, come in handy in case of market crashes where a user may want to partially unwind (or 'self liquidated') part of their position to keep it from going under. On top of this, all users can now also consider automation options in case they fear market drops while they're not able to monitor their positions actively. The extension currently supports the CompoundV3-USDC market, and the team will be looking to support all new V3 markets moving forward, such as the CompoundV3-WETH market that's likely coming soon.
The new extension framework is made possible thanks to the new `permit` function that allows for the execution of advanced, multi-step actions on user positions using special 'operator' contracts, which the Compound dev team introduced together with their latest v3 protocol version. While DeFi Saver users previously had to migrate their positions to a smart contract wallet to gain access to these complex features, this is now no longer required for Compound v3 users and should provide for a much better user experience.
Nenad Palinakasevic, DeFi Saver co-founder, said:
"We're extremely happy to have been chosen as one of the first teams to work on this, and we're looking forward to seeing what other teams also come up with in the future."
Making the DeFi Saver application and features open and available to the broadest possible audience and user base has always been one of the team's primary goals. The team is thrilled to see those features available natively within the Compound application. Simple, approachable and optimal position management was always one of DeFi Saver's guiding principles.
As a reminder, DeFi Saver is an advanced all-in-one dashboard for creating, managing and tracking user DeFi positions with unique automatic liquidation protection and leverage management options. So far, the application has saved thousands of users from liquidation and handled over 115,000 transactions and over $7 billion in trade volume.