Digift and 0xScope to Collaborate on the Development of Defi Market Monitoring and Surveillance Applications
The two blockchain companies aim to develop a comprehensive surveillance framework for regulated DEX.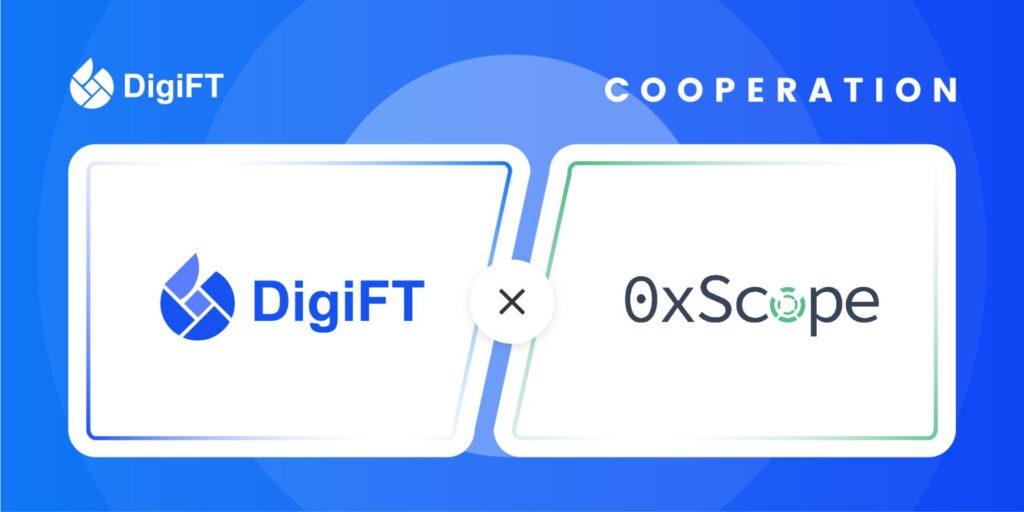 DigiFT has entered a Memorandum of Understanding ("MOU") with 0xScope to collaborate on the development of market monitoring and surveillance application tools for decentralized digital asset exchanges.
A Surveillance Framework for DeFi Transactions
0xScope, founded in 2022 is a company developing various data-based solutions concerning Web3 activity, including risk control and anti-money laundering ("AML"). 0xScope products include Watchers, an enhanced due diligence and transaction monitoring tool; Insight, a one-stop project data intelligence advisor, and updated AML and financial risk control solutions – KYE (Know Your Entity). Over 640,000 tokens, 11,000 protocols, 51,000,000 smart contracts and 84,000,000 entities have been analysed to-date.
DigiFT, founded in 2020, is currently operating the first and only decentralized digital asset exchange in the Monetary Authority of Singapore ("MAS") FinTech Regulatory Sandbox. The Ethereum-based exchange offers an Automatic Market Maker mechanism that facilitates secondary trading liquidity for security tokens backed by financial assets. Investors can trade directly from their digital wallets after completing a Know-Your-Client ("KYC") onboarding process.
The MOU reflects a strong mutual interest in jointly developing solutions that enhance the regulatory and KYC standards in decentralized finance ("DeFi"). The collaboration envisaged will include sharing of proprietary technical expertise for the operation and monitoring of a regulated blockchain-based exchange as well as to develop a comprehensive surveillance framework for DeFi transactions. The objective is to promote a secure Web3 ecosystem that encourages innovation bridging DeFi and traditional finance.
Mr. Henry Zhang, CEO of DigiFT, shared:
"This MOU will allow both companies to share our respective Web3 expertise and strengthen DigiFT's market monitoring capability. We hope to future-proof our KYC and client onboarding processes with 0xScope's KYE solution."
0xOar, founder of 0xScope, added:
"We look forward to working with DigiFT to make the security-based token issuance process more traceable, efficient and user-friendly through Watchers. This partnership will further enhance regulatory knowledge through sharing of best practices in the DeFi space."
DigiFT aims to provide regulated decentralized finance solutions on the Ethereum public blockchain. We are operating the first regulation-abiding decentralized digital asset exchange where asset owners can issue blockchain-based security tokens and investors can trade with continuous liquidity via an Automatic Market Maker mechanism. We are a global outfit backed by well-established venture partners. The founding team originates from Goldman Sachs, UBS, Citibank, and Morgan Stanley, and has deep blockchain technology knowledge, having successfully developed digital asset exchange and products in the past.
0xScope is the first Web3 knowledge graph protocol. It solves the problem that Web3 data analyses addresses instead of real users by establishing a new identity standard — the new Scope Entity from the data layer and it unifies the standards of different types of Web2 and Web3 data by using knowledge mapping capability, which greatly reduces the difficulty of data acquisition and improves the data penetration ability.