Do Kwon Keeps Stacking Bitcoin, So Terra Keeps Soaring
Terra's LUNA token has re-entered price discovery mode.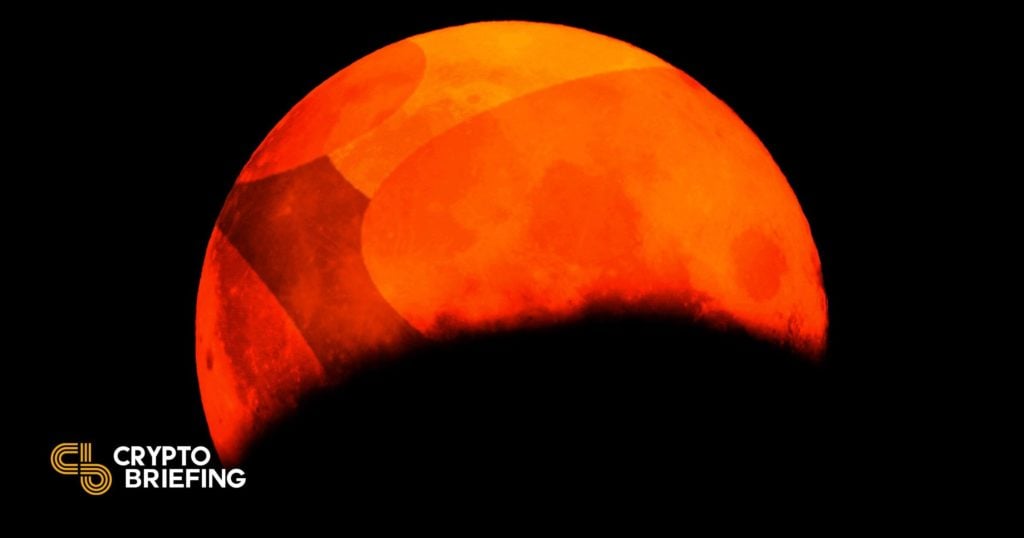 Key Takeaways
LUNA hit a new all-time high of $106.43 early Tuesday.
The uptick comes as the Luna Foundation Guard continues to accumulate millions of dollars worth of Bitcoin, bringing renewed confidence to the cryptocurrency market.
Further upward pressure could push LUNA to $122. 
Speculation is mounting around Terra's LUNA token after the Luna Foundation Guard added another stack of Bitcoin to its reserves.
Terra Makes New All-Time High
Terra is soaring again.
The Layer 1 blockchain's LUNA token has re-entered price discovery mode with a jump to $106.43, fueled by speculation surrounding Terra's Bitcoin reserve.
Terra has been in the crypto spotlight over the past week after the Luna Foundation Guard (LFG) outlined its plans to increase its Bitcoin reserves to $3 billion, with a long-term view to building a $10 billion fund. The LFG has been making daily Bitcoin purchases in bulk batches of $125 million, helping the leading crypto asset rise.
On-chain data shows that LFG purchased another 2,830 Bitcoin worth around $135 million Monday, bringing its reserves to 27,785 Bitcoin. In a community proposal discussing the fund, Jump Trading explained that LFG's Bitcoin accumulation was part of a plan to "provide deep liquidity at a discount when the UST peg is under pressure."
The most recent purchase coincides with a notable uptick in the crypto market. Bitcoin is up 15.8% in the past week, and many lower cap assets have experienced significant rallies. The global cryptocurrency market cap is back above $2.2 trillion after hitting a low of $1.6 trillion on Feb. 24.
As LFG has continued to accumulate Bitcoin, Terraform Labs founder and CEO Do Kwon has been open about his strategy to build UST's reserves. In between discussing how the accumulation plan will make UST the world's first form of Internet money to adopt the leading crypto as a reserve asset, he's gone as far as posting memes referring to Bitcoin's rising price. "I am once again asking you to short #btc," he tweeted alongside the popular Bernie Sanders "I am once again asking" meme early Tuesday, implying that the asset's price would likely continue to rise.
Speculators are starting to believe that Terra could be the new catalyst that carries Bitcoin and the wider crypto space into a new bull market. With time, such market behavior could spill over to LUNA.
However, there is a problem with this thesis. LFG recently raised $1 billion in Bitcoin in a LUNA token sale led by Jump Crypto and Three Arrows Capital. As a result, there are a significant number of LUNA tokens entering circulation, which could impact its ability to advance higher in the future. Still, LUNA appears to be benefiting from the recent buzz in the market. It posted a new all-time high early Tuesday.
From a technical perspective, the recent upswing appears to result from the break of a symmetrical triangle that LUNA has been contained in since late February. This consolidation pattern estimates that LUNA could continue to surge by another 14% to hit a target of $122.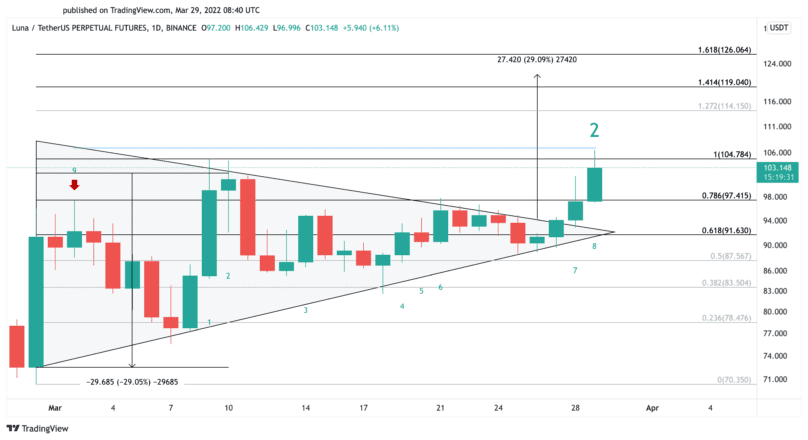 Before LUNA can advance further, a correction is also possible. LUNA is currently showing a sell signal on its lower timeframes that could lead to a spike in profit-taking that sends it back to $99 before the uptrend resumes.
Disclosure: At the time of writing, the author of this piece owned BTC and ETH.
For more key market trends, subscribe to our YouTube channel and get weekly updates from our lead bitcoin analyst Nathan Batchelor.