Doc's On FOX: TV Show's Crypto Coincidence Raises Eyebrows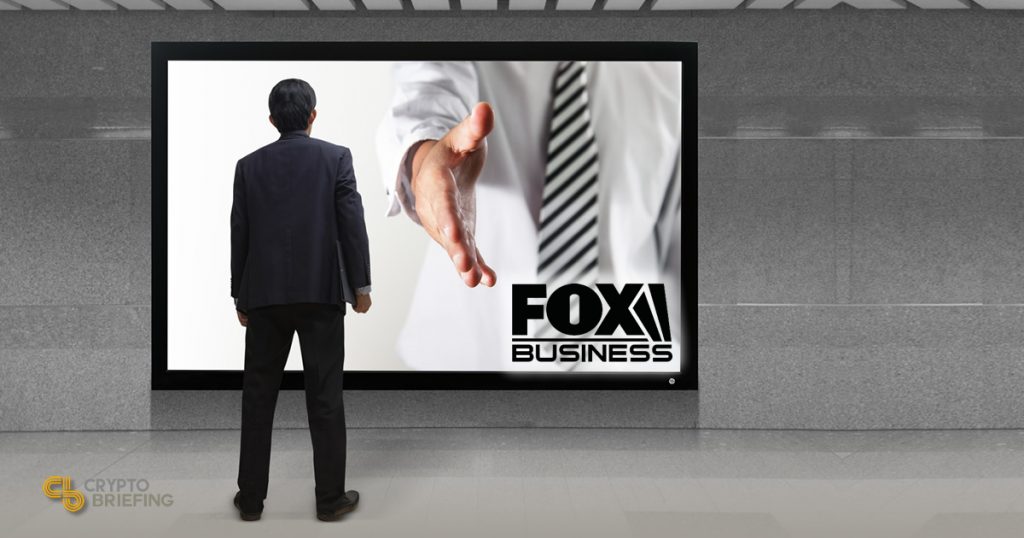 Have you ever struggled to explain crypto to your parents? Now you can let Fox do it for you. A new segment, launched on FOX's Business channel, will profile up-and-coming blockchain startups to a nationwide audience. FMW Media Works announced the premiere of "New on the Street' and "Exploring the Block," a thirty-minute segment exploring the world of ICOs and blockchain startups.
While cryptocurrency has been snowballing on internet media for some time, no one has been bold enough to predict that blockchain startups would get regular airtime on a conservative mainstay like Fox—or that they would be portrayed in a favorable light.
A preliminary glimpse suggests that the show may introduce blockchain technology in a parent- and grandparent-friendly way. "Basically, blockchain is just a database," explains show runner James Sowers, in a clip released on the show's website, before going on to explain decentralization and consensus in similarly de-factualized terms.
Sowers is an adviser and angel investor for crypto startups, and a mentor at Stanford's blockchain lab.
The first episode will interview Charles Nader, CEO of Docademic. The medical startup, whose MTC token is ranked 87th by market cap, provides "Free Basic Healthcare for all" in twenty countries. It is currently exploring avenues to serve customers in the United States.
Docademic provides online "telemedicine" consultations, from doctors at a call center, via mobile phone. "You can switch the camera, you can show part of your body," Nader explains. "Once your done, you can what your recommendation was."
In exchange for free medical service, Nader says, data is collected and stored on a blockchain for statistical research.
"That data's very sensitive," Nader says. "You have to be transparent in the way it's used. We utilize it for research and there are different products that we derive from that," he says. "It's all anonymous, it's all statistical information."
"Docademic is very happy to be featured on the 'New to the Street' new TV show, 'Exploring the Block.' The show's producers are pioneering vision and providing a deep look into the achievable real world benefits of blockchain technology," Nader said in a statement. "The show provides an extraordinary medium which showcases legitimate companies based on facts and real world examples of Blockchain use and innovation."
Docademic is on a
bull
run, having gained 127% in a single week. The pump came shortly after a favorable endorsement by
future president John McAfee
, who – coincidentally – will also be a guest on Tuesday's broadcast. McAfee has published numerous tweets about Docademic, claiming it will be the 'next big thing' and that media coverage of the token is thanks to his blessing.
The idiots taking profit when Docademic hits $0.50, or even, believe it or not, less, will be kicking themselves in six months when they could have been taking profits at $10.00 to $20.00. Watch and learn.

— John McAfee (@officialmcafee) June 18, 2018
Docademic isn't the only player in the medical blockchain game, although it has a significant head start. Medicalchain's vision of blockchain patient data and telemedicine places it in direct competition with Docademic, and MediLedger is planning to use immutable ledgers to trace prescription drugs. Walmart has secured several patents for medical-related blockchain patents.
"Exploring the Block" is scheduled to air about once a month. In addition to Fox Business, it can also be seen on Ion TV and Bloomberg TV.
Let's just hope the coverage is more fair and balanced than this pair of guests suggests.
Disclaimer: The author is invested in cryptocurrencies, but not in any mentioned in this article.