Drugs And Guns May Not Mix: But Cannabis Companies Can Stay Secure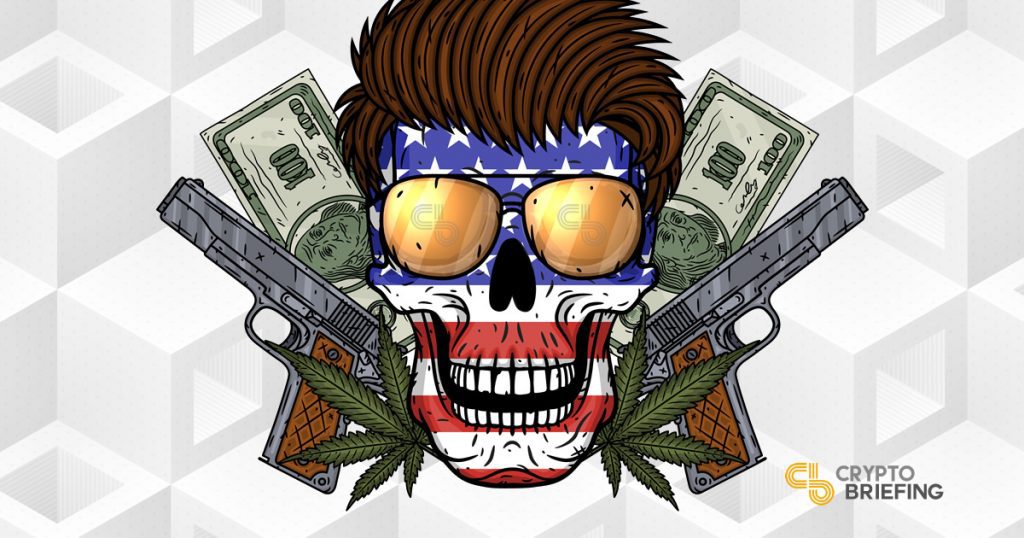 The legal cannabis industry has a problem – it's not actually legal.
Every time a state like Oklahoma or Maryland legalizes cannabis for medical or recreational use, representatives from the Federal Bureau of Alcohol, Tobacco, Firearms and Explosives (more popularly known as the ATF) remind the public that cannabis is still a controlled substance by federal law.
That means it's illegal in any state for any medical or recreational cannabis user or employee to carry a firearm. And this problem is made bigger because the ATF is only one of the many government agencies watching the cannabis industry on a federal, state, and local level.
This article is largely contextual – the conclusion is relatively straightforward, but the need to arrive at that conclusion is what takes a little explaining. And cryptocurrency – in this case, Dash – is instrumental in providing the solution to the problem I'll now outline.
We already discussed how the DEA, DOJ, and other federal agencies put a squeeze on banks doing business with state-authorized cannabis businesses. Cannabis is a cash-only industry because even legal marijuana companies don't have access to banking services.
At the time, I dismissed the role of cryptocurrency in stabilizing cannabis, but I did recognize the utility of blockchain in state-mandated seed-to-sale tracking programs. Today, I spoke with Ken Ramirez, the co-founder and CEO of Alt Thirty Six, a Dash partner focusing on the cannabis niche.
Since I'm located in Arizona, along with Dash and Alt Thirty Six, I asked him to convince me of the utility of Alt Thirty Six and Dash in the cannabis industry. He touched on several key points that give me hope for both cannabis and crypto, and it revolves around the biggest problem in both industries – security.
---
Welcome to the Wild Wild West
The Southwestern U.S. has long been known as the Wild West. Even following the wave of mass shootings in the USA, in states like Texas and Arizona with open-carry laws, it's legal to go pretty much anywhere with a gun unless there's a posted sign stating otherwise.
In Cochise County, where I grew up, military troops, Border Patrol agents, coyotes, smugglers, and more share the land. Even with a MMJ card, I'll have my medicine stolen by federal agents at the border stops as I get back to Tucson from visiting family.
The government may be the biggest gang on this block, but it's far from the only one.
Cannabis dispensaries in every state have tight security procedures because they're routinely robbed at gunpoint. Retired military, law enforcement, and other security professionals are willing to work in the industry, but the only way they're able to legally carry weapons is by working through a third party.
The amount of effort that goes into security is amazing to see. If you've not seen it, Bodyguards: Secret Lives from the Watchtower is a great look at private security practices from Bieber's bodyguard to Blackwater security.
Born and raised in Tucson, Ramirez understands this environment, and Alt Thirty Six has a lot of partners helping bring more security to the cannabis industry. Many were forged at this year's MJBizCon in Las Vegas.
---
Two Negatives Make a Positive
Alt Thirty Six is a cannabis payment platform, but that's not as simple as it sounds. There are a lot of moving parts in the cannabis supply chain, from growers to manufacturers, distributors, retailers, and more.
Sales don't just happen among consumers – they happen between businesses along the way, and these transactions all need to be tracked and uploaded to state auditors.
On top of all this, cannabis is a cash business, so these transactions are harder to attach digital records to. The company takes care of this with armed security picking up the cash, just like most retailers use (although some still have night managers drop deposits off at the bank, which is extremely dangerous).
When cash is deposited into the ATM, DASH is issued and used to pay for products, in both B2C and B2B transactions. The physical cash is essentially held in escrow by Alt Thirty Six, which handles the conversions between DASH and USD to mitigate the risk of a volatile cryptocurrency market. Because it's not a cannabis company (it's a tech company that happens to service that sector), Alt Thirty Six and Dash can both access banking services.
Alt Thirty Six balances security and compliance throughout the cannabis supply chain to help mitigate losses in a tough industry.
As both cryptocurrency and cannabis continue growing, so do the use cases of combining the two.
The author is not currently invested in any coin, token, or asset mentioned in this article. He is, however, a medical marijuana cardholder in the State of Arizona.
We would like to apologize to John McAfee for the statement that drugs and guns don't mix.