Edward Snowden Secretly Joined the Zcash Creation Ceremony
The NSA whistleblower was one of six key figures participating in the trusted setup ceremony crucial to launching the anonymous cryptocurrency, Zcash.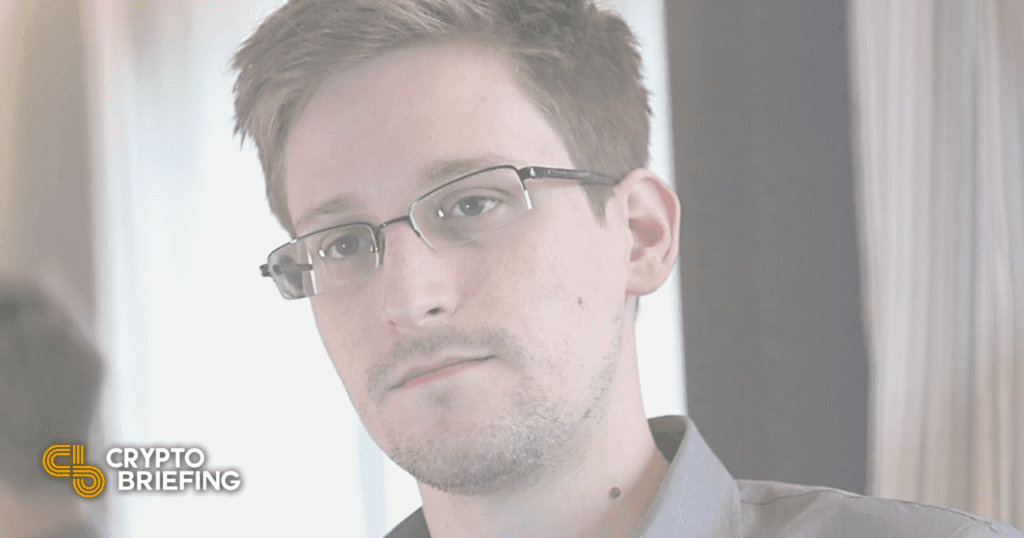 Key Takeaways
Edward Snowden was one of the six key figures involved in Zcash's creation ceremony, it was announced Wednesday.
In a video released today, he admitted that he participated in Zcash's trusted setup ceremony under the pseudonym John Dobbertin.
A staunch privacy advocate, Snowden has critiqued Bitcoin's lack of privacy on several occasions in the past, citing that as a reason he took part in the Zcash creation ceremony.
World-renowned NSA whistleblower and long-time privacy advocate Edward Snowden has been revealed as one of the six key figures that participated in "The Ceremony"—a trusted setup event that launched the privacy-focused cryptocurrency, Zcash.
Edward Snowden Helped Launch Zcash
Edward Snowden has been revealed as one of the six key figures who participated in the Zcash setup ceremony that was organized to launch the privacy coin in 2016. Forbes first reported on the news Wednesday based on a leaked Zcash Media video officially released today.
Snowden agreed to have his involvement in the mystical event revealed five years after the Zcash creation ceremony took place in October 2016. "As long as it is clear that I was never paid and had no stake, it was just a public interest thing, I think you can tell people," he told Zcash co-creator Zooko Wilcox. The video released today by Zcash Media shows Snowden confirming his participation in the ceremony. "My name is Edward Snowden. I participated in the Zcash original ceremony under the pseudonym John Dobbertin," he said, explaining that he didn't design the algorithm and was never intimately involved in Zcash's creation but only helped bootstrap the protocol.
To launch Zcash in a secure, privacy-ensuring manner, the developers had to certify that the private creation key, which serves as the backbone of the protocol's cryptography, was generated in a way that no single person or computer retained a copy of the whole key or could subsequently regenerate it. This was critical because anyone possessing the private creation key would have been able to counterfeit Zcash coins and destroy the system. To do this, the team behind Zcash devised a "trusted setup" procedure, subsequently dubbed "The Ceremony," that involved six people, spread across six different locations globally, launching Zcash by using their incomplete part of the private creation key and then destroying it. If only one participant destroyed their partial copy of the key after the setup, then the safe launch of Zcash would be successful. Besides Snowden, Bitcoin core developer Peter Todd, Za and Zooko Wilcox, director of research at Coin Center Peter van Valkenburg, and security engineer Derek Hinch participated in the ceremony.
Snowden, a staunch privacy advocate, made global headlines in 2013 when he leaked highly classified information from the NSA, revealing details about illegal global surveillance programs run by America's top spy agencies. He said that he took part in bootstrapping Zcash because he believed that, unlike Bitcoin, cryptocurrencies should allow for complete privacy. "Bitcoin, quite famously, is an open ledger. The problem with that is that you can't have truly free trade unless you have private trade, and you can't have a free society without free trade," he said in the video.
Zcash is one of crypto's oldest Layer 1 blockchains. It's known for pioneering Zero-Knowledge proof technology, a cryptographic innovation that Ethereum is betting on to achieve scalability on Layer 2. Zcash currently ranks 62nd on the cryptocurrency leaderboard with a market capitalization of around $1.87 billion. It accounts for only a fraction of the overall market and has failed to gain any significant momentum in recent years despite a major crypto boom in 2021. The news of Snowden's involvement with the privacy coin failed to move the needle on its price. It's currently up 1.4% on the day, trading at around $151.
Disclosure: At the time of writing, the author of this piece owned ETH and several other cryptocurrencies.