EQONEX Announces the Launch of an Exclusive Airdrop
The airdrop will go to EQO holders.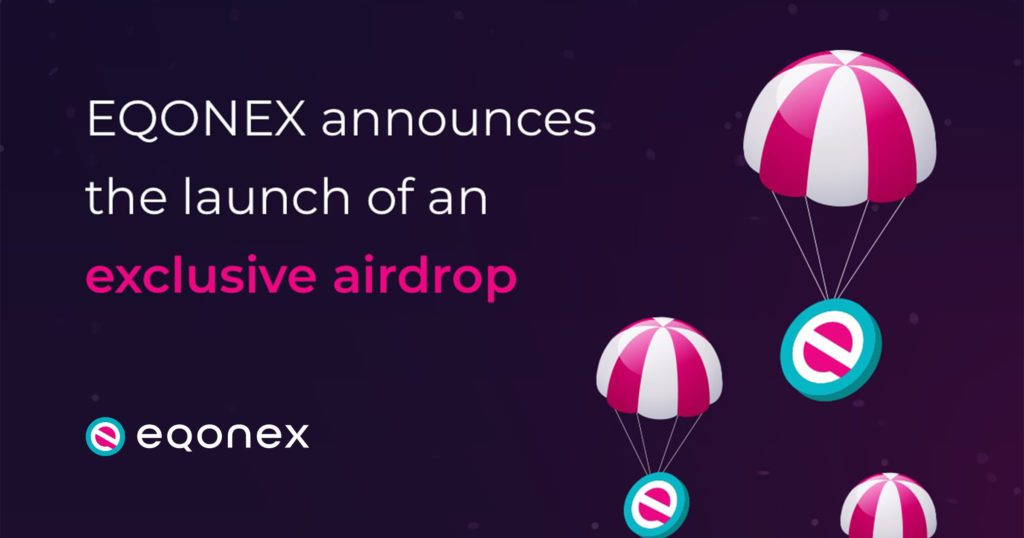 EQONEX has announced an airdrop for EQO holders.
EQONEX Prepares Airdrop
Nasdaq-listed cryptocurrency exchange EQONEX (Nasdaq: EQOS) has released the details of its first-ever airdrop of EQO dollars (EQO-D) exclusively for the holders of its native token EQO.
Under the terms of the airdrop, 100 EQO-D will be issued per 1,000 EQO held, and will give traders three unique benefits: trading collateral, gift collateral, and buyback benefits.
Once issued, EQO-D can be used as collateral when trading perpetual futures contracts on EQONEX on a 1 EQO-D to 1 USDC basis up to a maximum of 5,000 EQO-D.
EQO-D recipients who have been allocated more than 5,000 EQO-D can choose to gift some of their remaining EQO-D tokens to new or inactive EQONEX customers (terms and conditions apply).
The third benefit to recipients of EQO-D is the buyback utility in which the EQONEX exchange will buy back eligible EQO-D. Eligible EQO-D holders will benefit from a buyback pool of 200,000 USDC1 and be able to earn USDC from their tokens by selling them to the exchange.
Traders have until Sep 19, 2021 to ensure they have 1,000 EQO or more in their EQONEX account to benefit from the EQO-D airdrop on Sep 20, 2021.
In addition to the EQO-D allocation, traders who sign up, verify their account, and purchase EQO can further benefit from up to $200 in EQO during September 2021.
Neil Sheppard, Chief Product Officer at EQONEX, said of the airdrop:
"The upcoming EQO-D airdrop provides an opportunity for EQO holders to experiment with, or increase their, perpetual trading strategies using our advanced trading features such as cross collateral, sub account functionality, and isolated margin whilst benefiting those same holders with increased referral reward opportunities and a buyback."
To learn more about EQO dollars and read the whitepaper, click here.
EQONEX is a digital assets financial services company focused on fairness, governance, and innovation. The group encompasses cryptocurrency exchange EQONEX as well as an over-the-counter trading platform. It also offers a front-to-back integrated trading platform, Access Trading, a securitization advisory service EQONEX Capital, market-leading hot and cold custodian Digivault, and asset manager Bletchley Park.
For more information, contact Heather Dale at [email protected] or follow the project on Twitter, Facebook, or LinkedIn.
Terms and conditions apply to qualify for relevant promotions which may be held from time to time.